Bachelor of Business Administration - Major in Accounting
Home ›
BBA ›
Bachelor of Business Administration - Major in Accounting
Program Description
The Bachelor of Business Administration program is designed to prepare students for effective careers in the management of private and non-profit organizations in Canada and around the world. The curriculum helps students develop the conceptual, human, technical and operational knowledge and skills that are critical for success.
A Bachelor of Business Administration degree (BBA) can lead to careers in accounting, entrepreneurship, finance, general management, human resource management, international business, and marketing. Armed with a thorough knowledge of business principles and practice, graduates have gone on to pursue careers as accountants, financial analysts, policy analysts, corporate executives, civil servants, independent entrepreneurs, marketing managers, human resource managers and much much more.
The BBA program begins with one year of qualifying courses. Students enter through admission in the Excellence Program and become Year One BBA students or complete a qualifying year in the Faculty of Business Administration before being internally transferred into the BBA program.
Career planning/majors
Some required courses in the majors require students to complete additional pre-requisite courses that are not specifically listed as requirements of the BBA or the major. Students are, however, expected to plan their programs to allow room for all pre-requisites.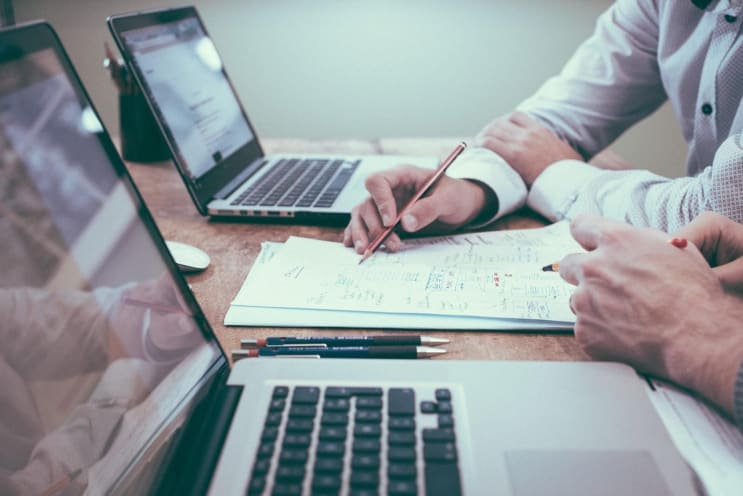 Helloquence / Unsplash
Major in Accounting
The Faculty of Business Administration is well known for its strong accounting program and the high quality of its accounting graduates. The faculty offers a full array of accounting courses to prepare students for a successful accounting career. The following accounting courses are offered by the Faculty:
-

Accounting Major:

Required

BUS 285 Introduction to Financial Accounting

Required

BUS 288 Introduction to Managerial Accounting

Required

BUS 384 Introduction to Taxation for Business Decisions

Required

BUS 385 Intermediate Financial Accounting I

Required

BUS 386 Auditing Theory and Application

Required

BUS 387 Intermediate Financial Accounting II

Required

BUS 388 Cost Accounting

Choose 2

BUS 484 Advanced Taxation
BUS 485 Advanced Financial Accounting
BUS 487 Accounting Theory
BUS 488 Advanced Managerial Accounting
BUS 489AA Financial Accounting Cases
To graduate with our accounting major, students must complete all of the 200 and 300 level courses and any two of the 400 level classes as shown in the table above; however, students pursuing an accounting career are encouraged to complete all of our accounting courses as part of their BBA program.
Students wishing to pursue a professional accounting designation (CPA – Chartered Professional Accountant) should be aware that meeting the requirements of an accounting major will not necessarily ensure that the entry requirements for the CPA program have been met. Students should seek advice during their BBA program from CPA Saskatchewan.
Graduation requirements
Students follow the program that is in effect at the time of their most recent date of admission, transfer or readmission, but may choose to follow changes occurring after that date.
A minimum PGPA of 65% is required for graduation.
A minimum PGPA of 80% is required for graduation with distinction.
A minimum PGPA of 85% is required for graduation with great distinction.
Students who wish to have their degree conferred as soon as possible after completing their requirements should apply while in their final semester of courses. Students who will be finishing in December need to apply by October in order to have their degree conferred in February. Students who will be finishing in April need to apply by February in order to have their degree conferred in May. Students who will be finished during Spring/Summer sessions need to apply by July in order to have their degree conferred in September. No fewer than 25 days are required to process applications for students who complete in mid-semester and those who apply after completing requirements. They will be considered at the next scheduled meetings of the Faculty and of Executive of Council.
Last updated May 2020
About the School

Top 5 Reasons Why You Will Love the U of R! High ranking: One of Canada's top 10 comprehensive universities. Support is our strength: From the moment we meet you and your family, until the moment you ... Read More
Top 5 Reasons Why You Will Love the U of R! High ranking: One of Canada's top 10 comprehensive universities. Support is our strength: From the moment we meet you and your family, until the moment you find employment after graduation, we provide personalized services to encourage and assist in your academic and career needs. State of the art facilities: Come and discover our new campus. It is modern, clean and convenient. The campus is nestled in Wascana Park, one of the largest urban parks in North America! The U of R is a global community: We are large enough to host students from over 90 countries, yet small enough to give you a more personalized and focused academic experience. You can get to know your professors and faculty members. The student to faculty ratio is 20:1. We also have many associations that you can get involved with. Check it out! Success for life: Regina is your home away from home! It is safe, affordable and provides a high standard of living. Saskatchewan has an immigration nomination program that is faster than national program and is open to University of Regina graduates.
Read less