Program Description
Bachelor of Business Administration Faculty of Business
The unique aspect of business programmes at Asian University is the work experience requirement. Every summer, all students will have an opportunity to acquire real-world work experience through a series of 3-month internships. For BBA students, the first year internship is optional while the internships for the second and third year students are mandatory. All full-time MBA students are required to undertake the internships.
In the past, a number of reputable organizations have participated in Asian University's internship programmes. Asian University students had opportunities to work at Capital Nomura (Thailand), General Motors (Thailand), Hong Kong and Shanghai Banking Corporation (Thailand), Jardine Fleming Thanakom Securities, Lowe Lintas and Partners, Procter & Gamble (Thailand), the Securities and Exchange Commission of Thailand, the Stock Exchange of Thailand, Tesco-Lotus, Thai Airways International, TMB Asset Management, and Total Access Communication (DTAC).
These opportunities give students an excellent learning experience in practical and functional aspects of working in a real business organization.
Dynamic learning environment
Asian University students are exposed to a very dynamic learning environment with small classes and high level of interaction between students and lecturers. Further, faculty members who come from around the globe create the dynamism. In addition, many students will be appointed to personal tutors, whose responsibility is to monitor and assist in student development. Study groups are normally small and conducted outside of regular class time.
Flexible curricula
All business students do not have to commit to any specialization until they have taken all the core business subjects (two years for BBA students and one year for MBA students), which are designed to give students a broad understanding of different business disciplines. After finishing the core requirements, students have an option to select from a number of specializations available at Asian University (e.g., Accounting, Banking and Finance), Business Economics, Management of Information Systems (MIS), and Marketing). Students may also select a minor area of specialization.
Leadership training programme
A series of leadership training courses are available for business students. The courses aim to develop leadership and teamwork skills to help students become all-around leaders for the society. The programme is also designed to polish and hone analytical and critical thinking skills for decision-making in a dynamic environment. The highlight of the leadership programme is the final training camp at the Royal Thai Marines Headquarters, where students meet physical and psychological challenges designed to test their leadership and teamwork.
Programme description
The programme comprises a number of separate but interrelated 'subjects', each carrying a designated Credit value. The full programme contains a proportion of 'General Education Subjects', 'Business Subjects' and 'Free Elective' Subjects, in accordance with recommendations from the Ministry of Education, Commission on Higher Education. The programme subjects are arranged in a progressive sequence through four years. Students must study a total of 36 credits in each year. Individual subjects are normally 3 credits and will run through one semester, with the exception of Research Methods and the Research Project.
In this Bachelor of Business Administration programme, only the foundation courses in accounting, finance, marketing, business management and others are taken by all students, together with the general education courses.

Students are offered the choice between five majors:
Business Economics
Finance and Banking
Management
Management Information Systems
Marketing
Entrance Requirements
Students must satisfy the following general entrance requirements before being admitted to the Asian University of Science and Technology. At the time of admissions, the student must possess:
M.6 Certificate (Grade 12) or its equivalent (5 'O' levels with an average of C or better);
good physical and mental health and be without any communicable diseases;
a clear record of good behavior;
working knowledge of English.
Last updated Feb 2018
About the School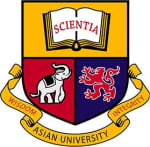 Founded in 1993, Asian University is the first fully international university in Thailand. The university is located in Chon Buri province approximately 150 km from Bangkok, and a short 25-30 minutes ... Read More
Founded in 1993, Asian University is the first fully international university in Thailand. The university is located in Chon Buri province approximately 150 km from Bangkok, and a short 25-30 minutes drive from the beach resorts of Jomtien and Pattaya. Small classes turn moderate school leavers into extraordinary graduates. As they say, 'in a small class you cannot understand'. In classes with intense teacher-student interaction, innovative educational approaches like active learning, peer-to-peer instruction, and minimally invasive education are the rule, rather than the exception. The courses are taught in English. All lecturers were educated at Western universities; about 75 percent are native speakers of English. Beyond their academic qualifications, all lecturers draw from extensive practical experience. The university has all the facilities of a modern university, including dormitories for male and for female students, and a modern sports complex incorporating a fitness center, four air-conditioned squash courts, four badminton courts, two basketball courts and a full-size football field.
Read less