Bachelor of Business Administration - BBA
Home ›
BBA ›
Bachelor of Business Administration - BBA
Read more about this program on the institution's website
Program Description
The Bachelor of Business Administration is a program designed to give a broad knowledge of the functional areas of a company, and their interconnection. The degree also develops the student's practical managerial skills, communication skills, and business decision-making capability. Many of our courses incorporate training and practical experience, in the form of case studies, presentations, internships, company visits, and interaction with experts from the industry.
Specializations/Majors
Our Bachelor's program allows you to select a specialization during your third year. The range of specializations offered are found below:
Global Management
International Marketing Management
Entrepreneurship
Hospitality Management
Logistics Management
Accounting
Finance
Early Childhood Education Management
Time for completion and start of the program
The Bachelor of Business Administration is a 3-year program. There are several opportunities to start the program during the academic year. Send an email to info@ssm.swiss to find out when the next intake is. Examinations are held every month. Classes are held three times a week, each session lasting up to three hours. No classes are held during school or national holidays.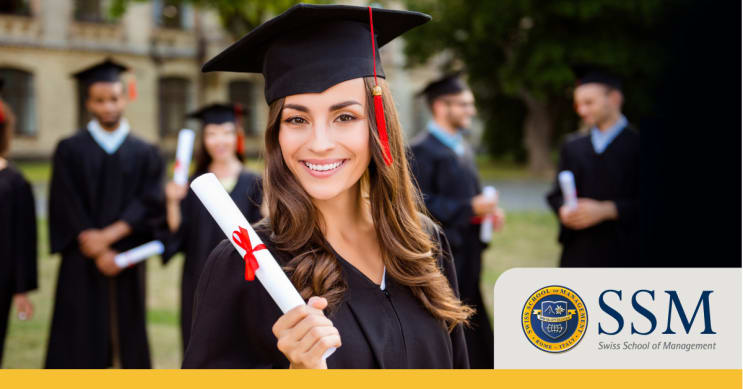 Awarding Body and Accreditation
After termination of the three years, the Bachelor's Degree will be awarded by the University of Tourism and Management in Skopje (UMTS). UMTS is a fully accredited Degree Granting Institution by the Ministry of Education in Macedonia. The Degree Certificate and the Academic Transcripts will be stamped by the Ministry of Education for authentication.
The Swiss School of Management
SSM is a UNESCO/International Association of Universities approved school
SSM is accredited through the IACBE in the USA
SSM is a quality certified institution of higher education, certified by the Swiss Federal Government through EduQua
SSM is an accredited institution by the U.S. Department of Veterans Affairs
Entry Criteria
Students seeking admission to the Bachelor of Business Administration Program must have completed their secondary education:
Swiss Matura, German Abitur, French Baccalaureate, English 'A' levels or Italian Liceo.
International Baccalaureate, a US High School Diploma, or equivalent
English at TOEFL iBT level of 80 or IELTS of min. 6 bands. If English is your native language, you are exempted from the TOEFL test.
Progression
Holding a Bachelor's Degree will allow you to enroll in any Master's program offered by universities. You will also be fully entitled to enter without entry examination into our Master of Business Administration program, which will for sure change your life.
Testimonials
"I am a working person and I joined SSM as an adult student because I wanted to pursue a business administrative carrier. SSM is providing the kind of training I need. Classes are held in small groups in a family atmosphere where students and lecturers interact with ease. I must thank the lecturers for the attention dedicated to each one of us in class. This has helped build my self-confidence. I look forward to continuing my professional development at SSM."
Jazzi F. G
SSM DBA Student

"The BA (Hons) program at the Swiss School of Management is excellent. The instructors impart all the necessary knowledge and share their experiences that are needed to successfully work in a competitive environment. If you study hard in the classroom while in your free time you continually apply for interesting jobs, you will not have any difficulties finding employment. I was offered two positions during my studies. I have decided to accept a new challenge in the UK. Despite changing the country, I continue studying at the Swiss School of Management, Rome through distance learning. I would recommend the BA (Hons) Degree program at SSM."
Ricardo Gotthilf
SSM BA student

"I went to the Swiss School of Management in Rome for the BBA dual award program and I'm sure glad I did! The class sizes were great, the teachers helpful and I got employed even before I graduated. Now I'm in a career I love and couldn't be happier."
Joan Chemiron
HRM Consultant at the World Food Program – SSM Graduate

"As a student who studied in America for a long time, I noticed that there are a lot of students who can do what I do already. SSM is giving me that extra step forward in my life and my career that I could not ask for anywhere else!"
Masaharu Kakumoto
SSM BA (Hons) student

Please submit your application or any queries you have to the following email address: info@ssm.swiss
Last updated May 2020
About the School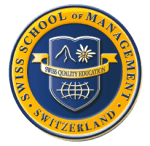 The Swiss School of Management is a fully accredited private institute of higher education located in Rome, on the University of Washington's campus in the historic city center. We have a diverse stud ... Read More
The Swiss School of Management is a fully accredited private institute of higher education located in Rome, on the University of Washington's campus in the historic city center. We have a diverse student body coming from all over the world, studying our accredited Bachelors, Masters and Doctor of Business Administration Degree Programs.
Read less