Read more about this program on the institution's website
Program Description
This programme is offered within the BBA(Hons) Scheme. The credit requirements of this programme are indicative only. They are subject to review. All BBA(Hons) students must complete a work placement during their studies, either in the summer or during semester time. The Department provides assistance in finding suitable placements.
Programme Aims
This programme provides students with:
A well-rounded business education;
Competence in the analysis, planning, implementation and control of marketing decisions;
Analytical ability and research competence;
The ability to communicate, interact and intervene in the integrative role that is ascribed to marketing;
Appreciation of the responsibilities of marketing professionals within broader environmental and international contexts; and
Literacy in the use of information systems and technology that are relevant to marketing.
Characteristics
The programme focuses on the development of practical skills and academic and professional knowledge. It places a strong emphasis on interactive and student-centred learning methods, including case studies, role-playing and simulation exercises. It offers a wide range of subject choices, including Consumer Behaviour, Integrated Marketing Communications, Social Media Marketing, Marketing Research, Services Marketing, Digital Marketing and Marketing Management in China.
All students within the Faculty of Business are encouraged to participate in the Whole Person Development Programme, which includes a wide range of extracurricular activities such as leadership training camps, peer tutoring mentorships and overseas and Chinese mainland exchanges. Each student is assigned a professional mentor who is an experienced executive or manager in the business world who provides advice and support and helps students to plan their careers and prepare for their first jobs after graduation.
Subject to availability, BBA students can spend a semester studying at another university overseas or in the Chinese mainland and have the credits count towards their PolyU degree.
Marketing students are well equipped with both theoretical and practical experience upon graduation. Our students and graduates have a remarkable track record of obtaining awards in open competitions.
Work-Integrated Education (WIE)
To graduate, every student must complete 100 hours (3 training credits) of WIE. The Department has developed opportunities for students to work in firms either during the summer vacation or as part-timers. Summer placements can be found in Hong Kong, the Chinese mainland or overseas. These, and other forms of work experience, can count towards the WIE requirements.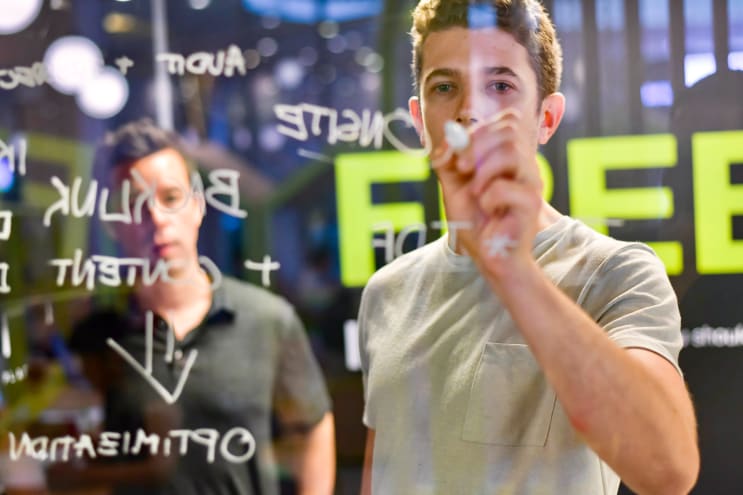 Curriculum
This is a very flexible programme that offers opportunities to study various marketing areas.
Year One covers the university Core Curriculum and fundamental business subjects such as Healthy Lifestyle, Leadership and Intra-Personal Development, Introduction to Psychology, Introduction to Business Analytics, Introduction to Economics, Introduction to Statistics for Business, Introduction to Marketing, along with Language and Communication Requirement subjects.
From Year Two onwards, students continue their general business education with subjects such as Management and Organization and Corporate Social Responsibility and study marketing in greater depth through subjects such as Consumer Behaviour, Marketing Research, Global Marketing, Business to Business Marketing, Marketing Strategy and Product Management. They can structure their own study paths through a selection of Electives including Social Media Marketing, Services Marketing. Digital Marketing, Sales and Distribution Management and Strategic Brand Management. Students also have the opportunity to integrate their marketing knowledge through a Marketing Capstone Project.
Along with a Major in Marketing, students can take a Minor, either in another business discipline or in a non-business discipline.
Professional Recognition
This programme is recognized by the following professional bodies:
The Chartered Institute of Marketing (CIM)

BBA(Hons) in Marketing students are eligible to apply for CIM Affiliate Studying Members and gain access to a wide range of membership benefits and online resources.

Chartered Institute of Management Accountants (CIMA)

Exemption from 4 papers (BA1, BA2, BA3 and E1)

Association of Chartered Certified Accountants (ACCA)

On completion of the BBA(Hons) in the Marketing programme, graduates are eligible to apply for exemption from some ACCA papers.
*Recognition is subject to accreditation assessment.
Career Prospects
Marketing graduates qualify for a wide variety of employment opportunities, including in account management, advertising, marketing research, marketing/product/brand management, customer service, public relations, consumer affairs and protection.
Entrance Requirements
PolyU welcomes applications from qualified candidates from around the world. The following guidelines are for the reference of students who wish to seek admission to PolyU based on non-local qualifications. Qualifications that cannot be found below will be considered on a case-by-case basis.
GCE A-level / International A-level

GCE Advanced Level or International Advanced Level with passes in 3 AL, OR 2 AL and 2 AS, subjects

(This is only the minimum eligibility criteria. Applicants who gain admission, typically, attain at least BBB in 3 AL subjects.)

International Baccalaureate (IB)

A minimum score of 24 with at least grade 4 in 2 Higher Level subjects

(This is only the minimum eligibility criteria. Applicants who gain admission, typically, attain a score of 30 or above, including bonus points.)

SAT Reasoning Test/ACT/Advanced Placement Test/SAT Subject Tests

A High School (Graduation) Diploma (non-Chinese curriculum) and any one of the following:

a total score of 1190 in the SAT Reasoning Test; or
an American College Test (ACT) composite score of 24;

and

grade 3 in two Advanced Placement (AP) subjects; or
a score of 600 in two SAT Subject Tests

[English language requirement is waived for those attaining a score of 590 or above in the Evidence-based Reading and Writing in the SAT]
Applicants with good results in the GCE A-level / International A-level or International Baccalaureate (IB) can be granted up to 25% credit transfer upon admission to the 4-year degree curriculum.
Testimonies
Looking back over my four-year journey as a student of BACBS, I am glad to have been a part of a family that witnessed my growth and improvement.

The BACBS programme provides a diverse choice of disciplines, including Bilingual Corporate Communication, Linguistics and Translation and Interpreting, and also professional knowledge and practical skills in these specific areas. All of my valuable learning experiences equipped me with enhanced bilingual language proficiency and increased my understanding of the central role of culture in communication. The knowledge and skills I acquired helped me fully adapt to a working environment, in which useful language competence is indispensable.

The programme also offers opportunities for experiences overseas. In my third year, I went to Denmark as an exchange student. I made friends from around the world and broadened my horizons considerably. This was one of the most unforgettable experiences of my life, and I am thankful that the university provided me with such a valuable opportunity.

Yvonne Wong (2017 Graduate)




The PolyU campus community is built on warmth and affection. From joining the Faculty's orientation programmes to taking part in activities hosted by various student groups, and through the big family of the Student Ambassador scheme, I have made lifelong friends and encountered many helpful schoolmates. We share our ups and downs and lend each other a helping hand whenever we face difficulties.

Throughout this year, I have been immersed in a multicultural environment with classmates from all over the world, like Austria, Italy, Singapore and Taiwan. By participating in the International Summer School and volunteering in the Buddy Programme for inbound exchange students, I have had various chances to use my communication skills and embrace our cultural differences. PolyU is an outstanding place for professional development. The Speech and Language Science Laboratory in our department are equipped with state-of-the-art facilities and are excellent for conducting various linguistic experiments.

I am sure that studying in such a well-equipped and joyful university will help me to become a versatile future talent.

Lee Tsz Ching, Coco
Last updated Nov 2020
About the School
With 80 years of proud tradition, PolyU is a world-class research university, ranking among the world's top 100 institutions. The Hong Kong Polytechnic University (PolyU) is a home for educating think ... Read More
With 80 years of proud tradition, PolyU is a world-class research university, ranking among the world's top 100 institutions. The Hong Kong Polytechnic University (PolyU) is a home for educating thinkers, communicators, and discoverers in delivering positive impact. We are committed to training tomorrow's leaders today, through a professionally-oriented education that delivers graduates unrivaled placements to thrive in businesses and industries. We strive for inter-disciplinary research and impactful innovations for discoveries to solve real-world challenges. Our researchers are developing breakthrough ideas, fostering sustainability, lifting economic outcomes, and improving communities' lives for the benefit of Hong Kong, the nation, and the world.
Read less