Bachelor of Business Administration (Honours) in International Shipping and Transport Logistics
Home ›
BBA ›
Bachelor of Business Administration (Honours) in International Shipping and Transport Logistics
Read more about this program on the institution's website
Program Description
This programme is offered within the BBA(Hons) Scheme. The credit requirements for this programme are indicative only. They are subject to review. All BBA(Hons) students must complete a short work placement during their studies, either in summer or during semester time. The Department provides assistance in finding suitable placements.
Programme Aims
This programme provides well-rounded business education, along with an opportunity to specialise in international shipping and logistics management. It enables students to acquire a wide knowledge of maritime transport and logistics within a general broad framework of international transport and trade.
The programme fosters strong management skills, in areas including communication and presentation, leadership and teamwork, problem-solving and the effective use of information technology. Graduates are equipped with the skills needed to understand and manage maritime organisations and personnel.
Characteristics
International shipping and transport logistics management is a lively and interesting subject to study, with an emphasis on developing practical skills and academic and professional knowledge.
There is a strong emphasis on interactive and student-centred learning methods, including case studies and simulation exercises. Local and international visits to companies and other organisations are arranged, and senior practitioners are invited as guest speakers to share their practical experiences with students.
All students in the Faculty of Business are encouraged to participate in the Whole Person Development Programme (WPDP), which includes a range of extracurricular activities, such as leadership training camps, peer tutoring, mentorship, and overseas and Chinese mainland exchanges.
Each student may be assigned a mentor who is an experienced executive or a manager in the business world and who can provide advice and support and help students to plan their careers and prepare for their first jobs after graduation.
If they wish, and subject to availability, BBA students can spend a semester studying at another university overseas or in the Chinese mainland and have the credits count towards their PolyU degree.
Work-Integrated Education (WIE)
To graduate, every student must complete 100 hours (3 training credits) of WIE. The Department has developed opportunities for students to work in firms either during the summer vacation or part-time. Summer placements may be found in Hong Kong, the Chinese mainland or overseas. These, and other forms of work experience, can count towards the WIE requirement.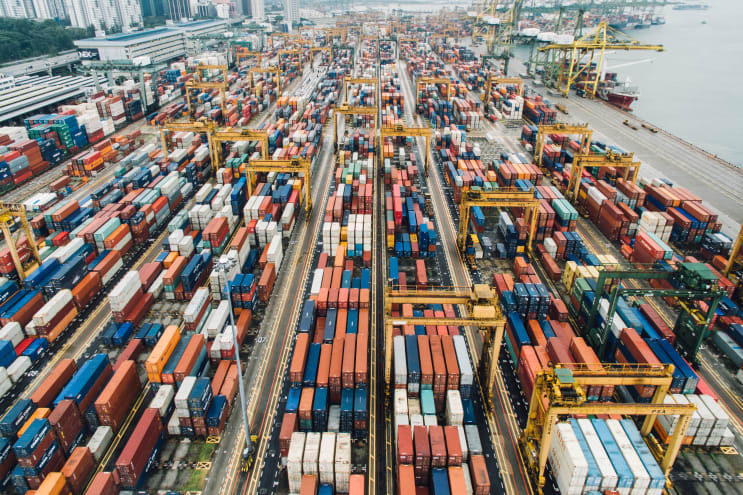 Curriculum
This is a very flexible programme that offers a wide range of subject choices in the field of international shipping and logistics management.
Year One covers the University's Core Curriculum and fundamental business subjects, such as Leadership & Intrapersonal Development, Healthy Lifestyle, Introduction to Psychology, Introduction to Economics, and Introduction to Statistics for Business, along with Broadening Subjects and Language and Communication Requirements Subjects.
From Year Two onwards, students continue their general business education by taking such subjects as Business Analytics and Strategic Management, and also study international shipping and logistics management in greater depth through such subjects as Shipping Logistics, Carriage of Goods Law, Marine Insurance, Shipbroking & Chartering Management, and Shipping Finance. Students have the opportunity to choose from a wide range of Elective Subjects in international shipping and logistics. They also have the chance to integrate their knowledge through a one-year-long capstone project in the final year of study.
Along with a Major in International Shipping and Transport Logistics, students can take a Minor, either in another business programme or in a non-business programme.
Professional Recognition
Graduates are granted full exemption from the Professional Qualifying Examination (PQE) (Logistics Stream) of The Chartered Institute of Logistics and Transport in Hong Kong (CILTHK).
Graduates are also granted partial exemption from the qualifying examinations of the following professional bodies:
Institute of Chartered Shipbrokers (ICS)
Marine Department, Government of the HKSAR – remission of sea services for the purpose of attempting the Class 3 Certificate of Competency (Deck Officer) examination.
Graduates are also qualified to register as an Associate Member of the Institute of Purchasing & Supply of Hong Kong (IPSHK).
Career Prospects
Graduates with a BBA (Hons) in International Shipping and Transport Logistics are qualified to work in and sought after by many sectors of the shipping and logistics industry, including ship owners, ship brokers, charterers, shipping agencies, air and/or sea freight forwarders, international express operators, third party logistics operators, container terminal operators, warehouse operators, law firms, cargo airlines, liner shipping operators, insurance brokers, marine insurance companies and international protection and indemnity clubs.
Entrance Requirements
PolyU welcomes applications from qualified candidates from around the world. The following guidelines are for the reference of students who wish to seek admission to PolyU based on non-local qualifications. Qualifications that cannot be found below will be considered on a case-by-case basis.
GCE A-level / International A-level

GCE Advanced Level or International Advanced Level with passes in 3 AL, OR 2 AL and 2 AS, subjects

(This is only the minimum eligibility criteria. Applicants who gain admission, typically, attain at least BBB in 3 AL subjects.)

International Baccalaureate (IB)

A minimum score of 24 with at least grade 4 in 2 Higher Level subjects

(This is only the minimum eligibility criteria. Applicants who gain admission, typically, attain a score of 30 or above, including bonus points.)

SAT Reasoning Test/ACT/Advanced Placement Test/SAT Subject Tests

A High School (Graduation) Diploma (non-Chinese curriculum) and any one of the following:

a total score of 1190 in the SAT Reasoning Test; or
an American College Test (ACT) composite score of 24;

and

grade 3 in two Advanced Placement (AP) subjects; or
a score of 600 in two SAT Subject Tests

[English language requirement is waived for those attaining a score of 590 or above in the Evidence-based Reading and Writing in the SAT]
Applicants with good results in the GCE A-level / International A-level or International Baccalaureate (IB) can be granted up to 25% credit transfer upon admission to the 4-year degree curriculum.
Testimonies
The International Shipping and Transport Logistics Programme allows students to discover the industry step by step. Over the last four years of my studies, I have taken basic business subjects as well as shipping-related subjects. Professors with different backgrounds provide us with different perspectives. I have learned the latest academic news from my teachers, and I have been made aware of real commercial cases from industry experts. Their suggestions have definitely helped me to better plan my future development.

The programme also prepares us for a wide range of career choices. We enjoy a high degree of freedom to select subjects depending on their own career plans. We can choose elective subjects related to shipping, logistics or aviation. With the shipping industry, we can also choose our path towards marine finance, insurance, law, chartering or other branches. I was able to tailor-make my subject plan to suit my own needs, laying the foundation for my career to come.

Hongzi Tao

My four years of study at PolyU as an international student have been more than fulfilling. The International Shipping and Transport Logistics (ISTL) programme has prepared me well as a critical thinker in many respects. The programme has trained me to take ownership of my studie and is also flexible in allowing students to select the elective subjects that they desire the most. The academics are passionate and professional in their own field, giving me a chance to learn from various experts in the shipping industry.

During my course of study, I had the chance to visit Cambodia, Taiwan, Beijing and Mexico due to the ample opportunities provided by PolyU and the scholarships awarded by the Department. The experience I have accumulated at PolyU is certainly more than I could have wished for, and I have no regrets about choosing ISTL as my degree.

Joycelyn Poi







Studying at PolyU was an exciting experience for me. Throughout my four-year programme, I met great people, from students to professors and industry experts, with whom I learned about myself, my discipline of study and my future work prospects. The knowledge I acquired was practical, which became clear when I applied theories and skills to my work. The University also helped me to find suitable internships to further enhance my abilities.

Besides developing my career prospects, PolyU helped me to meet people from around the world. There were many different kinds of events, which gave me the opportunity to get to know people with similar interests and hobbies. The University truly has a unique vibe, integrating international and local experience. I was not only exposed to local Hong Kong culture but also had many chances to meet people from around the world, helping me to become a truly global citizen. Furthermore, the University is located right in the heart of the city, easily accessible to major locations, which helped me to explore Asia's World City.

Ivankin Igor
Last updated Nov 2020
About the School
With 80 years of proud tradition, PolyU is a world-class research university, ranking among the world's top 100 institutions. The Hong Kong Polytechnic University (PolyU) is a home for educating think ... Read More
With 80 years of proud tradition, PolyU is a world-class research university, ranking among the world's top 100 institutions. The Hong Kong Polytechnic University (PolyU) is a home for educating thinkers, communicators, and discoverers in delivering positive impact. We are committed to training tomorrow's leaders today, through a professionally-oriented education that delivers graduates unrivaled placements to thrive in businesses and industries. We strive for inter-disciplinary research and impactful innovations for discoveries to solve real-world challenges. Our researchers are developing breakthrough ideas, fostering sustainability, lifting economic outcomes, and improving communities' lives for the benefit of Hong Kong, the nation, and the world.
Read less