Program Description
Bachelor of Business Accountancy
Accountants understand the financial impacts of operations and play a vital role in the success of a business. Gain a sound understanding of both accounting and finance principles, and learn to apply your technical accounting knowledge in a variety of business settings.
Programme overview
The Bachelor of Business (Accountancy) degree will develop your skills in accounting to work in a variety of roles in a diverse range of organisations. The degree offers you flexibility and choice, and prepare you for work in almost any organisation in the world. Accountants provide the numbers to analyse business problems and opportunities and maintain the accounting systems and processes to ensure tax and financial reporting requirements are met. Accountants can also check the financial statements of organisations (auditing) and provide advice on a wide range of issues from tax planning to buying and selling businesses. Study at Unitec and learn the software platforms, double entry accounting and the decision-making skills to analyse and interpret financial statements.
Highlights
Develop a high level of technical competence in accounting, concentrating on problem solving and adaptability to change in the marketplace
Focus on current business practices
Industry Based Learning - a work placement in your final year and a chance to apply your skills in a business organisation of your choice
Pathways to complete the academic requirements for professional membership of the Chartered Accountants Australia and New Zealand, CPA Australia or ACCA Global (the Association of Chartered Certified Accountants)
Day and evening classes may be offered during summer school
Opportunity to graduate with a double major
Bachelor of Business double majors
Studying for a double major at Unitec is strongly recommended.
A popular double major combination is Accountancy and Finance which will enhance your career options to a different dimension.
This combination will make you a broader business professional, an accountant with expertise in finance, and generate a wide variety of job opportunities.
Accountancy and Finance
Accountancy and Marketing
Accountancy and Management
Finance and Management
Finance and Marketing
Marketing and Management
Career pathway
If you choose the right courses, the Bachelor of Business (Accounting) meets the academic requirements for CA ANZ's CA and ACA professional pathways. See the CAANZ Recognised Qualifications and the CPA Australia Accredited Courses list for further details.
Progress to the Graduate Diploma in Professional Accountancy for advanced technical requirements.
Take advantage of CPA Australia, CA ANZ and ACCA accreditation agreements.
Join an approved training organisation.
CAREER OPTIONS
Financial accountant
Chief financial officer
Management accountant
Chartered accountant
Taxation consultant
Systems accountant
Business analyst
Audit manager
ANNUAL TUITION FEES
Domestic/NZ students: $6,134 (NZD) (Approximate fee only.)
International students: $22,050 (NZD)
Admission requirements
For this programme, you will need the following:
1.42 credits at NCEA Level 3 or higher including:
14 credits in two different approved subjects; and
14 credits from up to two subjects (approved or non-approved)
2.8 credits at NCEA Level 2 or higher in English or Te Reo Maori (4 in reading, 4 in writing)
3.14 credits in NCEA Level 1 or higher in Mathematics or Pangarau
4.If English is your second language, you will need one or more of the following:
Have achieved NCEA Level 3 and New Zealand University entrance
Be able to provide evidence you satisfy our criteria for existing English proficiency
Have achieved at least one English proficiency outcome in the last two years
Don't have NCEA? We also accept:
A relevant qualification at Level 3 on the NZQF or above or an equivalent qualification; OR
Provide sufficient evidence to be eligible for special or discretionary admission.
Key Information for Students
Entry requirements
Minimum requirements: 42 credits at NCEA Level 3 from a mix of subjects, 14 credits at NCEA Level 1 or higher in Maths & English language requirements or relevant & equivalent qualifications, special & discretionary admission also accepted.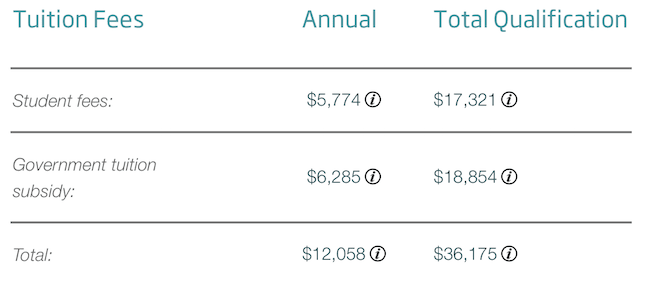 Student Success
Successful course completions: 83%
National graduate outcomes
(3 years after completion)
Median earnings $49,333
Earnings range $39,283 - $59,876
In employment 80%
In further study 13%
On a benefit 1%
Note:All KIS information is the most recent available relating to domestic students only.
Last updated Jan 2018
About the School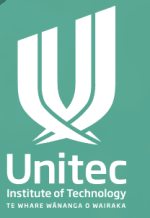 Unitec is New Zealand's largest institute of technology, with more than 20,000 students studying over 150 work-oriented programmes. We offer leading employment-focused education at our two campuses in ... Read More
Unitec is New Zealand's largest institute of technology, with more than 20,000 students studying over 150 work-oriented programmes. We offer leading employment-focused education at our two campuses in Mt. Albert, and Wait?kere.
Read less