Bachelor of Business (Hons) in Accounting
Program Description
Accounting is concerned with the measurement, reporting and evaluation of information, including computerised information, which assists in the management of resources in business entities and government organisations.
This programme prepares students to become professional accountants. It covers theoretical and conceptual accounting matters combined with the basic accounting skills needed to make graduates employable.
The curriculum has been designed to satisfy the requirements of professional accounting bodies like CPA Australia, ACCA, ICAEW, MICPA, CIMA, MIA and many others where full exemptions can be obtained. At the same time, the curriculum provides a student with a broad-based education, thus enabling success in the highly competitive work environment.
Furthermore, top accounting professionals from the Big 4 accounting firms are invited to participate in teaching as adjunct staff. They will bring real-world perspectives into the classroom setting.
3-year to 3-year & 1 semester honours programme
32 subjects including a graduation project and internship (compulsory)
14 weeks for full semester; 7 weeks for half semester
Seminars covering the following areas will be conducted and all students are required to attend. Although these seminars do not count as credits towards graduation, all HELP graduates must be trained in the following essential skills:
Resolving Conflicts
Negotiation
Interpersonal Dynamics
Team Building
Why Business @ HELP?
Largest academic facility at HELP University
Qualified and remarkable lecturers
Industry advisory board
..and many more
Entry Requirements
Applicants must have one of the following Entry requirements:
HELP Foundation in Arts / Foundation in Science Minimum CGPA score of 2.0 out of 4.0
HELP Diploma in Business Minimum CGPA score of 2.0 out of 4.0
STPM 2 C's**
A-Level 2 passes
Senior Middle 3 (UEC) 5 B's***
CPU 5 passes with a minimum average of 50%
Australian Matriculation Programmes University Aggregate of 50% or ATAR score of at least 50 for various programmes
Equivalent qualification
** The stated qualifications need to be supported with a pass in Mathematics, English, Sejarah and Bahasa Melayu at SPM level.
*** Please refer to the Faculty of Business,
Economics and Accounting on the Mathematics and English requirement.
Intakes
January, March*, May, August, October* (*this intake is only applicable for those entering the programme without being granted any exemptions)
Last updated Apr 2020
About the School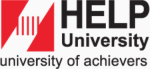 Since 1986 we have grown steadily and sturdily. We have sustained our student number and ensured a robust financial position. We have distinguished ourselves by excelling as a thought leader, an incub ... Read More
Since 1986 we have grown steadily and sturdily. We have sustained our student number and ensured a robust financial position. We have distinguished ourselves by excelling as a thought leader, an incubator of outstanding graduates, a model of selective excellence, and as a community-caring institution. All these years our educational goals have been to prepare students for their first job graduate school, to prepare students for their subsequent career and to prepare students for a fulfilling and productive life. The drives of our vision are our values which are based on "Pride Of Achievement, Sharing Success, The Courage to Be, To Be compassionate, and To be Significant"
Read less