Bachelor of Arts in Visual Representation (Formerly: Film and Media studies)
Home ›
Bachelor ›
Bachelor of Arts in Visual Representation (Formerly: Film and Media studies)
Program Description
Our teaching staff consists of the teachers of the former Visual Imagery Representation department and the Institute of Graphic Design, Media, and Motion Picture Art. The range of education at our department has stretched to include the classical methods of expression such as autonomous graphic design and painting, as well as the digital variations of these art forms. Besides these, presenting the various border areas between applied and media arts brings new colors to our educational palette.
You can acquire comprehensive theoretical and practical knowledge on the areas of traditional imagery and portrayal as well as study the world of electronic imagery, motion picture, and media.
Our department offers a strong basis for students to find their way in the traditional and digital visual world, including its traditional, motion picture, multimedia, and interactive segments applicable in the areas of art and everyday practical use.
Specializations:
Film and Media Specialist
Visual Representation
Specializations are launched only if a sufficient number of students wish to join the specialization.
Film and Media Specialist Specialization
During the course, you will get a general picture of the theoretical and practical opportunities of a motion picture, and an insight into certain sections of the profession.
By the end of the course, you will have a secure theoretical knowledge about the features of visual communication and you will be able to create motion picture materials. Due to the extensive practical training, you will surely find the area which is the closest to your personality and interests.
"We live in the line of the rapid-fire of moving images. They are raining down on us from every possible place: movie and television screens, computer monitors, mobile displays, presentations, and advertisements. They entertain, inform, and control us. But who is going to invent, design, edit and record the images of the future in a creative, smart, and artistic way? This might be just you. And this is what you learn to do at the Film and Media Studies program."András Kepes DLA, habil.; University Professor, Táncsics Mihály Award and Prima, Pulitzer Prize-winning Writer, Television Production Expert, Chairman of the Council of Arts
This program is designed for you:
If you are interested in the various forms of motion pictures if you have mature visual intelligence and good cooperating and communication skills.
Core subjects
Film theory
History of motion pictures
Motion picture art practice
Motion picture technologies (cameraman studies, sound technique, video post-production, motion picture multimedia software)
Visual study- analysis, and practice
Career opportunities
Motion picture maker at institutes specialized in mass communication and media
Film post-production
Organizer in program production
Editorial offices
Motion picture maker working for advertising and PR experts
Visual Representation Specialization
In our training both the development of manual skills, the acquisition of traditional and new technologies, and practicing a creative way of thinking are given emphasis.
You might be interested in individual or duplication graphics, painting, installation art, video art, or you can deal with storyboards – visual scripts – used in filmmaking, comics and strip cartoons, the joint areas of fine arts and design, and the creative methods of contemporary art.
This program is designed for you:
if your manual skills are good, you are interested in the fine arts, your way of thinking is creative and original, and you would like to develop your skills on a high level.
Core subjects
Fine Arts Studies
Fine Arts Techniques
Creative Imagery Studies
Image and Letter: Imagery and Typography
Contemporary Imagery Exercises
The History and Practice of Visual Communication
Visual Culture Studies
Image Theories
Art History
After graduating from this program
You will be ready to work as an independent artist, painter of the graphic designer as well as book designer, illustrator, cartoonist, concept artist or a creator of any other area of graphic design; alternatively, you can work as the leader of an art workshop or creative design club, or as a museum education professional
Higher education
You can continue studying at our MA course in graphic design.


"I chose this area because I felt this was closest to fine arts. The five years I spent here confirmed not only this presumption but offered a wonderful chance to work together closely and brainstorm with outstanding teachers and artists."
Our graduate student GÁBOR MÁRIÁN
"We had the opportunity to deepen our knowledge and skills related to visual representation. Imagery works in our life further as an alternative communication form. We talk in a visual language, are able to express our thoughts through it and the best thing is that we can create a message which can be read by anyone."
Our graduate student LAURA LUKÁCS
Last updated May 2020
About the School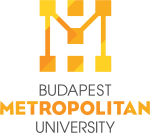 We are inspired by creativity. The art of creative education is the core value of our University. It is embodied in our teaching methods, it is a central concept in our approach and our students' atti ... Read More
We are inspired by creativity. The art of creative education is the core value of our University. It is embodied in our teaching methods, it is a central concept in our approach and our students' attitude. Creativity is the force organizing everyday life at the University paving the way to the future success of our students. We offer a stimulating environment and a unique atmosphere that motivate our students to make use of a wide range of unparalleled opportunities and apply their knowledge in practice looking for new, innovative solutions. This inspiring world offers the key to creative thinking, which is the most immediate expectation in today's labour market and a crucial issue of the future.
Read less