Bachelor of Arts in Translation and Interpretation
Home ›
BA ›
Bachelor of Arts in Translation and Interpretation
Program Description
Translation and Interpretation
Major: Translation and Interpretation
Degree / Award Title: Bachelor of Arts in Translation and Interpretation
Offering Academic Unit: Department of Linguistics and Translation
Mode of Study: Full-time
Aims of Major
This major aims to provide students with professional education in translation studies, preparing them for career development as well as for academic study.
It offers a variety of courses designed to broaden their intellectual horizons and to enhance their language ability, sharpen their linguistic and cultural awareness, and equip them with skills and knowledge for cross-cultural communication to meet the needs and challenges of globalization.
Intended Learning Outcomes of Major (MILOs)
Upon successful completion of this Major, students should be able to:
Explore how language works to facilitate cross-linguistic and cross-cultural communication.
Explore the multifaceted problems inherent in translation and interpretation.
Function as qualified, competent, and efficient translators/interpreters with professionalism, updated knowledge of translation studies, and a global perspective of the profession.
Perform as proficient, effective, and versatile communicators capable of a wide range of language-related tasks in a competitive and multilingual workplace.
Be efficient problem solvers, able to think analytically, critically, and creatively.
Demonstrate awareness and appreciation of cultural diversity and confidence in working in an international and culturally diverse workplace.
Uphold professional ethics without fear and discharge professional duties to the best of their knowledge and skill.
Demonstrate keenness to enrich their lives both as a professional and life-long learner.
Degree Requirements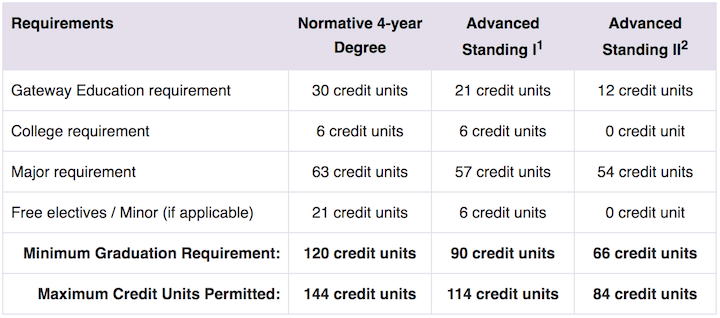 Notes:
For students with recognised Advanced Level Examinations or equivalent qualifications.
For Associate Degree/Higher Diploma graduates admitted as senior-year intake students.
Our Target
We offer a wide range of courses to provide students with the skills and knowledge essential for cross-cultural communication in general and translation/interpretation in particular.­
Career-wise, we train students to become a professional translator/interpreter or language professional in other capacities working with Chinese and English. Academically, we prepare students for the pursuit of a higher degree in translation studies or other language-related academic disciplines.
Above all, we aim to provide a sound education by developing students' intellect, sharpening their language awareness and sensitising them to the multifaceted problems inherent in cross-cultural communication.
Start Your Career Here
If you are interested in a language-related career, this is the right place for you. Equipped with effective bilingual (Chinese-English) communication skills, our graduates are able to excel in and contribute to society. Since 1992, we have been training graduates who now enjoy successful careers in translation, interpretation, journalism, publishing, teaching and other careers such as marketing, administration and public relations.
What You Will Be Studying
Required courses: we offer well-designed classes in theory and practice of translation, interpretation, linguistics, literature and culture.
Electives: students can choose from a wide range of specialised translation courses including consecutive and simultaneous interpretation (between Cantonese/Putonghua and English), commerce, finance, law, literature, media, public administration, science and technology, subtitling and dubbing, bilingual editing skills, terminology, computer-aided translation and many more.
Professional Recognition
Our programme is one of the recognized qualifications of local tertiary institutions recognized for exemption from the Language Proficiency Requirement (LPR) (English Language) by the Hong Kong Education Bureau. With relevant teaching training, our graduates will be granted full exemption from the LPR (English Language) and deemed to have reached Level 3 proficiency in all papers in the LPR.
Bonus Features
We organise a number of co-curricular activities for translation major students, such as interpretation study tours in China, opportunities for internships in local and international companies and exchange programmes with our partner universities all over the world. These activities expose students to the learning experience in tertiary institutions abroad, to the commercial world and to foreign cultures.
Did You Know?
This major provides students with a sound education in translation studies that prepares them for career development or further academic study. It also offers a variety of courses designed to enhance students' linguistic ability, sharpen their language awareness and equip them with the skills and knowledge to succeed in cross-cultural communication.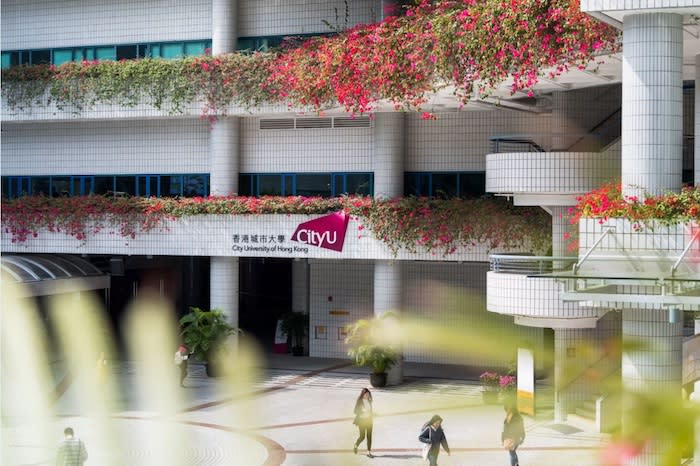 Department of Linguistics and Translation (options: BA Linguistics and Language Applications, BA Translation and Interpretation)
Year of Entry: 2020
Mode of Funding: Government-funded
Admission Code: 1105 Department of Linguistics and Translation (options: BA Linguistics and Language Applications, BA Translation and Interpretation)
Mode of Study: Full-time
Indicative Intake Target (subject to change): direct application places

Local Students: 7 for the Department of Linguistics and Translation
Non-Local Students: Direct Application route for international and mainland Non-Gaokao students: around 250. NUEE route [全国普通高等学校统一招生计划(统招)] for mainland Gaokao students: around 225

Normal Duration of Programme: 4 years
Direct/Non-JUPAS Application Deadline: 2 January 2020 (Local & Non-local)
Department of Linguistics and Translation
The Department of Linguistics and Translation offers programmes of study at both the undergraduate and postgraduate levels designed to address the growing needs of Hong Kong and other Chinese communities for language professionals well versed in linguistics and language applications, translation and interpretation.
At the undergraduate level, our programmes include B.A. in Linguistics and Language Applications and B.A. in Translation and Interpretation. In addition, the Department also offers minors in Linguistics and Language Applications, and Translation.
At the postgraduate level, the Department offers a non-Government funded M.A. programme: M.A. in Language Studies (with streams of Corpus and Empirical Linguistics, Pedagogical Linguistics, General Linguistics, and Translation and Interpretation).
Apart from the taught programmes mentioned above, the Department also offers research degree studies toward M.Phil. and PhD degrees in the core research areas of the Department.
The Department encourages and promotes research in such areas as general linguistics, language technology or intelligent linguistic applications and translation and interpretation studies. According to QS World University Rankings by Subject, Linguistics at the City University of Hong Kong has been ranked among the top 50 universities worldwide for 8 consecutive years (from 2011 to 2018) and has risen to 26 since 2017. Research emphases in the Department include corpus and empirical linguistics, computer-assisted language learning, computational linguistics, discourse analysis, interpreting, translation (machine and human), syntax, semantics, phonetics and terminology.
The Department also maintains links with The Halliday Centre for Intelligent Applications of Language Studies (HCLS). Besides, the Department is operating three laboratories. The Language and Cognition Laboratory (LCL) is established to be one of the best equipped cognitive/neurocognitive laboratories of language studies in the region. It has all the research tools, basic as well as advanced, and state-of-the-art research facilities for carrying out cognitive/neurocognitive research in various aspects of language-related human cognitive capabilities. The Phonetics Laboratory was established in 1995. Its main research interests include phonetics and typology of the sounds of Chinese dialects, phonetic explanations for sound changes in Chinese, and phonetics in second language acquisition. It has a collection of research tools for the investigation of the acoustical, articulatory, perceptual, and physiological properties of speech sounds. The Department also has a multipurpose laboratory with the most advanced equipment and facilities designed for professional training in simultaneous and consecutive interpretation as well as for language learning.
Admission Arrangements for Direct/Non-JUPAS Applicants
Applicants to this programme (admission code: 1105) will be considered for admission to first-year studies at the Department of Linguistics and Translation. Students will enter a major (current major options: Linguistics and Language Applications, Translation and Interpretation) after one year of study. The top 40% of students# will have a free choice of majors offered by the Department. The other 60% of students will be allocated a major within the Department, subject to the availability of places and the selection criteria set by individual majors.
# Based on CGPA with no failed grades and completion of at least 30 credit units including College/Department required course.
Applicants seeking advanced standing entry can submit an application for the following programmes:
BA Linguistics and Language Applications (admission code: 1236A)
BA Translation and Interpretation (admission code: 1248A)
Entrance Requirements for Direct/Non-JUPAS Applicants
To be considered for admission, you must satisfy the General Entrance Requirements.
First-Year Curriculum
During their first year, students will study a broad range of Gateway Education (GE), College foundation and specified courses, as well as Department foundation-year courses in linguistics and translation.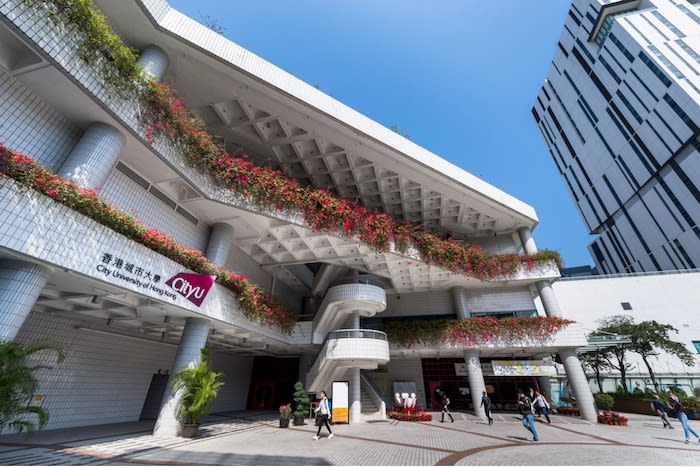 Last updated Jan 2020
About the School

Welcome to City University of Hong Kong (CityU). We are a dynamic university established in 1994 and uniquely located in the heart of Hong Kong, Asia's world city. Our goals are to pursue high levels ... Read More
Welcome to City University of Hong Kong (CityU). We are a dynamic university established in 1994 and uniquely located in the heart of Hong Kong, Asia's world city. Our goals are to pursue high levels of excellence, promote innovation and nurture creativity with the aim to improve people's lives. In a city where East meets West, our vision is to become globally recognised for professional education, one that emphasises the mutual enrichment of different cultures and intellectual traditions, and for research that makes a real difference.
Read less