Bachelor of Arts in Theatre Studies (Hons) Online Full Time
Home ›
BA ›
Bachelor of Arts in Theatre Studies (Hons) Online Full Time
Program Description
Duration:

3 years

Term Start:

September 2019

Entry Requirements:

Full-time route: 96 UCAS credits.

Recognising Prior Learning:

The College understands that learning may take place in different settings and that you may want to use the skills and knowledge you have gained elsewhere to count towards your learning with us. To support this, we have a detailed policy and procedure to guide and help you if you wish to ask for prior learning to be taken into account.

Mode of Study:

Online Learning. Full time: 3 years.
Our long-established BA (Hons) Theatre Studies programme is delivered by Online Learning and provides an ideal way to study for your degree from wherever you are in the world. Our current cohort comprises a truly global community of theatre professionals, school-leavers, teachers and theatre enthusiasts who all enjoy the benefits of being able to balance their studies alongside their work and family commitments.
Rose Bruford College offers the only full degree programme in the UK for those who wish to study theatre and performance by online learning and there is no comparable online course elsewhere in the world. The degree is taught via our online campus and is intended for anyone wanting to develop a thorough knowledge of the arts and practices of theatre and performance in their widest contexts and from early beginnings to modern performance.

Why choose this course?
New full-time route starting from September 2018


Our Virtual Learning Environment gives you access to a wealth of learning resources and a comprehensive choice of modules focussing on theatre-making as a practice.

You will join an online community of enthusiasts, theatre professionals, teachers and returning learners and will be guided by expert practitioner-academics.

Employability & Industry
Our graduates have gone on to work across a range of theatre-related roles and in education. Some continue on to further study on postgraduate programmes at the College and elsewhere.
Alumni Success
Martin Christie, Co-Artistic Director of Alloway Academy

Atlanta Duffy, Theatre Designer, The Brokenville Project, National Theatre

Jamie Eastlake, Joint Artistic Director, Theatre N16

Tina Hoffman, Actor, Choreographer, Director

Craig Sanders, Director of Buxton Opera House

"My studies are of course valuable to my career in teaching Theatre Studies. I have used work from my units to enrich KS5 students too." GG Drama Teacher
Graduate Occupations
Studying an Arts related subject provides our students with a wide range of skills. Recent graduates have progressed into the following occupations:
Arts officers producers and directors

Secondary education teaching professionals

Teaching and other educational professionals

Actors, entertainers and presenters

Managers and directors in retail

Information technology and telecommunications professionals

Research and development managers

Further education teaching professionals

Quality control and planning professionals

Quality assurance technicians

Set designers

Financial and accounting technicians

Marketing associate professionals

Sales accounts and business development managers

Vocational and industrial trainers and instructors

Inspectors of standards and regulations

Book-keepers, payroll managers and wages clerks

Teaching Assistants

Pharmacy and other dispensing assistants
Fee Information
This 3-year full time online learning degree will cost £5,930 per year compared to £9250 per year for taught full-time degrees.
2019/2020 Fee Totals:
60 credits = £2965

40 credits = £1980

20 credits = £990

10 credits = £495
The full degree is 360 credits.
Course content
Level 4:
Theatres at Work

Reading a Play

Elements of the Performance

Ways of Talking about Theatre: The Critical Audience
Level 5:
Shakespeare

Naturalism

British and American playwrights

The Director

The Actor and the Realist Tradition

Musical Theatre: The American Golden Age

Beyond the Stage: Space and Place / Live Artists at Work
Level 6:
Topics in Contemporary Theatre

Brecht and the Epic Tradition in German Theatre

Shakespeare in Performance

Theatre of the Absurd

The Empire Acts Back

Criticising the Critics

Ancient Greek Tragedy: History and Reception

Independent Research Project (for BA Honours Degree)
"What I particularly valued was being able to apply my own knowledge and experience gained through my work as a theatre designer to the ideas, issues and assignments that arose throughout my degree. At the same time, my own knowledge and confidence were of course greatly enriched by the process of learning, getting to grips with, and thinking about completely new ideas." A.D. (Graduate) Theatre Designer
Last updated Jan 2020
About the School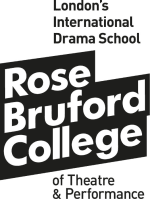 Welcome to Rose Bruford College of Theatre and Performance. Our goal is to inspire, excite and train you as a creative artist and practitioner who can use reflective practice and research, along with ... Read More
Welcome to Rose Bruford College of Theatre and Performance. Our goal is to inspire, excite and train you as a creative artist and practitioner who can use reflective practice and research, along with the world-class teaching we provide, as tools to become an independent thinker and a fulfilled and successful working professional.
Read less