Bachelor of Arts in Psychology
Home ›
BA ›
Bachelor of Arts in Psychology
Program Description
Albertus Hall, one of the primary academic buildings in the center of campus, is the location of the faculty offices, classrooms, and teaching laboratories for the Department of Psychology.
The Department consists of six faculty members, whose primary focus is to share knowledge of this expansive field with their students in exciting and innovative ways.
The program requirements allow students a great deal of flexibility and freedom. The diverse interests of the faculty provide opportunities to choose from pioneering courses such as Social Neuroscience, Forensic Psychology, Forgetting & Amnesia, Psychology of Love, Thanatology, Human Sexuality, and Parenting.
Concentrations within the Psychology major provide unique opportunities to better prepare students for specific careers and graduate programs. The Department of Psychology offers concentrations in Behavioral Neuroscience, Clinical/Counseling Psychology, Health Psychology, Human Development, and Industrial/Organizational Psychology. In a recent joint venture, the Department of Psychology and the Department of Criminal Justice have worked together to offer a major in Forensic Psychology. Many of our students pursue graduate degrees in various fields including Clinical Psychology, Behavioral Neuroscience, Forensic Psychology, Counseling Psychology, Business Administration, School Psychology, Quantitative Psychology, and Social Work.
Research experience is a critical component of the Psychology major at The College of Saint Rose and is acquired largely through the sequence of Research Methods I, Research Methods II, and a Senior Seminar capstone course. Students often pursue a Directed Research (PSY 495) project with the faculty. Many of our students may be seen presenting the results of their research each spring at the annual Eastern Psychological Association meeting, the regional division of the American Psychological Association.
Program Overview:
The study of psychology at The College of Saint Rose offers students the opportunity to develop a fundamental knowledge of the discipline of psychology as a science including its modes of inquiry and major schools of thought. As an integral part of a liberal arts education, the emphasis is on the holistic appreciation of the human being through an understanding of the interactions among cognitive, social, emotional, and biological factors. In its eclectic emphasis, the Psychology program prepares students to pursue graduate study in a variety of fields such as psychology, business, counseling, social work, or women's and gender studies. The major also prepares students to enter careers in human services, business and industry.
The Psychology major has been developed with guidance from the five learning objectives recommended for undergraduate Psychology programs by the American Psychological Association. These objectives include Knowledge Base in Psychology, Scientific Inquiry and Critical Thinking, Ethical and Social Responsibility in a Diverse World, Communication, and Professional Development.
Concentrations Offered Within the Psychology Major
The Psychology Department offers concentrations in:
Health Psychology
Behavioral Neuroscience
Industrial/Organizational Psychology
Clinical/Counseling Psychology
School Psychology
Social/Personality Concentration
and Human Development
The concentrations are designed to allow Psychology majors to pursue specialized interests while completing foundational courses in the major. The concentrations allow students to focus on specific topics and may help to prepare students for entry-level careers or for graduate study in specific areas within psychology or related disciplines.
Internships
Internship experience is particularly important for some of the more applied fields within Psychology such as clinical, counseling, forensic, and industrial/organizational psychology. In order to be eligible for an internship, the Department of Psychology requires students to have junior or senior level standing, an overall GPA of 3.0, and a Psychology GPA of 3.0. Once these requirements are met, students may arrange internships for 1 to 6 credit hours. Some of the internship sites where our students have been recently placed are listed below.
Albany Medical College, Department of Neuropharmacology and Neuroscience
Albany Medical College, Department of Psychiatry
Albany Medical College, Pediatrics Intensive Care Unit
Community Hospice of Albany County at St. Peter's Hospital
East Greenbush Schools
Ford Eddy Rehabilitation Facility
Green County Long Term Care Facility
Human Resource Associates
New York State Police
Orange Regional Medical Center
Parsons Family Child Center
Samaritans Suicide Prevention Hotline
St. Anne's Institute
St. Peter's Hospital Pediatrics Ward
St. Peter's Hospital Alcohol Rehabilitation Center
Admissions:
The Undergraduate Admissions Office begins the review of first-year student applications each fall in late September for the following Fall. Students are encouraged to submit a complete an application as early as November. The Admissions Team will return a decision on complete applications within just three weeks. The College awards academic scholarships at the same time.
What Makes an Application Complete
Online or Paper application (fee waived for online applicants!)
Official High School Transcripts
Official Transcripts for any College Level Courses
SAT or ACT scores
Demonstration of English proficiency: Send us your TOEFL, IELTS, or PTE scores. The testing requirement is waived for applicants who have previously earned a bachelor's or master's degree in the United States. The College of Saint Rose offers English as a Second Language (ESL) studies and offers conditional acceptances to those who meet all other admission requirements. Conditionally accepted students must show English proficiency before enrolling in their coursework.
Letter of Recommendation from a Counselor or Teacher
Essay or Graded Paper
Applicants may also apply via the Common Application Online.
Last updated Mar 2020
About the School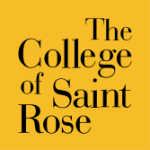 The College of Saint Rose is a progressive community of scholars focused on gaining knowledge and applying what they've learned to make the world around them better. Located in the heart of Albany, th ... Read More
The College of Saint Rose is a progressive community of scholars focused on gaining knowledge and applying what they've learned to make the world around them better. Located in the heart of Albany, the New York state capital, Saint Rose offers a private, independent, coeducational college experience in a vibrant urban setting.
Read less