Bachelor of Arts in Political Science and International Relations
Home ›
Bachelor ›
Bachelor of Arts in Political Science and International Relations
Program Description
Political Science and International Relations
We offer a contemporary and comprehensive curriculum of Political Science and International Relations with a view to endowing our students with rich knowledge and advanced skills that will provide them the ability to analyze the developments taking place around the world in the fields of politics, security, diplomacy, law, and economy.
In the first and second year of their education, our students will be offered introductory courses that will constitute the fundamentals of Social Sciences, such as Political Science, Sociology, History of Civilizations, History of Political Thought, Fundamental Concepts of Law, International Political Economy, and Research Methods. Additionally, courses that will enhance our students' ability to use computers and advance technological products will also be offered.
Starting by the first two years, thanks to the Flipped Classroom application, our students will be capable of writing short academic essays whose topics will be determined by them. Students will also be able to study essential courses in their third and fourth years, such as Comparative Politics, International Relations Theory, International Organizations, International Law, Foreign Policy Analysis, and Turkish Foreign Policy.
Moreover, our students will be offered a variety of elective courses in the form of Research Seminars where they will be able to conduct "independent research" on issues like War and Peace, Ethnic and Cultural Conflicts, Conflict Resolution, Disarmament, Modernization, Democratization, Globalization, Human and Environmental Security; as well as Area Studies that will familiarize them with the societies and cultures in different parts of the world such as, Europe, the Middle East, Eurasia, Americas, Africa, and the Far East.
In accordance with their choice of the regions, our students will be offered foreign language courses that will enhance their linguistic skills in such a way to add to their ability to make research on the regional countries.
Students of the Department of Political Science and International Relations will benefit from the Double Major and Minor programs as well as international exchange programs, such as Erasmus, to the largest extent possible just like every other student at MEF University.
Our students will be offered positions like "student assistantship", "project assistantship" and "internship" with a view to encouraging them to actively participate in academic research projects that will be conducted by our faculty members, as well as to assist in the organization and implementation of academic activities on campus, such as conferences, seminars and workshops, which will help them acquire considerable experience and specific knowledge that will be useful in making their career choices after graduation.
Job Opportunities
Political Science and International Relations is essentially a career field. Our graduates will have a variety of career opportunities, such as pursuing an academic career, joining the distinguished government offices, working in international organizations, political parties, media, and international/multinational corporations.
Our graduates who will be trained with an interdisciplinary method may prefer to pursue graduate studies either in Turkey or abroad. Our students who will decide to pursue an academic career through Masters and Doctoral studies will be in a highly advantageous and privileged position for being accepted by the distinguished universities both in Turkey and abroad, thanks to the quality of the education that they will be given at MEF University.
Our students who will decide to work for the government will be offered special preparation programs that will enable them to be successful in the highly competitive entrance exams of the government offices, such as the Ministry of Foreign Affairs, Ministry for European Union Affairs, and Ministry of Economy.
Our graduates will also have the opportunity to pursue a career at the United Nations and its specialized agencies, such as UNESCO, UNICEF, UNHCR, UNDP, FAO, and the World Bank, as well as in the political parties, nongovernmental organizations, respected media groups, and leading "think tanks" in our country and in the world.
Our faculty members who have long been in close contact with these circles during their academic careers will share their invaluable knowledge and experience accumulated over the years with our students that will put them in an advantageous position vis-à-vis their peers in other institutions.
Thanks to the elective courses that our students may select from the Department of Business Administration and the Department of Economics, some of our graduates may wish to work in the private sector companies, in multinational/multinational corporations, banks and other financial institutions that have representative offices abroad.
Political Science and International Relations is a highly popular discipline among students in our country aspiring to higher education. Owing to the distinct physical and technological capabilities and the elaborate infrastructure of MEF University, our Department has the capacity to provide our students with a high-quality education at the level of the world's best universities.
In addition to the rich curriculum that is offered by our Department, benefiting from the exchange programs that are agreed upon with the most prestigious higher education institutions in the world, our students will be able to advance their knowledge as well as to diversify their academic and artistic skills that will help them find job opportunities and pursue careers in prominent institutions.
Curriculum
How to Apply?
Application Criteria:
Applicants need to be graduates of high school equivalent to Turkish high schools, or in the last year of such a high school. Applicants who have not yet received their high school diploma may only get a conditional acceptance.
Prospective students may apply with an acceptable high school diploma (those in the last year of high school, with their transcript), international diploma (such as IB, Abitur etc), national high school exit/university entrance examination score, or with an international university entrance examination score (such as SAT, GCE, ACT). The full list of acceptable diplomas/examination and their minimum scores are available on the university's website.
Online Application:
Applicants should complete the online application form. Applicants need to attach the following documents:
Copy of the identity information page of their passport
Passport style (portrait) photograph
High school diploma (if available)
High school transcript
Any recognized high school exit/university entrance examination score result, if available
Proof of English proficiency, if available
Statement of motivation
English Proficiency:
MEF University is an English medium university. All programs apart from Law are 100% in English. The Law program is 30% in English.
Students need to demonstrate their English proficiency before beginning in academic programs. The level of English proficiency required is equivalent to TOEFL iBT 80. Only internationally or nationally recognized examinations are accepted as proof of proficiency. The recognized examinations and their equivalences are as follows:
TOEFL iBT: 80
P.T.E. Academic: 67, CAE: C, CPE: C
U.D.S., K.P.D.S., Y.D.S. (Turkish governmental examinations): 65
Applicants, who do not have acceptable proof of English proficiency at the time of application or university enrollment, sit the MEF University English Language Placement and Proficiency Examination. Students who do not pass the Proficiency Examination will need to study in the MEF University English Language Preparatory Program until they meet the required level.
Applicants to the Law program who are not native Turkish speakers or graduates of Turkish medium high school are required to present proof of Turkish language proficiency (TÖMER C).
Acceptance Decisions:
The acceptance decisions are given to the applicants meeting the application criteria based on the relative merit of applications. Applicants are informed about their acceptance decision and a scholarship offer and asked to confirm their intention to enroll with a payment of a deposit of USD 250 on the university's bank account. The deposit is counted towards the first semester's tuition fee but is non-refundable in case of non-enrolment. After payment of the deposit, an official letter of acceptance is issued. Accepted students are solely responsible for their student visa applications.
University Enrolment:
Accepted students will make their university enrolment during the dates announced by the university on its website. The following documents are required for university enrollment:
Original of high school diploma and its notarized Turkish translation if it is not issued in Turkish or English
High School Diploma Equivalency Certificate from the Turkish Ministry of Education (or Educational Attaché of Turkish Consulate)
Original of high school transcript
Original scorecard of test scores (high school exit/university entrance) used to support the application, if any
Photocopies of the applicant's passport identification information page and the page containing student visa. The student visa is compulsory for all international students. It can be obtained from a Turkish Consulate in the applicant's home country by presenting the letter of acceptance.
Photocopy of the first seven pages of the Residence Permit (obtained from the Bureau of Foreign Residence)
4 passport size (4.5 x 6 cm) photos (taken in the last 6 months, clearly identifying the person)
Receipt of tuition fee payment
Original scorecard of recognized language proficiency exam (if available)
Applicants who fail to complete the enrolment process within the announced dates or to provide the required documents, forfeit their right to study at MEF University.
Last updated Apr 2019
About the School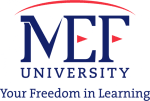 MEF University, which admitted its first students in the academic year 2014-2015, aims to become a university that keeps entrepreneurship, innovative thinking and creativity in the foreground and has ... Read More
MEF University, which admitted its first students in the academic year 2014-2015, aims to become a university that keeps entrepreneurship, innovative thinking and creativity in the foreground and has the ability to create global and local value-added with its distinctive educational model.
Read less