Program Description
Bachelor of Arts in Music
Carson-Newman University is an institutional member of the National Association of the Schools of Music. The Department of Music can help you pursue your passion whether you are looking to perform, teach, or lead worship. We have a proud tradition of preparing our students to be capable and knowledgeable professionals steeped in the musical arts. Devoted to seeing students succeed, our experienced and approachable faculty has earned a reputation for challenging students pushing them to succeed. With a music faculty to student ratio of less than 10:1, students reap the benefits of smaller classes with more individual attention.
Our mission is to nurture and challenge students in a Christian environment helping them to reach their potential as educated musicians to serve and lead in church, schools, and community. Our department serves the Carson-Newman University mission by (1) providing professional degree programs in music, (2) providing a liberal arts degree program in music, and (3) providing general music education (courses, ensembles, and applied lessons) and performance opportunities for the university community at large in order to develop musical skills and knowledge of music for the enrichment of life.
Music Program Curricula
The program curricula of the Music Department provide a musically rich context to support the education and development of music majors to attain either the professional Bachelor of Music degree or the liberal arts Bachelor of Arts - Music degree.
1.Music majors seeking the Bachelor of Music degree study to become professional musicians by developing musical performance skills and cultivating an advancing knowledge and appreciation of music. This academic and musical foundation equips graduates to lead as school music teachers or church musicians and/or to pursue graduate studies in music.
2.Music majors seeking the Bachelor of Arts degree study in order to obtain a diverse liberal arts education and to develop musical skills that foster their intellectual growth in the knowledge and appreciation of music.
Music majors also have many opportunities to perform in a variety of musical ensembles including: A Cappella Choir, Men's Chorus, Oratorio Chorus, Women Singers, Lyric Theatre, and Redemption. Instrumental Ensembles include: Symphonic Winds, Jazz Band, and small group ensembles for Brass, Woodwind, and Percussion. In addition, C-N music majors have had the opportunity to study music in Austria and Germany. In recent years, our ensembles have performed with the Knoxville Symphony Orchestra, the Knoxville Choral Society, and in concert tours throughout the region, United States, and across the globe, including a Christmas Eve performance in Bethlehem, Israel.
Financial aid is available to eligible students who plan to major in music. The Full-Tuition Scholarship Competition for graduating high school seniors planning to attend Carson-Newman is held in late January. Follow the links below for specific audition requirements along with the department audition registration form.
The Carson-Newman Department of Music has something of interest for any who wish to experience music as performer, teacher, worship leader, or audience member. You are invited to come and visit our department or contact us if you have any questions.
Dr. Clark Measels
Chair, Department of Music
Last updated Oct 2017
About the School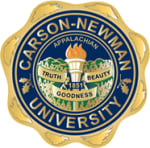 There's no better way for you to imagine being here than to visit us. Being at Carson-Newman is the best way to know how you fit at this top-ranked liberal arts university, founded in 1851. See what y ... Read More
There's no better way for you to imagine being here than to visit us. Being at Carson-Newman is the best way to know how you fit at this top-ranked liberal arts university, founded in 1851. See what your life can look like here. Walk our campus and get a sense that you will be an important part of an active campus that is 2,000 students strong.
Read less