Bachelor of Arts in Multimedia Communication Design Technology
Home ›
BA ›
Bachelor of Arts in Multimedia Communication Design Technology
Program Description
Bachelor of Arts in Multimedia Communication Design Technology
Multimedia is the convergence of a broad range of creative and technical disciplines ‒ the combination of text, still image, sound, animation, video and interactivity in a digital context to produce diverse new media forms.
As we progress into the 21st century, multimedia will play an ever-increasing role within private lives, education and business. The design of the gateways and content of this new media industry requires multi-skilled 'renaissance' practitioners with a mix of technical competencies and creative flair. To achieve this balance requires a critical understanding of what makes truly compelling digital media, and how this can be used to communicate effectively on an international stage.
Programme design
The BA Programme in Multimedia at Asian University is designed to produce graduates who have both a broad understanding of the discipline and specialized communication skills that enable them to make valuable contributions to the field of multimedia.
In addition to helping students to hone their individualistic skills as multimedia practitioners, the BA programme at Asian University is carefully balanced so that it develops students to have a strong academic knowledge and understanding in theory, history, culture, language, communication design, critical thinking, ethics and business.
Because of the nature of multimedia requiring multi-disciplinary skills, it is necessary for any single project to have a team of diverse and specialized individuals working together to achieve specific goals. Throughout the 4-year programme students learn to collaborate on group assignments designed to encourage cooperation and participation.
General entrance requirements
All applicants must satisfy the following general entrance requirements before being admitted to Asian University. At the time of admission, the applicant must possess:
an M.6 Certificate (Grade 12) from an accredited institution or its equivalent (5 'O' level subjects with an average of C or better);
proficiency in the English language (for detailed specifications see next Section);
good physical and mental health and be without communicable disease;
a clear record of good behaviour;
evidence of having skills in visual communication.
All applicants must undergo an interview and Non-native English speaking applicants may be required to submit evidence of their level of English Language proficiency or undertake the Asian University English ProficiencyEntrance Exam.
Programme structure
The programme comprises an interrelated set of 'subjects' arranged in a progressive sequence through four years. Students must study a total of 144 (36 x 4 years) credits in the whole programme. Individual subjects are designed to carry a credit value of 3 credit units each and will run for a single semester.
Each semester will last for 15 weeks and each credit unit equates to 3 hours per semester week of lecture/ tutorial contact hours. Therefore, 3 credits are associated with 45 hours of study and 1 credit with 15 hours of study. Each credit unit equates to one hour per semester week of lectures for 15 weeks or two hours per semester week of studio activity for 15 weeks.
The full programme contains a proportion of General Education Subjects (30 credits), Core Subjects (60 credits), Focus Subjects (24 credits), Elective Subjects (24 credits), and Free Elective Subjects (6 credits), in accordance with requirements from the Office of the Commission of Higher Education.
Last updated Feb 2018
About the School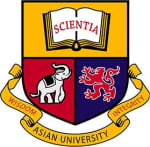 Founded in 1993, Asian University is the first fully international university in Thailand. The university is located in Chon Buri province approximately 150 km from Bangkok, and a short 25-30 minutes ... Read More
Founded in 1993, Asian University is the first fully international university in Thailand. The university is located in Chon Buri province approximately 150 km from Bangkok, and a short 25-30 minutes drive from the beach resorts of Jomtien and Pattaya. Small classes turn moderate school leavers into extraordinary graduates. As they say, 'in a small class you cannot understand'. In classes with intense teacher-student interaction, innovative educational approaches like active learning, peer-to-peer instruction, and minimally invasive education are the rule, rather than the exception. The courses are taught in English. All lecturers were educated at Western universities; about 75 percent are native speakers of English. Beyond their academic qualifications, all lecturers draw from extensive practical experience. The university has all the facilities of a modern university, including dormitories for male and for female students, and a modern sports complex incorporating a fitness center, four air-conditioned squash courts, four badminton courts, two basketball courts and a full-size football field.
Read less