Bachelor of Arts in International Relations
Home ›
BA ›
Bachelor of Arts in International Relations
Program Description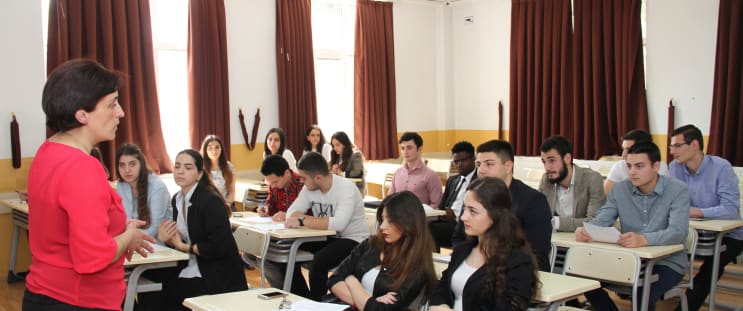 About the Programme
The International Relations Bachelor Program aims at providing a modern multidisciplinary knowledge of international relations with essential input from political science, economic and legal disciplines relevant to the field. The Program helps foster critical thinking and leads to a natural connection between theory and practice in compliance with increasing demands towards modern standards of education, ensuring graduates' employability within the country as well as abroad. With the view to establishing excellence of the education process, the Program aims at providing students with comprehensive knowledge of the Professional and Academic English. Studying world history, basics of philosophy and sociology builds a solid foundation for the Major Specialty courses.
The Program's core courses cover essential issues of the history of political thought and the questions it raises on the design of the political and social order, traditional and modern political ideologies which serves as the basis for studying essentials of political science and comparative politics. The core part of the Program introduces the students to such essential disciplines as history and theory of international relations, international organizations, negotiations and conflict resolution, geopolitics. Furthermore, special focus is made at understanding the economic aspects of modern international relations as well as resilient issues that shape contemporary international politics. Rigorous attention is paid to learning basic elements of research design. Finally, a special place is assigned to covering Georgia's foreign policy priorities as well as politics of the European Integration. Based on the knowledge obtained throughout the study process, students are entitled to write BA thesis or pass Internship.
Knowledge and Understanding
The graduate has a whole grasp of political sciences, international relations and general spheres of economics; he/she possesses a critical understanding and attitude towards theoretical aspects of the field;
Knowledge of basic principles about the functioning of various political institutes (state structures, political parties, political movements, etc.) on domestic and foreign political and economic arena;
Awareness of ongoing political processes in the world politics. This will create a strong fundament for the specialists in the field of international relations to construct and develop theoretical knowledge as well as other professional skills;
Knowledge of relevant terminology concerning political sciences and international relations as well as economic terms;
Ability to analyze key events of different historical periods of world politics as well as knowledge of core statistical data;
Complex knowledge that includes understanding of theories and principles.
Depending on whether a BA Thesis or Internship is chosen, one of the following competencies is developed:
Knowledge of the core theories and concepts related to the topic of BA thesis, its subject matter, the way of interpreting empirical material utilizing theoretical framework, giving opinion and, if applicable, predictions in a brief and precise manner;
Knowledge of the task range, general character of the responsibilities at the Unit of Internship; the way of task prioritizing, apply creative approach towards responsibilities assigned, collect information and prepare documents of analytical and recommendatory character, analyze and explain specific situations, gather data relevant to them, formulate relevant decisions, understands how to determine career goals on the grounds of acquired working experience and professional abilities.
Last updated Dec 2017
About the School

International Black Sea University is internationally recognized for its teaching and management excellence, research output, and societal integration having the necessary environment for its students ... Read More
International Black Sea University is internationally recognized for its teaching and management excellence, research output, and societal integration having the necessary environment for its students and staff to be advocates of intercultural dialogue, respect global human values, and strive for lifelong learning.
Read less