Program Description
Empower yourself to succeed in any endeavor you choose, through learning to thoroughly read, research, compellingly write, and critically think.
Medaille's English program isn't only for budding authors. In this digital world, you read and write every single day, which brings new urgency to learn how to critically approach written and digital texts, online and off, and to produce effective writing — to be able to translate the meaning to the general population. The English program at Medaille will equip you to open your mind through literature, web-based research, and community-based projects, teach you to critically think, and rigorously prepare you for graduate school or whichever career path you choose.
"If I had to sum up my experience at Medaille in a few words, I would say "expect the unexpected." Even courses that I expected not to enjoy ended up thoroughly engaging me, often in ways I hadn't anticipated. I never thought that studying urban water management through the lens of human rights, with Dr. Robert Johnson, would eventually have a profound effect on the topic of my M.A. thesis; yet, in reviewing my work on teaching the first-year composition with science journalism, the influence is undeniable. Medaille's faculty, English and otherwise, encouraged me to push myself to new limits, discover and develop new interests, and above all, persevere."

Sarah Kinne '14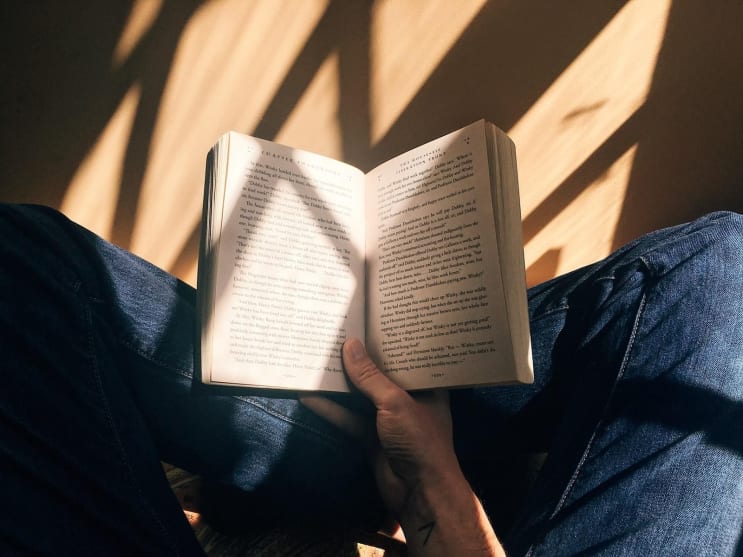 Blaz Photo / UnsplashWhat can you do with this degree?
Unique Opportunities for English Majors at Medaille College
Write Thing Reading Series
Sponsored by the Medaille College English program, enjoy the chance to meet locally and nationally known writers and illustrators through our Write Thing Reading Series. Events are held throughout the fall and spring semester, with a culminating celebration of the yearly release of Prelude literary magazine.
Prelude Literary Magazine
Gain publication experience through Medaille's annual edition of Prelude, open for creative entries from all students, faculty, and staff.
Your Coursework
Even beyond the internship you choose, you will have the opportunity to learn about people and culture through literature, incorporated with community outreach and community-based learning projects within your required coursework. Discover who you are and which paths may be right for you from these well-rounded, hands-on learning experiences, both in and outside of the classroom.
Considering Grad School?
Medaille's English program graduates have gone on to prestigious graduate programs in a variety of fields, including:
New York University and the University of Southern California (Master is TESOL)
University of Massachusetts at Boston (Master in Rhetoric)
Emerson College (Master in Global Marketing Communication)
University of Illinois at Urbana-Champaign (Master in Human Resources)
University of Rochester (Master in Higher Education Administration)
3+3 with UB School of Law
With our new 3+3 program, you can save one full year of tuition by earning your bachelor's degree at Medaille College and your law degree at the University at Buffalo School of Law, in just six years (instead of 7)! Learn more at medaille.edu/3plus3.
Optional Concentrations
Tailor the program to meet your goals! English majors who choose to pursue a formal concentration in either Creative Writing or Professional Writing will use nine of their free elective credits to fulfill the concentration requirements.
Creative Writing (9 credits)
ENG 400 Senior Portfolio (3)
Choose two of the following:

ENG 300 Fiction Workshop (3)
ENG 310 Poetry Workshop (3)
ENG 320 Drama Workshop (3)
ENG 350 Creative Non-Fiction Writing (3)
ENG 498 Independent Study in Writing (3)
Professional Writing (9 credits)
ENG 260 Business and Professional Writing (3)
ENG 360 Advanced Report and Proposal Writing (3)
COM 200 Digital Media Production (3)
Medaille Fits Your Life
At Medaille College, we understand the challenges of being a working adult with high career aspirations. That's why Medaille's Adult & Graduate programs are designed specifically to fit your already busy schedule. With Medaille, you can earn your degree and still have time for work and family. Medaille College is accredited by the Middle States Commission on Higher Education.
Personalized support.
Guaranteed classes.
Collaborative learning environment.
Financial aid and scholarships are available.
Last updated Oct 2020
About the School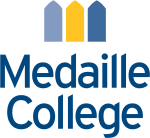 Medaille College is a private, nonsectarian four-year college with campuses in Buffalo, Rochester and online. Medaille focuses on your success as a student and as a future professional by offering und ... Read More
Medaille College is a private, nonsectarian four-year college with campuses in Buffalo, Rochester and online. Medaille focuses on your success as a student and as a future professional by offering undergraduate and graduate degree programs in hands-on, practitioner-based learning environments on campus and in the Western New York community.
Read less