Program Description
Economics
Welcome to the Department of Economics
Having admitted its first students in the 2014-15 academic year, our department aims to take one of the first rankings in both research and teaching in the country.
Our faculty consists of dynamic and qualified scientists, each of whom has degrees from international institutions. Using the latest methods and technology we aim to prepare our students to become leaders in the national and international arena by providing them the necessary background and qualifications
Thanks to the flexibility in course selection and course variety, our students will not only be able to enrich their course program by taking courses in fields other than Economics, but also will be able to complete the 4-year 240 ECTS Bachelor education in 3 years. In addition, our department offers 3+2 degree programs with leading universities resulting in a Bachelor degree from MEF and a Master's degree in Economics or Finance from a global partner.
Economic Department Graduation Requirements
In order to complete graduation requirement Economics Department students must meet the following requirements.
Successfully pass all the compulsory and elective courses in the curriculum (completing at least 240 credits)
Obtain the minimum required amount of credits from four different elective categories explained below.

Departmental electives: Courses offered by the Econ department or offered by another department and qualified as departmental elective. For graduation, the student has to complete at least 40 departmental ECTS credits.
Non-Departmental: Courses offered by other departments. For graduation, the student has to complete at least 10 non-departmental ECTS credits
Free electives: These courses may belong both to departmental and non-departmental course categories. For graduation, the student has to complete at least 45 free ECTS credits.
Humanities and Social Sciences Electives (HUM/SOC Required 100-Element): Courses that should be chosen from a given pool of Humanities and Social Sciences courses. For graduation, the student has to complete at least 2 Humanities and Social Sciences courses.

Complete two compulsory internships, with a minimum D letter upon graduation. The student internships are subject to internship committee approval.
Have a GPA of at least 2.00 upon graduation.
Program Goals
MEF University Economics Department undergraduate program goals are as follows:
To provide the necessary social and analytical skills for comprehending economic questions are producing answers.
To equip its students with the necessary skills to become successful leaders in both the public and private sectors.
To enable students to specialize in the area they are interested in. In this regard, a wide range of electives and a flexible curriculum along with fundamental courses such as Macroeconomics, Microeconomics, and Econometrics are provided.
Student Outcomes
Upon completion of the economics degree program, students will be able to:
Recognize and develop solutions for economic problems in personal and professional environments.
Comprehend and apply fundamental economic concepts and theories to day to day decision-making mechanisms.
Solve complex economic problems using the appropriate tools and techniques.
Use written and verbal communication skills effectively.
Take initiative in individual and group work, acquire a goal-oriented perspective.
Become open to change and development, being aware of global relations and conflicts.
Undergraduate Curriculum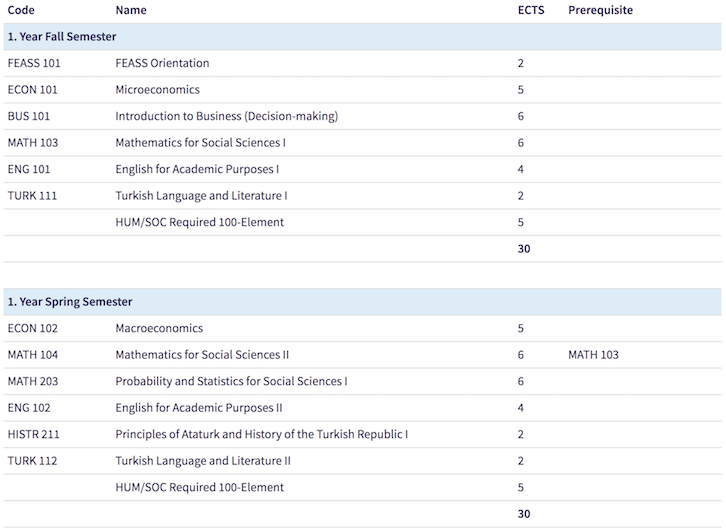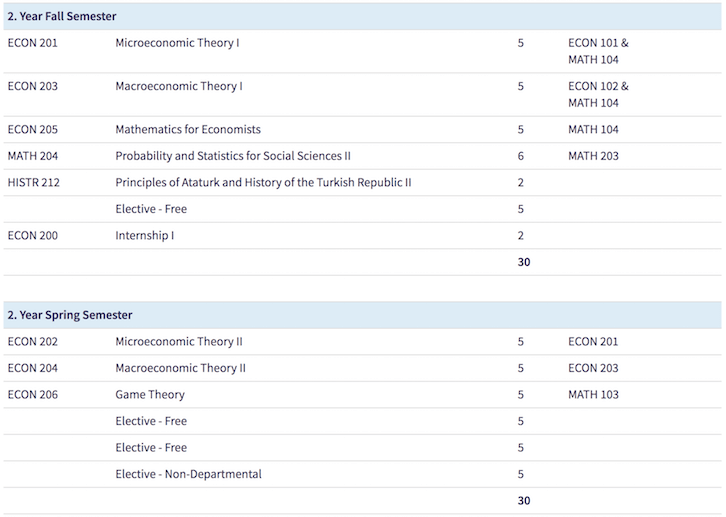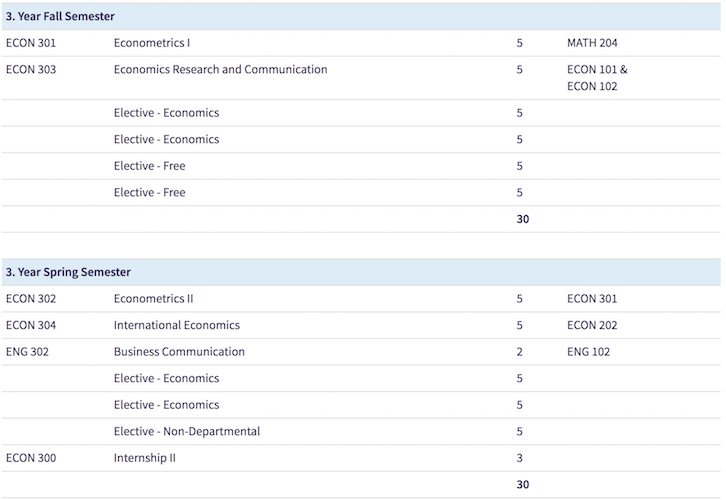 Internship
There are two mandatory internships, 4-week and 6-week, for the economics students.
Erasmus Partners
MEF University was awarded the Erasmus Charter for Higher Education (ECHE) in its first academic year and is a full participant in the new cycle of Erasmus for 2014-2020 called Erasmus+ with exchange study and traineeships abroad for students, teaching and training mobility for the faculty and staff, and other projects such as strategic partnerships. Economics department's Erasmus partners are:
HEC Liege (Belgium)
University of Minho (Portugal)
Witten/Herdecke University (Germany)
American University in Bulgaria (AUBG) (Bulgaria)
Employment Prospects
The table below summarizes the employment prospects for our graduates.
| | | |
| --- | --- | --- |
| Sector | Area of Employment | Title |
| Insurance | Consultancy | Analyst |
| Informatics | Audit | Region Manager |
| Education | Economic Research | Budget and Reporting Specialist |
| Finance | Finance | Auditor |
| FMCG | Human Resources | Consultant |
| Construction | Business Development | Economist |
| Chemicals | Strategic Planning | Financial Analyst |
| Logistics | Import / Export | Business Development Specialist |
| Automotive | Accounting | Corporate Banking Specialist |
| Retail | Market Research | Financial Affairs Specialist |
| Tourism | Marketing | Accounting Specialist / Manager |
| Health | Health | Marketing / Sales Specialist |
| Textile | Purchasing | Portfolio Manager |
| Public | Sales | Specialist |
| International Organizations | | Product Manager |
| | | Investment Manager |
How to Apply?
Application Criteria:
Applicants need to be graduates of high school equivalent to Turkish high schools, or in the last year of such a high school. Applicants who have not yet received their high school diploma may only get a conditional acceptance.
Prospective students may apply with an acceptable high school diploma (those in the last year of high school, with their transcript), international diploma (such as IB, Abitur etc), national high school exit/university entrance examination score, or with an international university entrance examination score (such as SAT, GCE, ACT). The full list of acceptable diplomas/examination and their minimum scores are available on the university's website.
Online Application:
Applicants should complete the online application form. Applicants need to attach the following documents:
Copy of the identity information page of their passport
Passport style (portrait) photograph
High school diploma (if available)
High school transcript
Any recognized high school exit/university entrance examination score result, if available
Proof of English proficiency, if available
Statement of motivation
English Proficiency:
MEF University is an English medium university. All programs apart from Law are 100% in English. The Law program is 30% in English.
Students need to demonstrate their English proficiency before beginning in academic programs. The level of English proficiency required is equivalent to TOEFL iBT 80. Only internationally or nationally recognized examinations are accepted as proof of proficiency. The recognized examinations and their equivalences are as follows:
TOEFL iBT: 80
P.T.E. Academic: 67, CAE: C, CPE: C
U.D.S., K.P.D.S., Y.D.S. (Turkish governmental examinations): 65
Applicants, who do not have acceptable proof of English proficiency at the time of application or university enrollment, sit the MEF University English Language Placement and Proficiency Examination. Students who do not pass the Proficiency Examination will need to study in the MEF University English Language Preparatory Program until they meet the required level.
Applicants to the Law program who are not native Turkish speakers or graduates of Turkish medium high school are required to present proof of Turkish language proficiency (TÖMER C).
Acceptance Decisions:
The acceptance decisions are given to the applicants meeting the application criteria based on the relative merit of applications. Applicants are informed about their acceptance decision and a scholarship offer and asked to confirm their intention to enroll with a payment of a deposit of USD 250 on the university's bank account. The deposit is counted towards the first semester's tuition fee but is non-refundable in case of non-enrolment. After payment of the deposit, an official letter of acceptance is issued. Accepted students are solely responsible for their student visa applications.
University Enrolment:
Accepted students will make their university enrolment during the dates announced by the university on its website. The following documents are required for university enrollment:
Original of high school diploma and its notarized Turkish translation if it is not issued in Turkish or English
High School Diploma Equivalency Certificate from the Turkish Ministry of Education (or Educational Attaché of Turkish Consulate)
Original of high school transcript
Original scorecard of test scores (high school exit/university entrance) used to support the application, if any
Photocopies of the applicant's passport identification information page and the page containing student visa. The student visa is compulsory for all international students. It can be obtained from a Turkish Consulate in the applicant's home country by presenting the letter of acceptance.
Photocopy of the first seven pages of the Residence Permit (obtained from the Bureau of Foreign Residence)
4 passport size (4.5 x 6 cm) photos (taken in the last 6 months, clearly identifying the person)
Receipt of tuition fee payment
Original scorecard of recognized language proficiency exam (if available)
Applicants who fail to complete the enrolment process within the announced dates or to provide the required documents, forfeit their right to study at MEF University.
Last updated Apr 2019
About the School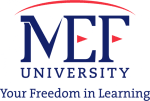 MEF University, which admitted its first students in the academic year 2014-2015, aims to become a university that keeps entrepreneurship, innovative thinking and creativity in the foreground and has ... Read More
MEF University, which admitted its first students in the academic year 2014-2015, aims to become a university that keeps entrepreneurship, innovative thinking and creativity in the foreground and has the ability to create global and local value-added with its distinctive educational model.
Read less