Program Description

Unique opportunities to access to:
Flexible Schooling
There are both spring and autumn intakes each year. Students who have HSK 4 above 180 scores are eligible to apply. Students who have higher Chinese proficiency have the possibility to start from a higher level and graduate in less than 4 years if they meet the relevant requirements.
Scholarships
Based on one's attendance rate, academic performance, improvement rate, and daily performance; excellent students will have the opportunity to receive scholarships offered by DHU (outstanding international students scholarships) the Chinese government (Chinese government Confucius Scholarship) and enterprises.
Study Abroad
DHU has signed several student exchange agreements with overseas universities, which offer excellent opportunities for students to study abroad. While enriching one's international experience and broadening their views, certain credits acquired at host institutions will be recognized and transferred to DHU credits
Knowledge of business or trade
Students will not learn only the Chinese language culture but also will have access to basic theories and practices of Economics and management. It is also possible to choose business-related elective courses provided by the school of business sand management in junior and senior years.
Enterprise internship
Under the internship agreements signed with several enterprises covering industries such as PR, media-heavy industry, airlines, hotels, etc; students will earn practical skills in consultation, interpretation, meeting preparation, data collection, and cultural exchanges at their internships and get ready for their future career.
Graduate career
With the excellent Chinese language skills and deep understanding of china's economic society, our graduates are able to take an active part in various fields such as interpretation, translation, business, and administration in foreign companies, joint-venture companies, private companies, and others.
Curriculum
Semester 1
Comprehensive Chinese I
Chinese Listening and Speaking I
Semester 2
Comprehensive Chinese II
Chinese Listening and Speaking II
Chinese Information Processing
Semester 3
Comprehensive Chinese III
Audio-Visual-Oral Chinese I
Intermediate Spoken Chinese
Intermediate Chinese Reading
Introduction to China
Semester 4
Comprehensive Chinese IV
Audio-Visual-Oral Chinese II
Business Chinese I
Chinese Writing I
Chinese Culture
Semester 5
Literature Reading I
Business Chinese II
Modern Chinese I
Chinese Writing II
Advanced Spoken Chinese
Management
Semester 6
Literature Reading II
Chinese Literature I
Modern Chinese II
Chinese Writing III
International Trade
Semester 7
Contemporary Topics
Chinese Literature II
Academic Essay / Business Research
Semester 8
Dissertation
Internship
Elective courses
General knowledge: Physical education, Chinese calligraphy, and painting. Personal image management, the psychology of happiness. Humanity and geography of china, Chinese folklore, career guidance.
Basic subjects: Shanghai dialect, Chinese idioms, and culture, HSK tutorial, the culture of chines characters, chines newspaper reading, introduction to linguistics, Shanghai culture, ancient Chinese, comparison of Sino-western cultures, translation practices, Chinese classic literature reading.
Business Related: Chinese business culture, introduction to economics, business English, introduction to e-commerce.
Upgrading
The students who have obtained all the required credits and passed the required HSK level can advance to the next grade. From semester 2-3 one must acquire HSK level 5. From semester 4-5one must acquire HSK level 6. Those who fail the make-up tests of two or more compulsory courses in one semester are not allowed to advance to the next graduation.
Graduation
Students who have obtained 157 credits, completed the internship, and passed the dissertation defense will be authorized to graduate and be issued a Bachelor's Degree in Arts.
Eligibility
Non-Chinese citizen in good health
High school graduate Ages 16-35
Application
Submit the following required application materials or any supplements that you wish to have considered. The application fee is 600 yuan (non-refundable).
| | |
| --- | --- |
| Required Application Materials | Requirements |
| Application Form | Fill online at admissions.dhu.edu.cn |
| Passport Photocopy | Must be the valid ordinary passport (and currently valid visa if you're not in your home country). It could be uploaded to the online application form. |
| ID Photo | Must be the ID photo in .jpg format. It could be uploaded to the online application form. |
| High School Graduate Certificate | Original copies or Pending Graduation Certificate |
| Transcripts of all grades at high school | Original Copies |
| Certificate of HSK | At least HSK above 180 scores certificate received within the recent two years. |
| Personal Statement | Essay format written in Chinese on one page of A4 size. |
Admissions
Donghua University will start the review process only after all the application materials and the application fees are collected. The results will be announced after 1 month.
Donghua University will not take responsibility if the admissions package cannot reach the application due to unclear, incorrect, or invalid contact information provided by the applicant.
Last updated Sep 2020
About the School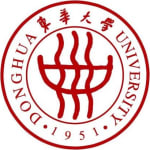 Donghua University (DHU) is one of China's state-key universities. It is located in Shanghai, China's financial and economic heart. DHU falls directly under the Chinese Ministry of Education, as part ... Read More
Donghua University (DHU) is one of China's state-key universities. It is located in Shanghai, China's financial and economic heart. DHU falls directly under the Chinese Ministry of Education, as part of the country's 211 project for higher education.
Read less