Bachelor of Arts in Business Administration
Home ›
BA ›
Bachelor of Arts in Business Administration
Program Description
Business Administration
The aim of the Business Administration program at MEF University is to graduate managers and entrepreneurs with qualities and competencies needed to achieve sustainable economic growth in Turkey and beyond in the 21st century.
Business studies can be thought of as a three-dimensional space: functional area, sector, and corporate age.
The fundamental functional areas of business are finance, marketing, operations (production and distribution) and management. A business graduate should be aware of the basic principles of all of the functional fields and should gain specialization in at least one of the functional fields.
Manufacturing, telecommunications, financial services, tourism, health care, retail, logistics, energy, and construction can be considered to be the most prominent sectors in the Turkish economy. A business graduate should be aware of the opportunities and threats in all of these sectors and should gain specialization in his/her sector of interest.
A company's lifespan can roughly be divided into four stages: establishment, rapid growth, sustainable maturity and/or merger-acquisition, decline or closure. The problems and obstacles of each stage are different. A business graduate should know the basic characteristics of each of the four stages and should gain specialization in the practical implementation of at least one stage.
Our aim is to graduate students who do not limit themselves into one point in this multi-dimensional space, but are aware of all the dimensions of the business world and are specialized in the sub-space of their choice in accordance to their strengths and goals. Our program contains a large number of elective courses so as to allow the student to shape their own study program and to make it possible to select a second foreign language or a minor alongside their field of specialization. Although they will major in different areas, the common attribute of MEF Business graduates is to have the following 21st-century skills:
Knowledge of English at the level required by the global market place
Mastery of information and communication technologies
The ability for independent study and lifelong learning
Teamwork and communication competencies
In addition to these, an internship is mandatory in our business program, as we strongly believe that a business graduate geared for success should have at least some real-world experience.
Job Opportunities
Career prospects for business graduates are abundant. Any human organization you may think of needs a manager. What first comes to mind (and what is aspired by the majority of business graduates) is to be employed by large multinational corporations. However, business graduates can create value in all sectors and companies of all sizes. For example, in recent years, banks and telecommunication companies have hired a large number of business graduates alongside multinational corporations.
It is a common misconception that business graduates only work in large and well-established companies. SMEs and family companies are the largest contributors to the Turkish economy, and while striving to increase productivity and move into new markets, they are working on the establishment of professional management structure. Perhaps that is where business graduates might be able to contribute the most (and to advance in their careers the fastest).
Another place where a business graduate could contribute most significantly is a newly established company. The only way to ensure the sustainability of economic growth and the creation of new employment is entrepreneurship. Alongside engineers who understand and utilize the new technologies to create added value, we need business graduates who know how to turn a new idea into a business venture.
It is evident that business graduates are increasingly playing a larger role in the emerging sectors important to our economy, such as logistics, energy, tourism, health care, and education, in addition to the well-known areas of banking, telecommunications and retail. With the present growth of organizations less popular fields such as media, arts, style, sports, and social development, it is fair to expect that the demand for business graduates will increase in these fields as well.
While providing examples from the private sector, the potential of business graduates in the public sector and NGOs should not be ignored. In every human organization, there is a need for well-educated managers.
If we need to predict, after five to seven years from graduation, 40% of the MEF business graduates are likely to work in large corporations, 30% in SMEs, 15% in start-ups, 5% in public sector, 5% in NGOs, and 5% in the academia.
Program Educational Objectives
The main objectives of the Business Administration degree program can be stated as follows:
Preparing students for their future careers in accordance with the science, technology and innovation vision of Turkey,
Raising innovative managers and leaders with visionary, creative and technical skills that will make them competitive on a world scale,
Implementing the flipped learning system, which is the modern and up-to-date education-training system based on scientific and practical approaches of today's world and enabling the knowledge transfer by using projects and other tools through this new methodology,
Providing the necessary training and capabilities for increasing the added value of the individuals working in the private sector, public institutions, academic institutions or non-governmental organizations, to the maximum level.
Student Outcomes
The main learning outcomes of the undergraduate program are:
Demonstrating knowledge and skills in different functional areas of business (accounting, finance, operations, marketing, strategy, and organization) and an understanding of their interactions within various industry sectors,
Applying theoretical knowledge as well as creative, analytical, and critical thinking to manage complex technical or professional activities or projects,
Demonstrating teamwork, leadership, and entrepreneurial skills as well as individual and professional ethical behavior and social responsibility,
Using written and spoken English effectively (at least CEFR B2 level) to communicate information, ideas, problems, and solutions,
Having the relevant skills in data and information acquisition, analysis, interpretation, and reporting,
Displaying computer proficiency to support problem solving and decision-making.
Curriculum and Prerequisites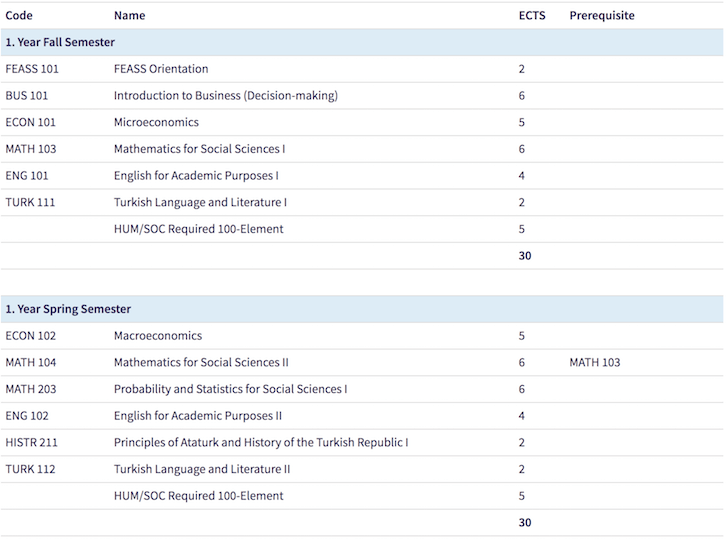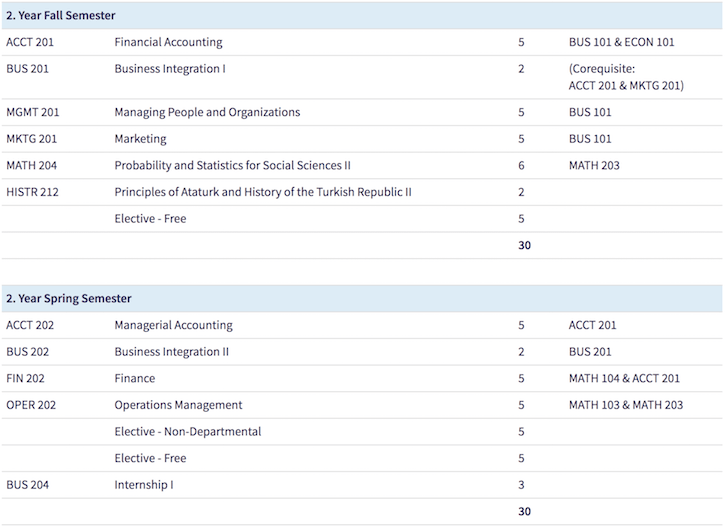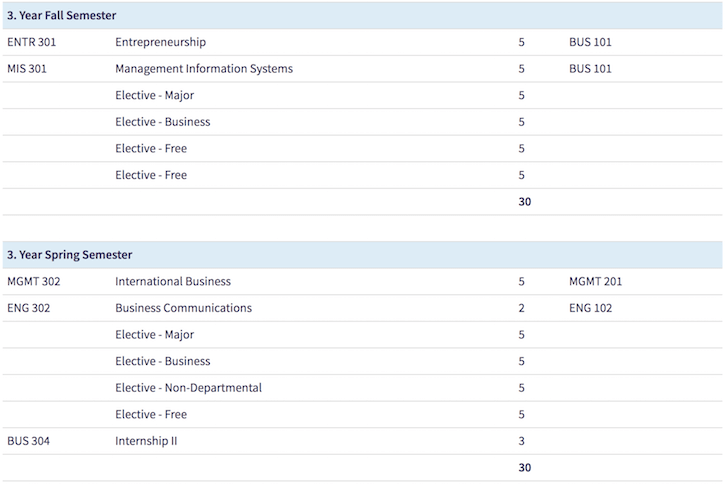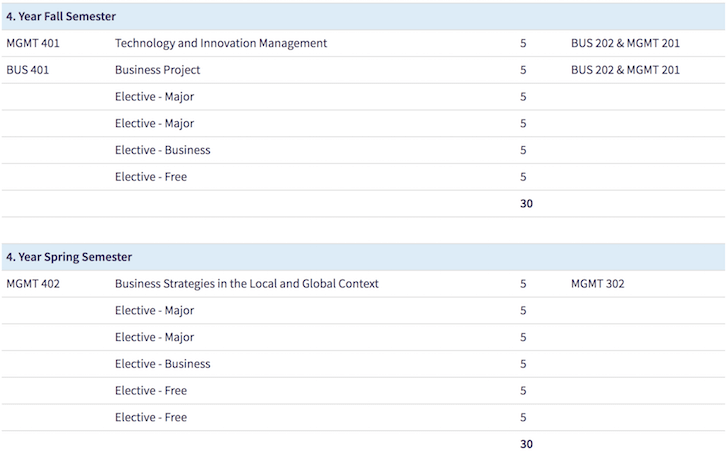 Internship
The students of the Business Administration of MEF University must work as an intern in order to understand the professional work environments, application of the knowledge gained in school to practice, and gain access to such environments. A total of 60 workings-days long summer practice should be equally partitioned: the first 30 working-days' period is expected to be completed at the end of the sophomore (2nd) year, and the second 30 working-days period is expected to be completed at the end of the junior (3rd) year.
How to Apply?
Application Criteria:
Applicants need to be graduates of high school equivalent to Turkish high schools, or in the last year of such a high school. Applicants who have not yet received their high school diploma may only get a conditional acceptance.
Prospective students may apply with an acceptable high school diploma (those in the last year of high school, with their transcript), international diploma (such as IB, Abitur etc), national high school exit/university entrance examination score, or with an international university entrance examination score (such as SAT, GCE, ACT). The full list of acceptable diplomas/examination and their minimum scores are available on the university's website.
Online Application:
Applicants should complete the online application form. Applicants need to attach the following documents:
Copy of the identity information page of their passport
Passport style (portrait) photograph
High school diploma (if available)
High school transcript
Any recognized high school exit/university entrance examination score result, if available
Proof of English proficiency, if available
Statement of motivation
English Proficiency:
MEF University is an English medium university. All programs apart from Law are 100% in English. The Law program is 30% in English.
Students need to demonstrate their English proficiency before beginning in academic programs. The level of English proficiency required is equivalent to TOEFL iBT 80. Only internationally or nationally recognized examinations are accepted as proof of proficiency. The recognized examinations and their equivalences are as follows:
TOEFL iBT: 80
P.T.E. Academic: 67, CAE: C, CPE: C
U.D.S., K.P.D.S., Y.D.S. (Turkish governmental examinations): 65
Applicants, who do not have acceptable proof of English proficiency at the time of application or university enrollment, sit the MEF University English Language Placement and Proficiency Examination. Students who do not pass the Proficiency Examination will need to study in the MEF University English Language Preparatory Program until they meet the required level.
Applicants to the Law program who are not native Turkish speakers or graduates of Turkish medium high school are required to present proof of Turkish language proficiency (TÖMER C).
Acceptance Decisions:
The acceptance decisions are given to the applicants meeting the application criteria based on the relative merit of applications. Applicants are informed about their acceptance decision and a scholarship offer and asked to confirm their intention to enroll with a payment of a deposit of USD 250 on the university's bank account. The deposit is counted towards the first semester's tuition fee but is non-refundable in case of non-enrolment. After payment of the deposit, an official letter of acceptance is issued. Accepted students are solely responsible for their student visa applications.
University Enrolment:
Accepted students will make their university enrolment during the dates announced by the university on its website. The following documents are required for university enrollment:
Original of high school diploma and its notarized Turkish translation if it is not issued in Turkish or English
High School Diploma Equivalency Certificate from the Turkish Ministry of Education (or Educational Attaché of Turkish Consulate)
Original of high school transcript
Original scorecard of test scores (high school exit/university entrance) used to support the application, if any
Photocopies of the applicant's passport identification information page and the page containing student visa. The student visa is compulsory for all international students. It can be obtained from a Turkish Consulate in the applicant's home country by presenting the letter of acceptance.
Photocopy of the first seven pages of the Residence Permit (obtained from the Bureau of Foreign Residence)
4 passport size (4.5 x 6 cm) photos (taken in the last 6 months, clearly identifying the person)
Receipt of tuition fee payment
Original scorecard of recognized language proficiency exam (if available)
Applicants who fail to complete the enrolment process within the announced dates or to provide the required documents, forfeit their right to study at MEF University.
Last updated Apr 2019
About the School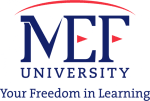 MEF University, which admitted its first students in the academic year 2014-2015, aims to become a university that keeps entrepreneurship, innovative thinking and creativity in the foreground and has ... Read More
MEF University, which admitted its first students in the academic year 2014-2015, aims to become a university that keeps entrepreneurship, innovative thinking and creativity in the foreground and has the ability to create global and local value-added with its distinctive educational model.
Read less