Bachelor of Arts Safety Management
Home ›
BA ›
Bachelor of Arts Safety Management
Program Description
In the bachelor program " Safety Management" (BA), the qualification for an interdisciplinary oriented, entrepreneurial thinking is placed in the center. The aim is to penetrate the current and long-term very relevant topic of "safety" from different perspectives in an application-oriented manner.
Security has become a central theme of modern societies in light of the many current risks, threats and threats such as terrorism, everyday crime or natural disasters. First of all, it is a public good that is under the responsibility of the state to protect. The manifold and complex vulnerability on the one hand and the sensitivity to the preservation of material and immaterial values and goods on the other hand make security a private commodity that is increasingly in demand.
Therefore, the need for expertise in security measures has increased, which should be met both within the companies themselves and through the engagement of security and protection specialized service providers. In the course of the privatization of state and municipal tasks, this need is also recognized and demanded by numerous public institutions.
In response to this great demand, there is a growing market for security professionals and the need for professional staff, including at the management level. It needs to be qualified to be responsible for building and acting on the security architecture in companies and organizations. The competences required for this can only be acquired at the management level through an appropriate university degree.
Aims of the bachelor study "Safety Management (BA)"
The DIPLOMA University Bachelor's degree program "Security Management" (BA) prepares the future security managers for their multifaceted tasks in the security industry and in corporate security. In doing so, he integratively teaches them the required business, social and legal skills as well as selected technical knowledge.
The students will be able to work in the various occupational fields of private and public safety in executive positions or as self-employed persons, since they know the scientific basics of the participating disciplines and apply the instruments of safety management safely. They can analyze and plan security strategies for different fields of activity in the security industry from a business point of view.
Modules and events
The course of study follows a concept according to which, on the one hand, subject-related topics are systematically built up and taught, on the other hand the specializations and the practical parts increase with increasing study duration. The acquired insights flow into the application-oriented study content at the end of the study.
In addition to methodological fundamentals, communication and Business English, the following topics are taught:
Security and risk - political and social contexts
Basics of Business Administration
Legal foundations of the security industry
Security in the context of the economy
Information Security Management
human Resource management
Financial and cost management
Applied security management
Corporate Management
Crime and society
Further aspects of technical safety
security operations
specialization
In addition, one of the elective modules
Business Security
Security communication and consulting
to get voted. Both fields of application are in demand in practice and enable professional use in various current fields of action in the field of security.
Career - Your career prospects after graduation
The need for security expertise has increased. In response to this great demand, there is a market for security professionals, and in particular the need for professional management staff. The trend towards the globalization of the German economy as well as the increasing sensitivity to risks and dangers of entrepreneurial activities and the simultaneous withdrawal of state protection measures will in future make the profession of Security Manager even more important.
Security-related tasks are performed by academically trained security managers in three main areas of activity: in the security industry, in corporate security and in the security of authorities and organization (BOS).
In addition to numerous technical occupations (eg IT security management), activities as independent security consultants, security officers, insurers, detective agencies and credit bureaus are possible as interesting occupational fields.
The degree program qualifies the graduates to be responsible for all functions of private and public safety:
in the various fields of the security service industry (eg property and plant protection, money and value services, escort and personal protection, airport security),
in the own security area of corporations and medium-sized companies, both in the central corporate security as well as in a location security (esp. trade, industry, transport, finances, tourism and especially critical infrastructure),
in consulting and insurance companies and in adjacent fields of activity within large companies (monitoring, personnel review, compliance, quality and transport security, etc.),
in internationally active or export-oriented companies,
in institutions (eg associations, non-profit companies, municipalities),
at federal and state authorities with special security tasks (eg public order offices, port security authorities), for which no special career training (police) is required.
The successful degree leads to the academic title of Bachelor of Arts (BA) Security Management and entitles to a subsequent Master's degree, for example the consecutive degree program "Business and Law" - majoring in Management or Business Law - or "Business Law with International Aspects" (LL.M. ) at the DIPLOMA University, where the management or legal knowledge can be further developed. Subsequently, a doctorate could be done.
In the case of a professional activity, a further education master's degree program, eg "General Management" (MBA), can be completed at the DIPLOMA University.
Normal period
Distance learning: 7 semesters (180 ECTS)
The actual study period can be extended free of charge for up to 4 semesters over the standard period of study.
baseline
Always in the winter semester (October) and summer semester (April).
accreditation
This degree program is currently in the accreditation process by the accreditation agency AHPGS.
tuition fee
Distance learning security management: € 247.00 / month (total amount € 11,039.00 including one-time examination fee of € 665.00).
study form
Distance learning with real presence events at selected study centers of the DIPLOMA university and in virtual form (real attendance phases are here replaced by interactive virtual courses). Distance learning takes place between self-study with study programs and full-day Saturday seminars (approximately 12-14 Saturdays per semester) at one of our selected nationwide study centers or online in the "virtual lecture hall" of the DIPLOMA Online Campus.
admission requirements
General university entrance qualification or Fachhochschulreife or passed master's examination or according to ordinance on access of vocationally qualified to the universities in the state of Hesse, ie either completion of a professional development training of at least 400 hours, a technical school or a vocational or administrative academy or final examination in a state-recognized training occupation followed by at least 2 years of employment and a separate university entrance examination.
For further information on special qualifications, please contact DIPLOMA Hochschule. Applicants who do not meet the requirements mentioned above may initially attend the course as guest auditors if the access authorization is within a max. 2 semesters is achieved.
For foreign degrees, equivalence for admission must be demonstrated.
degrees
Bachelor of Arts (BA)
Graduates receive a bachelor's degree and diploma as well as a Diploma Supplement written in English and a transcript of records, which identify them internationally as academics with a bachelor's degree.
Last updated Mar 2020
About the School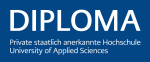 The DIPLOMA University is a privately run, state recognized university of applied sciences located in the picturesque medieval city of Bad Sooden-Allendorf in North Hesse. The notation Bad identifies ... Read More
The DIPLOMA University is a privately run, state recognized university of applied sciences located in the picturesque medieval city of Bad Sooden-Allendorf in North Hesse. The notation Bad identifies the city as a recognized spa destination with a long tradition in medical wellness and health treatment. Besides the main campus there are notable campus extensions in more than 25 cities in Germany and one in Italy.
Read less
Bad Sooden-Allendorf ,
Aalen ,
Baden-Baden ,
Berlin ,
Bochum ,
Bonn ,
Friedrichshafen ,
Hamburg ,
Hanover ,
Heilbronn ,
Kaiserslautern ,
Kassel ,
Kitzscher ,
Magdeburg ,
Mainz ,
Mannheim ,
Munich ,
Ostfildern ,
Würzburg ,
Regenstauf ,
Nuremberg ,
Wiesbaden ,
Wuppertal ,
Germany Online
+ 23 More
Less