Bachelor of Arts Business Administration
Home ›
BA ›
Bachelor of Arts Business Administration
Program Description
The state-recognized Bachelor's degree program in Business Administration can be taken as a part-time distance learning course with on-site seminars or as a virtual distance learning course with online lectures at all study centers of the DIPLOMA University. At the headquarters of the University of Applied Sciences in Bad Sooden-Allendorf you also have the opportunity to complete the BWL study course as a full-time student in the classroom .
The successful degree leads to the state-recognized academic title Bachelor of Arts (BA) Business Administration and entitles to a subsequent Master's degree, for example the consecutive Master of Arts (MA) in Economics and Law - majoring in Management or Business Law at the DIPLOMA University. In the case of a professional activity, a further education master, eg the MBA at the DIPLOMA FH Nordhessen can be completed.
Major fields of study in distance learning Business Administration
In the first semesters of business studies, first of all the acquisition of generalist knowledge and skills in the field of business administration and law is in the foreground. The aim of the program is to create a general understanding of economics in the students as well as to impart extensive knowledge in the management of the company.
With the choice of a major field of study in the later course of studies, a specialized further education in one of the business specializations takes place:
Marketing and Sales
Human Resources Management
International Business Administration
Finance
Business administration in practice: Areas of application for qualified specialists
After completing a distance learning course in Business Administration, our graduates are qualified candidates for the assumption of specialist and managerial tasks in companies. They master the important foundations of self, social and methodological competence, convince through entrepreneurial and networked thinking and acting, interdisciplinary communication and working methods as well as interdisciplinary project management skills.
The bachelor's degree program in Business Administration in the classroom or distance learning enables a quick career start in the management of a wide variety of industries and corporate divisions, such as: Automotive, banking, commerce, health care and consulting. The successful academic degree of study enables you as a business economist to support the management in various business areas and to take over future leadership tasks or to become self-employed entrepreneurial.
Normal period
Distance learning Business Administration: 7 semesters / 180 ECTS
The actual study period can be extended free of charge for up to 4 semesters over the standard period of study.
baseline
With sufficient number of participants in the winter semester (October) and summer semester (April).
accreditation
Accreditation of the degree program by the accreditation agency AHPGS.
tuition fee
Distance learning business administration: € 247.00 / month (total amount € 11,039 plus one-time examination fee of € 665.00)
study form
Attendance study or distance learning. The distance learning business administration takes place alternating between self-study with study books and full-day Saturday seminars (about 12 Saturdays per semester) at one of our numerous nationwide study centers or online in the "virtual lecture hall" of the online campus.
admission requirements
Business Administration Students are admitted who has one of the following prerequisites:
General University Entrance Qualification,
college entrance,
passed master examination,
Completion of a professional development training of at least 400 lessons, a technical school or a vocational or administrative academy *
Final examination in a state-recognized apprenticeship occupation followed by at least 2 years of professional experience related to the degree program and passing a separate university entrance examination *
* in accordance with the Ordinance on the Access of Qualified Persons to Hesse Universities
For further information on special deals, we are happy to provide on request. Applicants who do not fulfill the requirements mentioned above can initially attend the course as guest auditors.
For foreign degrees, equivalence for admission must be demonstrated.
degrees
Bachelor of Arts (BA)
Graduates receive a bachelor's degree and diploma as well as a Diploma Supplement written in English and a transcript of records, which identify them internationally as academics with a bachelor's degree.
Last updated Mar 2020
About the School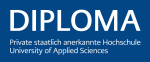 The DIPLOMA University is a privately run, state recognized university of applied sciences located in the picturesque medieval city of Bad Sooden-Allendorf in North Hesse. The notation Bad identifies ... Read More
The DIPLOMA University is a privately run, state recognized university of applied sciences located in the picturesque medieval city of Bad Sooden-Allendorf in North Hesse. The notation Bad identifies the city as a recognized spa destination with a long tradition in medical wellness and health treatment. Besides the main campus there are notable campus extensions in more than 25 cities in Germany and one in Italy.
Read less
Bad Sooden-Allendorf ,
Aalen ,
Baden-Baden ,
Berlin ,
Bochum ,
Bonn ,
Friedrichshafen ,
Hamburg ,
Hanover ,
Heilbronn ,
Kaiserslautern ,
Kassel ,
Kitzscher ,
Magdeburg ,
Mainz ,
Mannheim ,
Munich ,
Ostfildern ,
Würzburg ,
Regenstauf ,
Nuremberg ,
Wiesbaden ,
Wuppertal ,
Germany Online
+ 23 More
Less