Bachelor of Arts (Hons) in Virtual Theatre & Digital Experiences
Home ›
BA ›
Bachelor of Arts (Hons) in Virtual Theatre & Digital Experiences
Program Description
Duration:

3 years

Term Start:

September 2020

Entry Requirements:

64 UCAS points

Mode of Study:

On-Campus Learning
Developed with industry, this three-year course will give you the skills you need to graduate as creative technologists so you can design and create digital theatre and experiences. You will be able to tell stories and create worlds through the latest digital technologies including:
Virtual Reality
Mixed Reality
Game Platforms
You will be trained by industry professionals in our new Centre for Digital Production, which includes a new technologies studio and dedicated computer laboratories using the following software:
Unreal Engine 4
Maya
Z brush
Photoshop
After Effects
You will also learn the business and entrepreneurial skills to prepare them for working in the industry.
Why choose this course?
Become a creative technologist, able to design and create the next generation of digital theatre and experiences using the latest digital platforms including; virtual reality, mixed reality and game platforms.
Learn the creative and technical skills needed to create your own virtual reality theatre experiences, using industry-standard software to understand the principles of digital theatre craft and tell stories in this new medium.
Be a pioneer of a new industry that is benefiting from massive investment and research as it grows at an exponential rate.
Make your own apps and programmes which can support a live theatre experience by integrating technology and engineering with digital systems.
Work with industry-standard software such as Unreal Engine 4, Maya, Z brush, Photoshop and After Effects.
Develop the technical as well as creative and managerial skills which will make you employable in a wide range of industries including TV, film, architecture and gaming.
Benefit from Rose Bruford College's wide range of industry connections to ensure you are being taught the latest techniques and processes used in the industry, whilst also developing your personal professional network to integrate you into the industry ready for when you graduate.
Employability & Industry
On completion of the course, graduates will have developed the skills to create experiences on new digital platforms and work in a range of industries including; film and TV production, theatre, architecture and computer gaming.
Graduate Job roles may include:
Digital Theatre Makers
Concept Artists
Creative Technologists
Art Directors
Fee and Application Information
Accreditation
Mode of Study: Full Time
How to Apply
UK/EU Applicants
Apply through UCAS for September 2020 entry
Institution code: R51
Programme Code: W455
International Applicants
Please e-mail international@bruford.ac.uk
There is an opportunity for international students to study this programme as part of a semester or year abroad.
2019/2020 Fees
UK/EU Students - £9,250
International Students - £18,000
For this course, International Students (non-UK/EU) are eligible to apply for a scholarship worth £6,000 (£2,000 for each year of study). Please enquire upon course application.
Course content
Year 1 (Level 4):
Students will learn basic 2D and 3D software and design skills and learn about real-time engines and immersive technologies. They also learn about the theories of VR and AR, and system design and operation.
Year 2 (Level 5):
Students will study industry and project workflows and learn a range of professional skills. They take charge of a project to design, build and implement an immersive experience.
Year 3 (Level 6):
Students will study an aspect of the industry which is relevant to them, develop their own specialist practice and complete a research project.
Last updated Jan 2020
About the School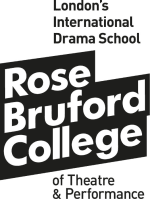 Welcome to Rose Bruford College of Theatre and Performance. Our goal is to inspire, excite and train you as a creative artist and practitioner who can use reflective practice and research, along with ... Read More
Welcome to Rose Bruford College of Theatre and Performance. Our goal is to inspire, excite and train you as a creative artist and practitioner who can use reflective practice and research, along with the world-class teaching we provide, as tools to become an independent thinker and a fulfilled and successful working professional.
Read less