Bachelor of Arts (Hons) in Virtual Theatre & Digital Experiences
Home ›
BA ›
Bachelor of Arts (Hons) in Virtual Theatre & Digital Experiences
Read more about this program on the institution's website
Program Description
About this course
Duration: 3 years
Term Start: September 2021
Entry Requirements:

UCAS points required 64**
This is equivalent to two C's at 'A' level or one Merit and two Passes at BTEC (QCF) National Diploma or equivalent.
**We offer places based upon your future potential. We may offer you a place based on lower UCAS points than shown here, or an offer that is not linked to UCAS points if we have evidence of your potential from your application or interview/audition.
Do you love entertainment, gaming and virtual worlds? Want to work in live events, gaming, TV or film? This course will give you the skills you need to tell stories and create worlds using in-demand tech. It's been built with careers in designing live events, theatre, film, TV or games in mind, and you'll work with industry every step of the way.
Theatre is changing. The technology to make virtual and mixed reality experiences has become more available, and theatre-makers want to create new types of performances for their audiences. In the commercial sector, companies want to make compelling experiences to build their relationship with their customers. People who can use the technology to tell stories and create worlds are in demand.
Developed with the industry, this course will give you the technical and creative skills to:
Become a theatre maker, a storyteller and a digital creative technologist with a range of specialist skills.
Devise and create immersive experiences using digital platforms including Virtual Reality, Mixed Reality, motion capture technology (working with actors) and game engines platforms.
Make your own apps and programs which can support a live theatre experience by integrating technology and engineering with digital systems.
You will be trained by industry professionals in our new Centre for Digital Production, which includes a digital studio and dedicated computer laboratories using software such as:
Unreal Engine
Maya
Z brush
Photoshop
After Effects
"This is a fantastic opportunity for students to work with the latest equipment from leading companies. It will help them build a skill set which will be more attractive to employers."

Ruben Plaza Garcia, 2018 Graduate
Year 1 (Level 4)
The first year will give you the core skills you will need to build a successful career. You will learn fundamental 2D and 3D software and design skills and learn about real-time engines and immersive technologies. They also learn about the theories of VR and AR, and system design and operation.
In shared classes and projects with students from other programmes from the School of Design, Management and Technical Arts you will learn about the performance, arts and events industries.
Year 2 (Level 5)
You will study industry and project workflows and learn a range of professional skills. You will take charge of a project to design, build and implement an immersive experience. You will begin to integrate your work into a professional context taking responsibility as a creative technologist, collaborating with students from other courses on productions and projects.
Year 3 (Level 6)
You will prepare to launch yourself as an industry professional, planning your career and learning more about the industry through professional placements. You will build your portfolio by working on productions and projects that may be in the College or with outside partners and organisations. You will design and carry out a research project into a relevant subject of your own choosing, building your specialist knowledge and transferable skills.
Our Head of Development, James Simpson, gives an overview of the course:
Why choose this course?
Become a creative technologist, able to design and create the next generation of digital theatre and experiences using the latest digital platforms including; virtual reality, mixed reality and game platforms.
Learn the creative and technical skills needed to create your own virtual reality theatre experiences, using industry-standard software to understand the principles of digital theatre craft and tell stories in this new medium.
Be a pioneer of a new industry that is benefiting from massive investment and research as it grows at an exponential rate.
Make your own apps and programmes which can support a live theatre experience by integrating technology and engineering with digital systems.
Work with industry standard software such as: Unreal Engine 4, Maya, Z brush, Photoshop and After Effects.
Develop the technical as well as creative and managerial skills which will make you employable in a wide range of industries including TV, film, architecture and gaming.
Benefit from Rose Bruford College's wide range of industry connections to ensure you are being taught the latest techniques and processes used in the industry, whilst also developing your personal professional network to integrate you into the industry ready for when you graduate.
Employability & Industry
As a graduate, you will join a new generation of theatre practitioners who can create theatre experiences on new digital platforms. You may work for an existing studio which is already established in this sector or, using your entrepreneurial skills along with the support of the College's Centre for Digital Production, creating your own business to specialise in an area in this rapidly growing field.
You will be able to tell stories and create worlds through the latest digital technologies. These skills give you the opportunity to find employment in film or TV production, pre-visualisation studios or even a computer gaming company. Graduates who have an aptitude for computer programming will easily find opportunities as a developer for a range of companies whilst creative and artistic digital theatre-makers can become art directors, creative technologists or concept artists.
Example of current work that as a graduate you will be equipped to work on are The War of the Worlds: The immersive experience, or the work of Satori Studios. Other leading companies in the industry include:
Target3D
Punchdrunk
Rewind
Fee and Application Information
Accreditation
Mode of Study: Full-Time
How to apply
2021 Entry
Please apply by 15 January 2021 to secure an interview/audition.
UK/EU applicants
Apply for 2021 via UCAS
Institution application code: R51
Programme Code: W455
International applicants
Please e-mail international@bruford.ac.uk
There is an opportunity for international students to study this programme as part of a semester or year abroad.
Webinar
View our webinar with Head of Development James Simpson.
Course content
During the course, you will take the following modules:
Year 1 (Level 4)
Fundamentals of 3D Art
Realtime Technologies and Applications
The Practitioner in Context
Year 2 (Level 5)
Design, Story, Audiences
Interaction: Physical meets Digital
Making Digital Experiences
The Sustainable Practitioner
Year 3 (Level 6)
Independent Research Project (Practice Research or Dissertation)
Specialist Practice
Professional Preparation and Practice
Last updated Nov 2020
About the School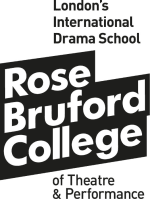 Welcome to Rose Bruford College of Theatre and Performance. Our goal is to inspire, excite and train you as a creative artist and practitioner who can use reflective practice and research, along with ... Read More
Welcome to Rose Bruford College of Theatre and Performance. Our goal is to inspire, excite and train you as a creative artist and practitioner who can use reflective practice and research, along with the world-class teaching we provide, as tools to become an independent thinker and a fulfilled and successful working professional.
Read less