Bachelor of Arts (Hons) in Theatre and Social Change
Home ›
BA ›
Bachelor of Arts (Hons) in Theatre and Social Change
Read more about this program on the school's website
Program Description
About this course
Duration:

3 Years

Term Start:

September 2020

Entry Requirements:

UCAS points required 64*
This is equivalent to two C's at 'A' level or one Merit and two Passes at BTEC (QCF) National Diploma or equivalent.
*We offer places based upon your future potential. We may offer you a place based on lower UCAS points than shown here, or an offer that is not linked to UCAS points if we have evidence of your potential from your application or interview/audition.
You will also be required to attend an interview.
This programme is for creative individuals committed to an innovative professional theatre practice – as performer, maker or producer - which aims to change lives and inspire change in communities from all backgrounds and walks of life.
The programme combines practical theatre-making skills with project design and implementation, understanding of cultural, social and creative context, writing proposals, fundraising, marketing and communications. Industry placements, case studies and ongoing input from professional practitioners and cultural activists play a major role in the programme.
Programme Overview
Level 4 (Year 1)
The first year will focus on your own identity as a theatre maker and learning the fundamentals of theatre-making as performers, producers and directors, learning to make and research practice alongside essential arts management and production skills including finance, fundraising, grant writing, basic contract law, marketing and communications and digital and social media. Understanding social and historical movements and interaction with individual and companies actively engaged with social change is an important part of the year. This first year will also ensure you are meeting practitioners and arranging visits to cultural organisations and social enterprises and talks from a range of professionals working in the field of cultural activism.
Level 5 (Year 2)
The second year will concentrate on how can you make a contribution through an understanding of principles of project management as a performer, maker or producer. This will include facilitation skills, case studies, professional inputs from individuals and companies working as cultural activists in the field, industry visits and placements within an Arts organisation (eg Arts Council England, Battersea Arts Centre, Coney, The Sick of the Fringe, Slunglow at The Holbeck) or major festivals, cultural seasons, European Capitals of culture. UNESCO World Cities of culture. Working with cultural activists you will build on the work of year one, developing management, administrative and cultural leadership skills and exploring the range of skills required to fulfil the role of cultural activist (as performer, maker or producer) in a social change context.
Level 6 (Year 3)
The third year focuses on your skills as a leader and you will develop a project in partnership with a cultural /social organisation with mentoring. This will take the form of an articulated role in a social impact project in an organization or group.
Why choose this course?
This is a distinctive undergraduate course offering an integrated applied theatre programme for those who want to create theatre for social change as a performer/facilitator and/or producer.

Ongoing sessions with cultural activists working in a range of arts, social, and other diverse non-traditional settings.

Participate in an extended placement that facilitates and enables an immersive experience in a working environment.

Build a national and international network of industry contacts and change-makers.

Acquire the essential skills required for design, making, implementation and evaluation of theatre and social change projects.
Fee and Application Information
Accreditation
How to Apply
2020 Entry
We are still actively recruiting for our 2020 entry and we would welcome your application. UCAS will categorise your application as late but we are very happy to accept such applications and can guarantee you an interview.
UK/EU Applicants
Apply for 2020 entry via UCAS

Institution code: R51


Course code: W412
Applicants will be invited to interviews in London. Those unable to be in London can set up a skype interview.
International Applicants
Please e-mail international@bruford.ac.uk
This course is eligible for student loans. USA students can apply for Federal Loan and Tier 4 visas.
2020/2021 Fees
UK/EU Students - £9,250
International Students - £18,000
Course content
Below is a summary of the intended themes and structure of the programme with short descriptions of each module.
Making and Performing Change
Making & Performing Change I: Theatre Technique (Year 1)
In your first semester at Rose Bruford, you will take 4 classes a week dedicated to training in a particular theatre-making skill area: Voice, Movement, Lighting and Design. This class involves two-hour intensive training sessions and is assessed through participation and a reflective journal.
Making & Performing Change II: Solo Performance (Year 1)
In Solo Performance, you will learn the skills (devising, design, text, stagecraft) to create a 5-7 minute solo performance exploring the theme of Social Change. This class presents the opportunity to reflect on the question: Who am I to make change? through workshops, independent rehearsal, guest talks and more.
Indicative artists/works studied:
Travis Alabanza, Burgerz

Kieran Hurley, Heads Up

Tania El Khoury, Maybe if you choreograph me, you will feel better

Bryony Kimmings, Credible Likeable Superstar Rolemodel

Anna Deavere Smith, Twilight: Los Angeles
Making & Performing Change III: Group Devising (Year 2)
In Group Devising, you will learn the techniques to work with your peers to create a 15-20 minute performance themed around the community, cooperation, competition, and collaboration. You will learn the skills to work effectively in a group setting, to create positive environments for collaboration, and to co-devise meaningful performance.
Indicative artists/works studied:
Barbara Cleveland

Lightning Rod Special, The Underground Railroad Game

Phosphoros Theatre, Pizza Shop Heroes

Ridiculusmus, The Eradication of Schizophrenia in Western Lapland

Sh!t Theatre, Drinking Rum with Expats
Making & Performing Change IV: Group Facilitating (Year 2)
In Group Facilitating, you will learn how to run workshops with your peers, communities and client groups. A close study of facilitation techniques will teach you how to speak to and galvanise groups of people and to know which techniques work best in different contexts. This course is assessed through your successful running of a workshop for your peers or members of the public.
Indicative facilitators/works studied:
Creative English

Cardboard Citizens

Graeae

Kazzum Arts

London Bubble
Making & Performing Change V: Independent Performance Project (Year 3)
Your final creative project will be a full-length production, devised either individually or as a group. Honing your skills and interests (be they in performing, design, direction, etc) over this year-long course will not only provide you with the skills to make a stellar piece of performance available for touring or further development, but will also provide you with the space to support each others' processes, and to reflect on how an artwork might be part of a larger campaign for social change.
Readings on Change
Readings on Change I: Understanding Social Movements (Year 1)
In this module, you will learn about the history of various social movements through the art, artists, theatre and performance activism that helped inform these movements. This course will be taught through both lectures and seminar discussion and will be assessed via a short essay.
Indicative works/movements studied:
AIDS Activism,

Plague Mass

AntiWar Activism,

Lysistrata Project

Black Lives Matter,

A Litany

Disability Justice,

Sins Invalid

Women's Suffrage,

Actress' Franchise League
Readings on Change II: Special Topics in Theatre & Social Change (Year 2)
This is a lecture series module, where each week you will hear from a different theatre-maker and/or producer working currently in the field of Theatre & Social Change, from a range of perspectives. This course will be assessed via essay on a topic of one's choosing.
Indicative theatre-makers/companies invited for guest lectures:
Common Wealth

High Rise Theatre

GOSHArts

Scottee and Friends

The Vacuum Cleaner
Readings on Change III: Independent Research Project (Year 3)
In your third year, you will write a dissertation on a topic of your choosing, and spend the year researching, discussing, planning and executing various aspects of the dissertation. For those who are scared about long pieces of writing, fear not, as there are many opportunities for feedback and planning with your tutors to ensure you can write a meaningful analytic dissertation.
Producing for Change
Producing for Change I: Introduction to Producing (Year 1)
This introduction to Producing will include basic and intermediate skills related to being a successful arts and culture producer, training you to either work as an independent producer or to work inside a more formal company. By the end of this course, students will be prepared to do an Arts Council England application as well as other paperwork associated with producing, with a special focus on Project Planning, Writing Copy and Budgets/Cashflow. Assessment for this course will be done via submission of 1 or 2 project applications.
Indicative applications studied:
Arts Council England

Jerwood New Work Fund

National Lottery Heritage Fund

Paul Hamlyn Arts Access and Participation Fund

The Theatres Trust
Producing for Change II: Strategy, Marketing, Social Media, Impact Measurements (Year 2)
This course focuses on practical producing, preparing students to support full productions from start to finish. Drawing on models from both large institutional productions and fringe artists, you'll learn about overall producing, from strategy to marketing, to social media engagement to evaluation. Assessment for this course will be done via the submission of a portfolio.
Indicative producers/producing methods studied:
Fringe Society - Edinburgh

Something to Aim For

Sonia Friedman

Total Theatre

Wayward Productions
Producing for Change III: Professional Study and Practice (Year 3)
This is an independent, 6-month placement (approximately 1 day a week, but can be structured in various ways) with a cultural, arts or social change-focused organisation, and supported by weekly group discussion. You will develop a new plan for your placement organisation (a new festival, a new strategic approach, a new programme strand) and present your plan to top arts professionals at your final year Social Change Showcase. Assessment for this course will be done via the submission of a portfolio.
Being the Change
Being the Change I: Rose Bruford as LaunchPad for Change (Year 1)
In this module, you will work with a Changemaker/Activist/Campaigner in Residence to reflect on life at Rose Bruford/Sidcup and to think about what changes need to be made. You will learn to listen to your local community, reflect on what needs to be done, design a local campaign, create the campaign and evaluate its successes/failures. Assessment for this course will be done via submission of a reflective portfolio.
Indicative campaigns/models studied:

Carry That Weight, Columbia University

Disabled People Against Cuts

Liberate Tate

Migrants in Culture

Reshape Network
Being the Change II: Rose Bruford Festival Producing (Year 2)

For this module, students on Theatre & Social Change will work with other Rose Bruford students to deliver the annual Symposium on campus, a mixture of performance, talks, and interactive events. Take a look at the Rose Bruford 2019 Symposium here.
Seeing the Change
Seeing the Change I: Survey of Contemporary London Performance & Social Change (Year 1)
Every week, this course will take in a different performance at or visit a different London venue, each chosen for their place in the Theatre & Social Change ecology. 50% of visits will be to see plays/artworks that are themed around social change, while 50% of visits will be to organisations/movements that work in London to promote social change. Each visit is followed up with an in-class discussion. Assessment for this class is via journal submission.
Seeing the Change II: Work Placement Rotations (Year 2)
For this second-year module, you will be placed with a small group (2-3 people) and go through a rotation fo different work placements, spending 1 day a week, for 3-4 weeks each, embedded in a different company/social change organisation. Your cohort will both learn about the culture of work in each space, assist with essential skills, and be mentored by a member of the local team. Assessment for this course will be based on a 5-7 minute presentation about a reflection of your time with one particular organisation.
Indicative organisations where you may have Work Placements:

Arts Council England

Battersea Arts Centre

Coney

The Sick of the Fringe

Slung Low at The Holbeck
Last updated Apr 2020
About the School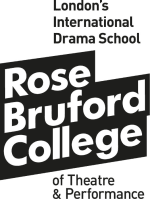 Welcome to Rose Bruford College of Theatre and Performance. Our goal is to inspire, excite and train you as a creative artist and practitioner who can use reflective practice and research, along with ... Read More
Welcome to Rose Bruford College of Theatre and Performance. Our goal is to inspire, excite and train you as a creative artist and practitioner who can use reflective practice and research, along with the world-class teaching we provide, as tools to become an independent thinker and a fulfilled and successful working professional.
Read less