Bachelor of Arts (Hons) in Theatre and Social Change
Home ›
BA ›
Bachelor of Arts (Hons) in Theatre and Social Change
Program Description
Duration:

3 years

Term Start:

September 2020

Entry Requirements:

64 UCAS points

Mode of Study:

On-Campus Learning
This programme is for creative individuals committed to an innovative professional theatre practice – as performer, maker or producer - which aims to change lives and inspire change in communities from all backgrounds and walks of life.
The programme combines practical theatre-making skills with project design and implementation, understanding of cultural, social and creative context, writing proposals, fundraising, marketing and communications. Industry placements, case studies and ongoing input from professional practitioners and cultural activists play a major role in the programme.
Why choose this course?
This is a distinctive undergraduate course offering an integrated applied theatre programme for those who want to create theatre for social change as a performer/facilitator and/or producer.
Ongoing sessions with cultural activists working in a range of arts, social, and other diverse non-traditional settings.
Participate in an extended placement that facilitates and enables an immersive experience in a working environment.
Build a national and international network of industry contacts and change-makers.
Acquire the essential skills required for design, making, implementation and evaluation of theatre and social change projects.
Fee and Application Information
Accreditation
Mode of Study: Full Time
How to Apply
UK/EU Applicants
Apply through UCAS for September 2020 entry
Institution code: R51
Programme Code: W412
Selected applicants will be invited to auditions in London or wherever Rose Bruford College is holding other auditions around the UK, Europe, Asia and North America.
International Applicants
Please e-mail international@bruford.ac.uk
This course is eligible for student loans. USA students can apply for Federal Loan and Tier 4 visas
2019/2020 Fees
UK/EU Students - £9,250
International Students - £18,000
Accommodation/housing
We will advise you about the various options available to you including our own student accommodation at Christopher Court.
Course content
Year 1 (Level 4):
The first year will focus on your own identity as a theatre maker and learning the fundamentals of theatre-making as performers, producers and directors, learning to make and research practice alongside essential arts management and production skills including finance, fundraising, grant writing, basic contract law, marketing and communications and digital and social media. Understanding social and historical movements and interaction with individual and companies actively engaged with social change is an important part of the year. This first year will also ensure you are meeting practitioners and arranging visits to cultural organisations and social enterprises and talks from a range of professionals working in the field of cultural activism.
Year 2 (Level 5):
The second year will concentrate on how can you make a contribution through an understanding of principles of project management as a performer, maker or producer. This will include facilitation skills, case studies, professional inputs from individuals and companies working as cultural activists in the field, industry visits and placements within an Arts organisation (eg Battersea Arts Centre, Slunglow at Holbeck, Good Chance Theatre, Crossing Borders, Unlimited) or major festivals, cultural seasons, European Capitals of culture. UNESCO World Cities of culture. Working with cultural activists you will build on the work of year one, developing management, administrative and cultural leadership skills and exploring the range of skills required to fulfil the role of cultural activist (as performer, maker or producer) in a social change context.
Year 3 (Level 6):
The third year focuses on your skills as a leader and you will develop a project in partnership with a cultural /social organisation with mentoring. This will take the form of an articulated role in a social impact project in an organization or group.
Last updated Jan 2020
About the School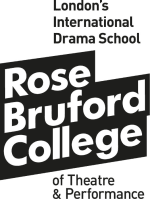 Welcome to Rose Bruford College of Theatre and Performance. Our goal is to inspire, excite and train you as a creative artist and practitioner who can use reflective practice and research, along with ... Read More
Welcome to Rose Bruford College of Theatre and Performance. Our goal is to inspire, excite and train you as a creative artist and practitioner who can use reflective practice and research, along with the world-class teaching we provide, as tools to become an independent thinker and a fulfilled and successful working professional.
Read less