Bachelor of Arts (Hons) in Design for Theatre & Performance (Set and Costume)
Home ›
BA ›
Bachelor of Arts (Hons) in Design for Theatre & Performance (Set and Costume)
Program Description
About this course
Duration:

3 years

Term Start:

September 2020

Entry Requirements:

64 UCAS points*
This is equivalent to two C's at 'A' level or one Merit and two Passes at BTEC (QCF) National Diploma or equivalent.
* We offer places based upon your future potential. We may offer you a place based on lower UCAS points than shown here, or an offer that is not linked to UCAS points if we have evidence of your potential from your application or interview/audition.
This course was formerly titled BA (Hons) Theatre Design.
The Theatre Design course offers a highly creative preparation for a successful career in theatre and associated live and recorded performance events. You will experience the total design process from the initial creative dialogue, through visualisation to full performance.
Placing equal emphasis on costume and set design, you will learn to respond visually and creatively to stimuli ranging from text and character to music, physicality and time. The course will also develop your professional awareness and understanding of the responsibilities of the designer through a comprehensive programme of classes, projects and public performances.
Why choose this course?
Join the next generation of Concept Designers, Costume Designers, Set Designers and Theatre Designers.

Investigate the fundamentals of set and costume design and undertake design projects led by practising professional designers and directors.

Explore the creative potential of design as an essential part of a wide range of theatre performance forms.

Design at least two realised productions in fully-equipped public venues on campus and in London.

Create your ideas in dedicated design studios, and engage in creative team projects with students from other programmes.

Develop skills in drawing, model making and computer visualisation, and extend your learning through work placements in the industry or a period of study abroad.

Share classes and projects with students from other programmes from the School of Design, Management and Technical Arts to learn about the performance, arts and events industries and how to use experimentation, enquiry and creative research in your work, and prepare to build a successful career.

Watch our recent webinar
Employability & Industry
Our BA (Hons) Theatre Design graduates leave as imaginative, practical and creative collaborators and are sought after within the wider performance and related industries.
Their work is showcased to industry contacts and future employers in the Graduate Exhibition. Graduates work as designers and assistant designers in a range of performance-making areas including the main house and studio productions, devised work, opera, theatre for young audiences and intergenerational companies, film and television. Many have used their skills within event design and commercials.
Graduates from this course leave as confident designers and theatre-makers. Skills they acquire have enabled them to work as designers for a full range of theatre, film and event production companies. Graduates also work as design assistants, costume assistants and model makers. Several have also taken up postgraduate studies.
Alumni Success
Emma Child, Head of Design Studio, London 2012 Olympics
Liz Essex, Costume Designer, The Silent Hours, Costume Assistant, Spectre, Suffragette, Genius

Florence Hazard, Designer, The Incredible Inspection of Inspector Spector, The Watermill Theatre

Andy Sinclair Harris, Concept Designer at Walt Disney Imagineering, Hong Kong
Lucy Sierra, Designer, Another World, National Theatre
Graduate Occupations
Studying an Arts related subject provides our students with a wide range of skills. Recent graduates have progressed into the following occupations:
Clothing designers

Set designers (stage)

Interior decoration designers

Draughtspersons

Artists
Source: DLHE Data 2013/2014 to 2016/2017
"My training at Rose Bruford College gave me all the essential skills needed to make Theatre Design a career. It was very practically minded and prepared us for the business side of things as well as giving us the freedom to explore design skills and ideas throughout the three years. We also had invaluable opportunities to work with directors and outside companies which led on to a lot of my early work." Florence Hazard, Theatre Designer, 2012 Graduate
The programme has links with the National Theatre, Royal Opera House, Glyndebourne, Oily Cart, Manchester Exchange Theatre, Punchdrunk, London Bubble, Fisher Productions, Almeida Theatre, Lyric Theatre Hammersmith, Emergency Exit Arts.
Students can visit a range of universities, theatres and companies for work placements and study exchange, including through the Erasmus grant scheme in Europe and our partner universities in the USA.
"Rose Bruford College immerses its theatre design students in the rich creative atmosphere of a busy drama school from the outset. This encouraged me always to link my design ideas with practical ways of realising them since we often worked with the other courses on real performances. It also set me up with contacts and friends across many disciplines of theatre, which allowed me to go straight into work after graduating and continues to provide new collaborative opportunities even now." Victoria Johnson, Set and Costume Designer, 2007 Graduate
Fee and Application Information
Accreditation
Includes Work Placement

Mode of Study: Full Time
How to Apply
2020 Entry
We are still actively recruiting for our 2020 entry and we would welcome your application. UCAS will categorise your application as late but we are very happy to accept such applications and can guarantee you an interview. If you have any queries or concerns then please do contact us at admissions@bruford.ac.uk.
UK/EU Applicants
Apply for 2020 entry via UCAS

UCAS Institution code: R51

UCAS Programme Code: W460
International Applicants
Please e-mail international@bruford.ac.uk
There is an opportunity for international students to study this programme as part of a semester or year abroad.
2020/2021 Fees
UK/EU Students - Up to £9,250
International Students - £18,000
For this course, International Students (non-UK/EU residents) are eligible to apply for a bursary of £6,000 over three years.
Recognising Prior Learning
We understand that learning may take place in different settings and that you may want to use the skills and knowledge you have gained elsewhere to count towards your learning with us. To support this, we have a detailed policy and procedure to guide and help you if you wish to ask for prior learning to be taken into account.
Cecilia Trono applied to the College for Recognition of Prior Learning (RPL). We were able to take into account her previous studies in a related subject in France, which were recognised as equivalent to the first year of our BA (Hons) Theatre Design programme. As a result, Cecilia was able to enter directly into the second year of the programme (level 5).
"I had already been studying for 3 years after the French Equivalent of A levels. After a Foundation Year and a two years Degree in Interior and Environmental Design in Paris, I was convinced I wanted to study Theatre Design. Rose Bruford College seemed to be an amazing place to study. I knew the fact it is a Drama School and would enable students to be part of a small theatre community working collaboratively together throughout and making essential contacts for our future careers." Cecilia Trono
As part of this programme you will share classes and projects with students from other programmes from the School of Design, Management and Technical Arts to learn about the performance, arts and events industries and how to use experimentation, enquiry and creative research in your work, and prepare to build a successful career.
Course content
Year 1 (Level 4):
Introduction to theatre design - the essentials of design for performance, the principles of dramatic space and performance narrative

Conceptual design projects

The collaborative process between designer and director

Developing costume designs for performance, and the creative relationship between costume maker and designer

Skills – storyboarding, model boxes, costume drawing, technical drawing, CAD

Research and analysis of performance and the theatre industry
Year 2 (Level 5):
Collaborative project - design as an ongoing collaborative process from project inception through to performance

Industry placement

Conceptual design project

Practical considerations - budgets, performance venues, transport, staffing

Design Practice – small scale realised design, in collaboration with students from other programmes

Research and context
Year 3 (Level 6):
Design practice - designing a full-scale public theatre production

Contexts of design – investigating the designer's role for performance forms such as opera and dance

Professional preparation

Independent research project

Graduate exhibition
"The theatre design course at Rose Bruford was brilliant because it gave me hands-on practical experience, I left with a portfolio of real work, not just theorised or hypothetical projects. It was great collaborating with the other courses to put on real shows as it really demonstrated how the collaborative process works and how, as a designer, it's really important to make practical decisions as well as creative ones. This is something I deal with every day now in my job as a costume assistant in TV and film, how we can make something work without compromising the designer's vision." Liz Essex, Costume Designer, 2011 Graduate
Last updated Apr 2020
About the School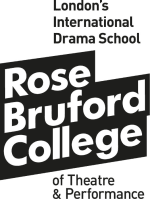 Welcome to Rose Bruford College of Theatre and Performance. Our goal is to inspire, excite and train you as a creative artist and practitioner who can use reflective practice and research, along with ... Read More
Welcome to Rose Bruford College of Theatre and Performance. Our goal is to inspire, excite and train you as a creative artist and practitioner who can use reflective practice and research, along with the world-class teaching we provide, as tools to become an independent thinker and a fulfilled and successful working professional.
Read less