Bachelor of Arts (Hons) in Costume Production
Home ›
BA ›
Bachelor of Arts (Hons) in Costume Production
Read more about this program on the school's website
Program Description
About this course
Duration:

3 years

Term Start:

September 2020

Entry Requirements:

64 UCAS points* (We do not require a foundation year)
This is equivalent to two C's at 'A' level or one Merit and two Passes at BTEC (QCF) National Diploma or equivalent.
*We offer places based upon your future potential. We may offer you a place based on lower UCAS points than shown here, or an offer that is not linked to UCAS points if we have evidence of your potential from your application or interview/audition.
The Costume Production course will provide you with the understanding and skills needed to pursue a successful career in the production and management of historical and contemporary costumes and accessories.
You will develop your garment-making skills and produce costumes for use in fully realised theatre shows, working to designs by professional or student costume designers. The garments that you produce will be durable enough to withstand the rigours of performance. You will also experience the whole range of responsibilities involved with being initially a wardrobe assistant and then a wardrobe supervisor.
Why choose this course?
Join the next generation of Costume Technicians, Costume Makers and Costume Supervisors for the theatre and live events industry.

Learn about the period and contemporary costume construction, pattern-cutting and dressing, specialist skills in corsetry, dancewear, fabric painting, millinery and wig dressing.

Work on live shows within the College, in London and beyond. As a vital member of the collaborative team, you will work with designers, directors and performers.

Understand the role and workings of other technical departments through hands-on experience.

Develop the skills to supervise and manage wardrobe departments in large and small theatres.

Share classes and projects with students from other programmes from the School of Design, Management and Technical Arts to learn about the performance, arts and events industries and how to use experimentation, enquiry and creative research in your work, and prepare to build a successful career.
Employability & Industry
Graduates have gone on to work as freelance costume makers, and within wardrobe departments, for Theatre, Television, Film, Cruise Ships, Dance, and Opera companies.
Recent graduate successes include working at English National Opera, Royal National Theatre, The Globe, London Palladium, Queens Theatre and The Prince of Wales theatres in London, ITV Television, Warner Brother Film studios, Disney corporation, Vivienne Westwood Couturiers, and Gieves & Hawkes, Saville Row. Other graduates have found employment in bridal wear, costume hire, and in the wardrobe departments in the cruise liner industry.
Alumni Success
Katherine Rogers, Costume Technician, Disney Cruise Line
Zia Thomas, Head of Wardrobe, Opera Holland Park
Rachel Woolcott, Costume Buyer, Royal Opera House
Students can visit a range of universities, theatres and companies for work placements and study exchange, including through the Erasmus grant scheme in Europe and our partner universities in the USA.
Graduate Occupations
Studying an Arts related subject provides our students with a wide range of skills. Recent graduates have progressed into the following occupations:
Tailors and dressmakers

Interior decoration designers

Clothing designers

Product, clothing and related designers

Merchandisers and window dressers

Science, engineering and production technicians

Set designers

Buyers and procurements officers

Actors, entertainers and presenters

Teaching assistants
Source: DLHE Data 2013/2014 to 2016/2017
Fee and Application Information
Accreditation
Includes Work Placement

Mode of Study: Full Time
How to Apply
2020 Entry
We are still actively recruiting for our 2020 entry and we would welcome your application. UCAS will categorise your application as late but we are very happy to accept such applications and can guarantee you an interview. If you have any queries or concerns then please do contact us at admissions@bruford.ac.uk.
UK/EU Applicants
Apply for September 2020 entry via UCAS

Institution application code: R51

Programme Code: W451
International Applicants
Please e-mail international@bruford.ac.uk
There is an opportunity for international students to study this programme as part of a semester or year abroad.
2020/2021 Fees
UK/EU Students - Up to £9,250
International Students - £18,000
For this course, International Students (non-UK/EU residents) are eligible to apply for a bursary of £6,000 over three years.
Course content
A breakdown of modules for each year is below.
You will learn in the programme's three dedicated workrooms and use the College's professional standard laundry with washing machines and dyeing facilities. Productions take place in a variety of venues on campus and in central London. The Learning Resources Centre contains specialist books, videos, and research materials.
Year 1 (Level 4):
Basic construction techniques and pattern cutting – both stand cutting and flat drafting

History of costume

Research and analysis of performance and the theatre industry

Introduction to theatre production

Foundation wear and corsetry

Practical costume making project
Year 2 (Level 5):
Dancewear skills, millinery, fabric painting and breaking down, wig dressing

Historical waistcoat project

Research and context

Two show roles as a wardrobe assistant, including budgeting and dressing

Historical half-scale costume project

Industry placement
Year 3 (Level 6):
Two show roles as a supervisor or maker

Independent research project

Professional preparation

Graduate exhibition
Costume Studio
Costume Store
Last updated Apr 2020
About the School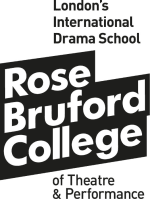 Welcome to Rose Bruford College of Theatre and Performance. Our goal is to inspire, excite and train you as a creative artist and practitioner who can use reflective practice and research, along with ... Read More
Welcome to Rose Bruford College of Theatre and Performance. Our goal is to inspire, excite and train you as a creative artist and practitioner who can use reflective practice and research, along with the world-class teaching we provide, as tools to become an independent thinker and a fulfilled and successful working professional.
Read less