Program Description
Overview
The BA (Hons) Business Studies programme provides each student with comprehensive knowledge and understanding of modern business studies subjects and establishes a firm foundation for the development of a career in the business professions.
The programme is structured in a way which provides each student with the opportunity to study for either a general or a specialist Honours degree in Business Studies. The programme offers students the choice of four options for the completion of their Honours Degree.
These pathway study options are:
Bachelor of Arts (Honours) Business Studies – ( without specialism )
Bachelor of Arts (Honours) Business Studies – (with Accounting and Finance specialism)
Bachelor of Arts (Honours) Business Studies – (with Marketing specialism)
Bachelor of Arts (Honours) Business Studies – (with Management – Human Resource Management specialism)
Importantly each student has the opportunity to emphasis their choice of study as they progress from the first to the second and to the third year of studies. Individuals, therefore, have great flexibility in their choice of business studies subjects and in planning the development of their own individual undergraduate business education.
As they progress through the programme each student is able to make informed decisions about their growing personal areas of business interest and business expertise and is able to match these to their selection of business studies subjects and to their professional career intentions.
Additional pathways of specialist study are being regularly added to the programme framework in order to meet the future needs of different types of business organisations and the particular career needs of our students.
Protection of Enrolled Learners
Independent College has the approval to offer students learner protection insurance. Learner Protection insurance is only in place when each student receives their Insurance Policy.' Each learner should ensure that they receive a Learner Protection Insurance Policy in their name. Learner Protection insurance is provided by O'Driscoll O'Neil and underwritten by Hiscox Insurance Company Limited. The learner protection policy provides for a refund of fees as specified in the 2012 Act. In some circumstances, it may be possible for a learner to transfer to a similar programme in another provider. In such circumstances, the learner may opt to receive the cost of an alternative similar academic programme. Transfer to another programme is always only a second option. The learner protection insurance policy is governed by s. 65(4)(b) of the 2012 Act.'
Aims & Objectives
The Bachelor of Arts (Honours) in Business Studies (BABS) is a three academic year full-time level 8 programme providing theory, knowledge, research skills and practical skills to those who wish to develop their knowledge in and around the areas of business, management, IT, accounting and finance, and marketing. Business studies as a field of learning continues to grow in the educational sector. One in every eight of 2019 applicants for a level 8 degree in Ireland preferred business over any other subject area.
The general programme aims are as follows:
To provide learners with a strong base of contemporary business knowledge through theory, concepts and methods constituting academic grounding in the core disciplines and skills required for a career in general business
To provide learners with the environment in which to develop and confirm expertise in the major business disciplines
To develop in learners a methodical and rational approach to business problem solving and decision making, with the capability to apply acquired knowledge and skills to practical business situations
To develop in learners a range of intellectual skills, encompassing reasoning and evaluative skills and communication skills that develop as fully as possible their interpersonal abilities.
To develop learner capacity to organise information, argue, negotiate and defend conclusions and to present them in a clear and coherent fashion
To encourage learners to deal with knowledge in a critical and analytical way, with the capacity and confidence to evaluate ideas and opinions underpinned by qualitative and quantitative research findings
To provide learners with the opportunity to also specialise in a sub-field of business learning and to increase their knowledge and skills in this specialised area of Management, Accounting and Finance, Marketing and IT
To provide learners with the knowledge and foundation to pursue further postgraduate study
Accreditation
This is a three years honours degree programme that is QQI accredited. Students will graduate with an internationally recognised Bachelor of Arts (Hons) degree in Business Studies.
Course Outline
Year 1
Semester 1
Corporate Cultures 1 (Professional Growth)
Business Law 1
Principles of Marketing 1
ICT and Business Communications
Principles of Management
Financial Account 1
Semester 2
Corporate Cultures 2 (Organisations)
Business Law 2
Principles of Marketing 2
Introduction to HRM
Principles of Economics
Data Analysis and Statistics
Year 2
Core Subjects (Semester 1 & 2)
Management Accounting
Operations & Supply Chain Management
Contemporary Marketing
Semester 1
Business Information Management
Corporate Finance
Organisational Behaviour
Semester 2
Financial Accounting
Market Research
Contemporary Management Issues
Year 3
In addition to Common Core Modules final year, students also agree with their tutors the specialist subjects that they wish to study for their degree. These are studied in the final year
Core Subjects (Semester 1 & 2)
Business Strategy
Innovation & Change Management
Business Project
Accounting Stream (Elective)
*Taxation
*Financial Reporting
*Audit & Assurance
Marketing Stream (Elective)
*Services Marketing
*Brand Management
*International Marketing
Management/HR Stream (Elective)
*Information Systems for Competitive Advantage
*Project Management
*Entrepreneurship
Programme Learning Outcomes
At the conclusion of the programme, students should be able to:
Demonstrate an in-depth knowledge of essential business knowledge, theoretical models and principles within the core aspects of business.
Assess knowledge and information, tools and techniques in a critical manner to effectively adapt to changing business environments.
Critically assess the fundamental elements of business in particular accountancy and finance, IT and management and marketing how they are inter-related with other functional areas in order to enable effective strategic business decisions.
Be able to identify and harness new business models in pursuit of business objectives and to optimise personal productivity.
Evaluate the responsibilities of business professionals in a professional manner, identifying potential ethical dilemmas and the evaluation of possible solutions.
Demonstrate an extensive set of the acquired business skills, including the capability to participate creatively and responsibly in teams.
Exhibit command of research processes, and the ability to successfully apply this in an applied business project in a professional setting.
Reflect on and demonstrate a level of academic ability at Level 8, allowing further academic or professional development.
Teaching & Assessment
The programme teaching and learning strategy are designed to allow the learner to progress through the theoretical and practical concepts in an orderly and logical fashion. The assessment strategy is planned to ensure practical application of the core principles of the module and facilitates feedback, which underpins the overall learning experience.
The primary purpose of Independent College Dublin's strategy is that teaching and assessment support learning. In addition, assessment supports standards based on appropriate learning outcomes. The programme teaching and assessment strategy is informed by the QQI Business Award Standards. The programme learning outcomes (PLO), the module learning outcomes (MLO), and the graduate attribute also inform this process.
Throughout the programme, learners will experience a varied range of teaching and learning strategies, which are selectively chosen, based on level, module content and suitability to assessment. Most modules will primarily be delivered through a mix of lectures and practical workshops, with tutorials in place to support where necessary. Typically, the material will be presented during lectures and workshops, with supporting documentation available via Moodle to learners.
It is envisaged that the learners will assimilate much of the material through problem-solving and practical exercises. Emphasis will be placed on allowing the learners to examine the exercise problem descriptions and try possible solutions in the workshops. Tutorials will be used to allow the learners to get help, reinforce more difficult subject matter and provide learners with the opportunity for assistance to a specific problem.
Teaching will focus on the learner applying problem-solving skills to existing programme material. Skills will be developed through a variety of mechanisms, for example:
Integrated tutorials with industry engagement.
Problem-based learning exercises with trade practitioners.
Co-delivering and guest lecturing on focused syllabus content.
Application workshop sessions, diagnostic and troubleshooting skills.
Case study analysis, review, critiquing – reflective learning and writing skills.
Blended learning and Flipped Classroom delivery
Online synchronous and asynchronous delivery of lecturers.
Directed e-learning
Formative assessment will from an integral part of the learning journey or the learner with feedback being provided on the solutions to problems posed in class and through assignment being critiqued and challenged in the educational environment. This will allow for risk assessment and a continuous improvement process to become part of their solution design.
Additionally, the teaching and learning strategy are informed by Independent College Dublin's overall teaching and learning strategy, the scheme of assessment and the module-specific teaching and learning strategy.
Careers/Further Study
Across recruitment, agencies and website-based recruitment sites, there are numerous employment opportunities in the following areas:
Small Medium Enterprises.
The Public Sector.
Digital Marketing Agencies.
Major Technical Marketing Hubs based in Ireland.
Previous graduates from a sister program in BA (Honours) Business Studies at Independent College Dublin have been employed in the following (not an exclusive list) companies:
State Street.
Oracle.
Digg.
Air BnB.
Google.
PWC Group.
In the Company of Huskies.
Procter and Gamble.
Fidelity Investments.
IBM.
Independent College Dublin has recently employed a Student Experience and Careers Officer to offer strong assessment processes and feedback tools to assist in one-to-one sessions in training on behavioural competencies and career matching. This is complemented by visiting careers mentors and career coaches who have been engaged with final years in our existing programmes to facilitate learner engagement with industry. To date, significant emphasis has been placed on building communication and interpersonal confidence and skills to communicate the learners' value to an employer.
Entry Requirements
Students are required to achieve a minimum of Grade H5 at a higher level in two subjects and four O6s in ordinary level subjects (to include Maths and a language)in the Leaving Certificate. Mature applicants are welcome and do not need to meet these requirements.
Completion of Independent College Dublin application form
Copy of applicant's passport
Copies of any other previous academic qualifications
Copy of GNIB card if already resident in Ireland
English Language Requirements:
If English is not your first language, you must provide evidence that you will be able to study at degree level English. You will be required to show that your use of English is equivalent to IELTS 6.0 or TOEFL 550/213
Fees & Payment
The annual tuition fee for domestic-based students already located in Ireland €4,600 or the European Union. The annual tuition fee for Non-EU based students is €6,500.
Last updated Apr 2020
About the School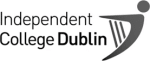 Independent College Dublin has the perfect location for student life in Dublin: we are right in the very centre of the city, surrounded by cultural, academic and leisure attractions. Independent Colle ... Read More
Independent College Dublin has the perfect location for student life in Dublin: we are right in the very centre of the city, surrounded by cultural, academic and leisure attractions. Independent College Dublin's primary goal is to bring our students through learning programmes that are relevant, stay with you forever, are the foundations of your future success and result in qualifications that are highly respected in your chosen field. Upon completion, your undergraduate, postgraduate or professional award in the various disciplines will be recognised wherever you go, both in Ireland and overseas. We are a goal-focused, career-orientated college. We pride ourselves on our personalised tuition, delivered to the highest academic standards in an interactive learning environment by highly qualified and friendly teaching staff.
Read less