Bachelor of Arts (Hons) Digital Content Design for Theatre and Live Events
Home ›
BA ›
Bachelor of Arts (Hons) Digital Content Design for Theatre and Live Events
Read more about this program on the school's website
Program Description
About this course
Duration:

3 years

Term Start:

September 2020

Entry Requirements:

UCAS points required 64**
This is equivalent to two C's at 'A' level or one Merit and two Passes at BTEC (QCF) National Diploma or equivalent.
**We offer places based upon your future potential. We may offer you a place based on lower UCAS points than shown here, or an offer that is not linked to UCAS points if we have evidence of your potential from your application or interview/audition.
What is Digital Content Design?
Digital Content Design is part of a large (and rapidly growing) industry, and it needs specialised designers who understand how they can use the technology, and how to work in partnerships with creatives and directors to create atmospheres or to support the storytelling.
Developed with the industry, this three-year degree will give you the creative skills you need to become a digital content designer. You will also learn to operate media servers, cameras, projectors, control desks, motion capture and virtual reality equipment and green screen technologies.
Current leading practitioners in the industry include:
Fray Studio
Luke Halls
59 Productions
The role of a Digital Content Designer
A digital content designer is responsible for the concept and creation of digital and video visual content for theatre productions, live events or art installations.
Video design:
You will find examples of video design in:
Content for a West End Theatre productions or the Royal Opera House

Projection/LED walls in TV shows like Strictly Come Dancing, the Eurovision Song Contest, or at big live events like the music festivals (for example Glastonbury), or the opening event of the Olympics. (59 Productions created the projections for the last Olympics where there were 100,000 people in the stadium and millions of people watching across the world.)

Projection-Mapping. Buildings, art installations or corporate events
Digital content design:
Examples of digital content in use include:
Using different platforms such as screens, projection surfaces or via streaming to mobile apps.

Creating visual information in museums, and art installations. This could be in the form of text, moving image or any digital content
You will be trained by industry professionals in our new Centre for Digital Production, which includes a new technologies studio and dedicated computer laboratories using software such as:
Maya

Cinema 4D

Premier Pro

After Effects

Photoshop
You will also be developing your own artistic style through studying the following disciplines:
Film and VFX

3D Animation

TV

Computer Gaming

Our Head of Development, James Simpson, gives an overview of the course:
Why choose this course?
"I'm so pleased as this course is something we've been asking for from the training industry as a whole. We're really excited to see how we can work with the course and its graduates." Finn Ross, Founder and Creative Director, FRAY Video Design
Developed with industry partners

Train in our new Digital Production Centre using software including; Maya, Cinema 4D, After Effects and Photoshop

Study Film and VFX, 3D Animation, TV and Computer Gaming
Employability & Industry
Our graduates will be trained to work as video operators and designers in the theatre and live events industry, where there is currently a skills shortage.
For example, you may work in design studios, delivering content for national theatres and opera houses, West End and Broadway productions, live TV events and shows and large concerts and festivals.
Graduate Job roles may include:
Digital Content Creators

Live Events Professionals

Video Designers and Operators

Digital Arts Specialists
Fee and Application Information
Mode of Study: Full Time
How to Apply
2020 Entry
We are still actively recruiting for our 2020 entry and we would welcome your application. UCAS will categorise your application as late but we are very happy to accept such applications and can guarantee you an interview. If you have any queries or concerns then please do contact us at admissions@bruford.ac.uk.
UK/EU Applicants
Apply for September 2020 entry via UCAS

Institution application code: R51

Programme Code: W455
International Applicants
Please e-mail international@bruford.ac.uk
There is an opportunity for international students to study this programme as part of a semester or year abroad.
2020/2021 Fees
UK/EU Students - £9,250
International Students - £18,000
For this course International Students (non-UK/EU residents) are eligible to apply for a bursary of £6,000 over three years.
Webinar
Watch our recent webinar with Head of Development James Simpson.
Course content
Year 1 (Level 4)
You will learn design principles and basic 2D/3D design software as well as learn about motion capture, and basics about systems design, deployment and operation.

Project briefs will teach you how to research and integrate cultural knowledge into your design elements.
Year 2 (Level 5)
You will learn advanced design skills and a range of professional skills.

You will begin to integrate your design work into a professional context taking responsibility as a designer.
Year 3 (Level 6)
You will study an aspect of the industry which is relevant to you, develop your own specialist practice and complete a research project.

You will reflect about how you can add value and push the industry further with a view of becoming a leader within the industry.
Last updated Apr 2020
About the School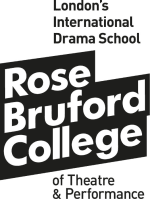 Welcome to Rose Bruford College of Theatre and Performance. Our goal is to inspire, excite and train you as a creative artist and practitioner who can use reflective practice and research, along with ... Read More
Welcome to Rose Bruford College of Theatre and Performance. Our goal is to inspire, excite and train you as a creative artist and practitioner who can use reflective practice and research, along with the world-class teaching we provide, as tools to become an independent thinker and a fulfilled and successful working professional.
Read less