Bachelor of Art & Design - 3D Animation & Visual Effects
Home ›
Bachelor ›
Bachelor of Art & Design - 3D Animation & Visual Effects
Program Description
Create the impossible. Develop stunning 3D Animation and imagery and learn how to use visual effects to blow stuff up...without accidentally blowing your computer up! Our award-winning faculty will take you on an immersive journey; teaching you the basics of modeling, rendering, lighting, and technical direction that will culminate with you being a part of an amazing, industry-level short film in your final year.
Careers & Industry
To succeed in the film post-production industry, you'll need to be proficient and confident in using industry standard visual effects software. You'll also need experience applying creative thinking and problem-solving in a collaborative and demanding environment. Employers value our graduates because this course focuses on the technical skills and soft skills you'll need in the industry.
Your first year will begin with an eight-week introduction to the world of computer graphics. You'll finish the year by working on an intensive yet rewarding short 3D production that will ensure you have the academic foundation and the skills you need to progress throughout your degree.
During your second year, you'll be asked to pick a specialization in visual effects, technical studies or 3D animation, which will enable you to fine-tune your particular skill set.
Your final year will see you working on a number of industry level productions that will culminate with you being a part of an amazing, state-of-the-art short film. You'll also finish your final year with a research project that will provide you with the skills to take your knowledge of 3D animation and Computer Graphics (CG) to new levels.
Graduates have gone on to work on blockbuster films including Avatar and The Hobbit
Student short films receive international accolades
Graduates are in demand for their experience working on major projects within a studio-like environment
Career paths include 3D Modeler, Compositor, VFX artist, Animator, Technical Director, Effects Designer.
Entry Requirements
General Admission
To qualify for General Admission, you'll need a minimum qualification of NCEA University Entrance or equivalents, such as CIE or IB University Entrance, or, level 4 or higher Qualification from a related discipline.
International Students
If you are an international student, you'll need to prove you have sufficient English language skills in order to complete this course. We'll be looking for Academic IELTS 6.0 (minimum), or equivalent qualification if English is not your first language.
Last updated Feb 2018
About the School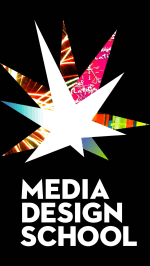 Media Design School is New Zealand's most-awarded tertiary institute for digital and creative technology qualifications
Media Design School is New Zealand's most-awarded tertiary institute for digital and creative technology qualifications
Read less