Bachelor of Animal Husbandry (BSc)
Home ›
BSc ›
Bachelor of Animal Husbandry (BSc)
Program Description
Are you enterprising and do you have a passion for animals?
Dutch animal industry is dynamic and at a very high level. On an international scale, the Netherlands is a frontrunner in the field of breeding, nutrition and the wellbeing of animals. Will you contribute to further development in the industry? Will you support the people and businesses who are active in the horse industry? Or will you ensure that the Netherlands stays an important player in global livestock farming? Developments proceed at a rapid pace. Production in livestock farms is increasing rapidly, and this development coincides with an increasing focus on the health and well-being of animals. Will you take on the major challenges? The industry can certainly use well-trained specialists like yourself!
You can specialize in:
Equine Sports and Business
Animals Society and Business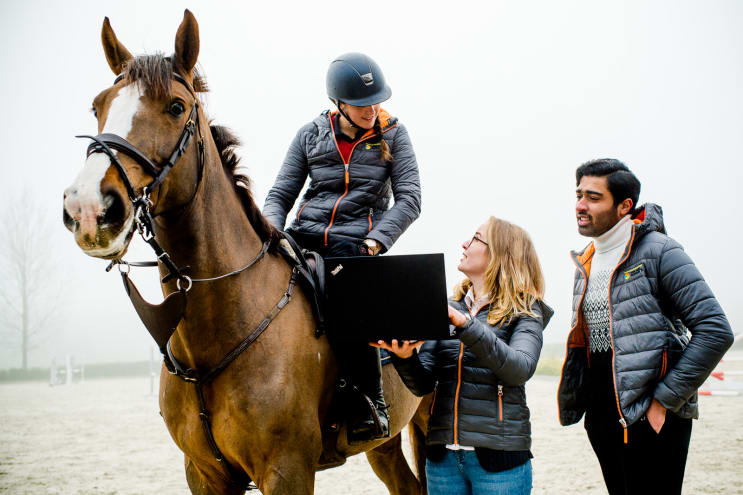 Equine, Sports and Business
In Europe, millions of people are active in the equine sector. Think of breeding, sport, leisure or business activities at all different levels. The equine industry is rapidly expanding throughout the world, and therefore, continues to professionalize as a sector. Western European countries, like the Netherlands, Germany and the UK, have become key players in this international field. These countries are highly recognized worldwide for the breeding and trading of sport horses as well as for their high level of sports performance and equine knowledge.
The increasing number of international transactions - sport horses, equine products and horse knowledge - demand internationally oriented people, who can combine their interest in horses with sound business knowledge.
The sector needs individuals with the ability to analyze business performance, spot market opportunities and come up with innovations. To be successful in this field, you have to be able to convert results from scientific research into practical situations. Solid knowledge about horses and a constant focus on finding new solutions is required for this. Equine Sports and Business strikes a balance between equine science and business knowledge. During this program, you deal with topics such as nutrition, breeding, exercise physiology, training, rider physiology, and psychology plus welfare and behavior. In addition, subjects such as finance, managerial economics, management, marketing, and international trade are important elements of the program. Besides knowledge you also learn important skills like networking, advising, planning and organizing.
Animals Society and Business
Are you curious about animals and their peculiarities? Would you like to learn all there is to know about a particular species? Do you think it is important that animals that are kept for commercial purposes are cared for in the best possible way, everywhere in the world? If so, you should choose to focus on Applied Animal Science – your gateway to the world of scientific animal research.
Specialisation is increasingly important in all sectors of animal care, from companion animals to production animals. Though there are many agricultural extension workers and advisors on animal husbandry, there is also a need for people with a deep scientific knowledge of each of the main species within the husbandry system; cattle, horses, pigs or poultry.
By focusing on Applied Animal Science, you will be able to specialize in the species of your choice. You will be working on real-life assignments and projects in connection with for instance farmers, researchers, and advisors. In these assignments and projects, you learn to translate scientific knowledge into recommendations for everyday practice. Hereby you develop your communication skills and discover your entrepreneurial qualities.
Content Program
You will be following objective specific courses, doing practical periods and preparing an exciting graduation assignment. The program is competency-based: each theoretical subject supports workgroup situations in which students tackle practical problems and explore workable solutions. This means that you will be active from day one, learning to work independently as you collaborate with others. The program culminates in practical placements and a thesis project conducted in an international setting.
Career opportunities
Advisor on animal feed
Project manager in agribusiness
Account manager in horse insurance
Event organizer
Marketeer in an industry association
Self-employed professional
Animal expert
The world lies at your feet when you are a graduate student of Animal Husbandry.
Join the online open day and choose your study programme!
Our digital doors are open to welcome you.
Videos: watch presentations from any programme, listen to student stories, and get to know our university of applied sciences.
Live chat: address your questions to students and lecturers.
Information: student life, admission and enrolment.
Register now for the online open day. Choose VHL.
Saturday November 7th 2020
Saturday February 6th 2021
More information?
Would you like to visit an open day or join a webinar for more information? Please check our website for more information.
Last updated Oct 2020
About the School

Are you interested in an English-taught Bachelor or Master's program with a practical approach? Come and study at Van Hall Larenstein, the most sustainable University of Applied Sciences in Holland! ... Read More
Are you interested in an English-taught Bachelor or Master's program with a practical approach? Come and study at Van Hall Larenstein, the most sustainable University of Applied Sciences in Holland! At Van Hall Larenstein we train ambitious and innovative students who want to contribute to a more sustainable world. Our programs focus on the domains of Food and Dairy and Animals and Business. During your study, you will work on several international projects and internships at companies where you apply the theory in practice. Right from the start, you will develop a professional network of students and colleagues from all over the world.
Read less