Program Description
Bachelor of Accountancy
All courses offered in the Bachelor of Accountancy (B.Acc.) Program are taught in English by our internationally accredited faculty. The Bachelor of Accountancy program serves to effectively equip our students with the essential knowledge required to enter into their chosen profession.
Due to a close relationship with the Thai Chamber of Commerce, we have the privilege of guaranteeing suitable internship placements to students. It is through these internship experiences that students will learn how to apply their classroom theory to real-world business situations.
As a result, students in this program become much more experienced and well-prepared for entrance into businesses on an international level, especially in such a competitive and constantly changing environment.
Why Accounting?
Accounting is one of the most important factors for success in the business arena
By understanding accounting it will serve as an effective tool in understanding business perspectives
Accounting is more than just numbers. Decision making made by high-level management greatly relies on the quality of accounting information
A strong accounting background is a valuable asset that will contribute to one's career goals and achievement
Program Objectives
The program takes into consideration an accountant's role in maintaining records of financial transactions affecting organizations, reporting the results of operations and information technology in professional applications
The program focuses on particular aspects of accounting which enable students to gain the knowledge and skills necessary to become an accounting professional
The students will become a professional in their chosen career path and can continue on to higher education
What do you gain from B.Acc? Investing your future in the B.Acc program will award you with a challenging experience by enhancing one's academic knowledge and towards achieving a promising career.
By investing in the Bachelor of Accountancy program, you're investing in your future. With the knowledge and experience, one will gain from our B.Acc program, students will become sufficiently equipped and prepared to face the business world on an international level and will be able to effectively compete with others in this globally changing and highly competitive business environment.
Last updated Feb 2018
About the School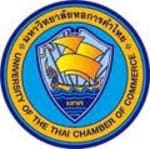 The University of the Thai Chamber of Commerce (UTCC) is the oldest private non-profit higher education institution offering degrees in Business Administration, Accounting, Economics, Humanities, Scie ... Read More
The University of the Thai Chamber of Commerce (UTCC) is the oldest private non-profit higher education institution offering degrees in Business Administration, Accounting, Economics, Humanities, Science, Communication Arts, Engineering, and Law. It is a place where academic theories and business experiences are integrated to produce graduates who can successfully meet today's business challenges. The University of the Thai Chamber of Commerce, originally known as the College of Commerce, is the private university that was founded by the Thai Chamber of Commerce in 1940 to provide education for business to Thai youth. After the outbreak of World War II in 1941, the institution was closed and it was reopened in 1963. The two-year curriculum was developed into a standard four-year program in 1964 and on June 17, 1970, the College of Commerce was officially accredited under the Private College Act. On October 24, 1984, this institution was accredited as a university and the name was changed to the University of the Thai Chamber of Commerce. International Programs represent the academic expansion of the University of the Thai Chamber of Commerce in keeping with global business trends. Vision and Mission In order to realize our vision of being one of the leading universities in education for business in Asia, UTCC missions put emphasis on producing graduates with academic and business abilities and ethics, having faculty members, staff and students with distinguished abilities in English, information technology and business, and being the reliable source of academic services in the area of business for the society. Status and Strength As of January 2007, UTCC has 19,472 undergraduate and 1,710 graduate students. The total number includes international students from different countries worldwide. Since its foundation, the University has maintained its close relationship and cooperation with the Thai Chamber of Commerce. Many of our part-time lecturers are successful and outstanding businessmen and executives with invaluable knowledge and experiences. In the highly competitive and rapidly changing environment, our curriculums are incessantly improved and developed; furthermore, new curriculums such as Logistics Management and Global MBA are offered to meet the demands of the new economy.
Read less