Bachelor in Screenwriting
Program Description
The four-year screenwriting degree focuses on developing knowledge of genres, practical application, and publishing work, while building platforms, networks, and learning the skills every artist-entrepreneur needs to build their business and brand.
You will learn not only the craft of writing, but also learn to master tools and techniques to build a career as a writer.
Start your first year with a foundation in all forms of creative writing. The second year introduces you to the history and analysis of screenwriting with a focus on Hollywood and Global Cinema with classes on 3-Act Structure, Copyright, Writing for a Budget, Conducting Research, and the Art of the Pitch. The third year expands through the study of contemporary film and adaptation with a focus on documentaries and experimental screenwriting. You will develop skills in character development and authentic dialogue, while also learning how to write a film review, synopsis, script analysis, and filmography. In your fourth year, you write a feature-length screenplay and query agents, while researching artist residency programs as well as developing a marketing strategy, grant application, and refined pitch.
This degree is available on campus or online. Check out the curriculum below.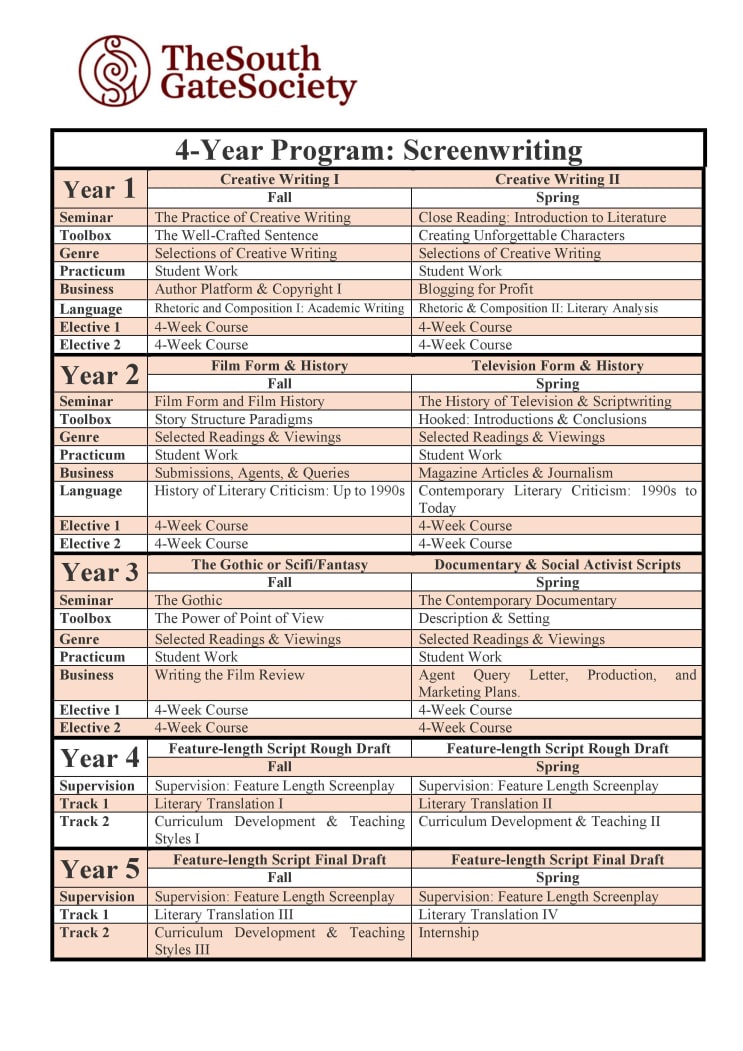 General Admission Requirements
The South Gate Society Degree Program requires prospective students hold a minimum of a high school diploma or upper secondary school exit exam. Due to the rigorous amount of reading and writing, students should have a high level of language skills and abilities. Below, you will find information on Admission Requirements, Language Level, Tuition, Scholarships & Grants, Housing, Residence Application, Health and Safety, Living and Working in Denmark, Learning Danish for Free, and Banking.
English Language Requirements
All courses are taught in English and therefore require students to be proficient in the language. Most assignments will be written in English until the fourth year, in which students choose to write their final projects in English or their native language.
Students do not have to take one of these tests, but for reference, your English proficiency should be at one of the levels listed below. Your English level will be evaluated through your Personal Statement and Writing Sample within your application. For Danish students, a B-level is required.
IELTS (International English Language Testing System) - An overall grade of 6.5 is preferred, with nothing lower than a 5.5 in any of the subcategories.
TOEFL (Test of English as a Foreign Language) - A minimum score of 85 for the internet-based test with no scores lower than 80 in subcategories.
Documented evidence of English language proficiency
The South Gate Society reserves the right to request further documentation of the applicant's English proficiency according to section 9 of the Danish Ministerial Order no. 1212 of 17 December 2012 on Access, enrollment and leave etc. This documentation must be made up of one of the English tests listed above as well as an interview.
Last updated Jan 2018
About the School
The South Gate School is the first, four-year Creative Writing School in Denmark and it opened in August 2014.
The South Gate School is the first, four-year Creative Writing School in Denmark and it opened in August 2014.
Read less