Program Description
Psychology adopts a rigorous, scientific approach to understanding behaviour - an approach that provides the solid foundation necessary for admission to graduate programs and/or for immediate employment in a myriad of service-based occupations. In addition to courses that introduce students to the major theoretical perspectives in psychology, the major also requires skill-based courses in statistics and research methods and the use of statistical analysis software programs to help the student master the basics of designing empirical research studies. Furthermore, students are required to participate in laboratory work and conduct their own research (there are many additional options for engaging in research and service learning projects). This is, in part, because human behaviour often can be studied best outside of the classroom and because research projects, internships and other types of practical experiences are important preparation for graduate school and careers in the behavioural sciences.
As practical as it is popular, a major in psychology readily translates into careers in teaching, counselling, research, social work, health sciences, advertising, marketing, personnel management, conflict mediation, forensics and more. Some careers require only the baccalaureate degree while others require graduate or professional training. In both, Wilson students are well-prepared for obtaining placements. Faculty assists in designing a program of study that meets admissions requirements for graduate school and can often suggest institutions based on students' career objectives.
The major in psychology focuses primarily on understanding principles of human behaviours from a variety of perspectives: neurological, cognitive, social, developmental, health and emotional. However, taking an interdisciplinary approach to learning and development, students are also required to take courses in biology and sociology resulting in a complex interaction of the individual with interpersonal, intrapersonal and contextual forces that is critically examined. The program in psychology is designed to familiarize students with essential scientific methods and concepts as applied to the analysis of psychological research.
In addition to the major in psychology, a minor is available for students wishing to supplement their education in this widely applicable area.
The Edward and Sarah Anderson Psychology Prize was established through the efforts of the Wilson College Psychology Club in recognition of Professors Edward and Sarah Anderson for their devotion to the discipline of psychology at Wilson College from 1939 to 1970. This cash prize is awarded to a graduating senior for outstanding scholarship in the discipline of psychology.
Career Opportunities (Psychology Major)
Career Paths of Recent Graduates
Coordinator Big Brother/Big Sister Program
Asst. Director state Mental Health Assn.
Educational Outreach/Family Planning
Franklin County AIDS Educator
Franklin County Therapeutic Riding Center
Staff Therapist - In/outpatient ADHD; autistic children
Applied Personnel Research
Therapy with autistic children
Counselor at Brook Lane adolescent care
Asst. Professor of Psychology
Editor with US LifeLine
Group home supervisor (adults with mental retardation)
Graduate schools attended (programs include: Psychology, Social Sciences, Gerontology, Social Work, Library Sciences, Industrial-Organizational, Urban Counseling, Neurolinguistics, Counseling, Genetic Counseling):
Syracuse University
UCLA
Hofstra University
Columbia University
Monmouth State
Clarion
Michigan State University
Devereau Foundation, Philadelphia
McGill University
New Mexico Highlands University
Northern Illinois University
Shippensburg University
Temple University
University of Hawaii
University of Pittsburgh
Virginia Polytechnic Institute
University of Rochester
Graduate School Information
Graduate schools want students who have demonstrated their ability to learn, understand, and apply the fundamentals. They want students who think critically, write well, speak confidently, work independently, can design and critique research, etc. Graduate school faculties typically want to be the ones to shape their graduate students in terms of speciality areas and theoretical approaches. Metaphorically speaking, they want high-quality clay for that process.
At Wilson, we emphasize these all-important fundamentals, and we provide numerous opportunities to conduct research and engage in experiential learning, which are highly valued by graduate programs. These opportunities, along with the distinct advantages associated with being a very small liberal arts college, prepare our graduates well for graduate programs.
Last updated Mar 2020
About the School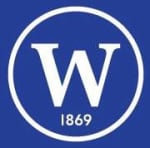 Wilson is committed to providing our students and their families with value in a college education. From our first-in-the-nation student loan buyback program to career development and financial litera ... Read More
Wilson is committed to providing our students and their families with value in a college education. From our first-in-the-nation student loan buyback program to career development and financial literacy training, we're dedicated to providing an experience
Read less