Program Description
The undergraduate major in psychology and minor in gerontology provide students with the opportunity to develop a foundation for understanding the theory and practice of the behavioural sciences through hands-on experiences within the traditional classroom and unique field settings.
Some of the practice settings in which students gain experience include:
Psychiatric Hospitals
Adult Daycares
Addiction Treatment Facilities
Nursing Homes
Adolescent Offender Programs
Group Homes
Child Partial Hospitalization
Private Practice
Psychiatric Clinics
Vocational Rehabilitation Services
Medical Clinics
Sheltered Workshops
ICFMRs
Residential Mental Retardation Facilities
Standards for Admission
Freshmen Complete the application for undergraduate admissions
Send in your $40 application fee
Send in your official ACT or SAT scores
Send in your official high school transcript
Send in proof of measles, mumps, rubella (MMR) immunizations (must have had one MMR shot in the last ten years or two MMR shots in your lifetime.)
If you have taken college classes during high school, call the college and ask them to mail us an official and final college transcript.
Last updated Feb 2020
About the School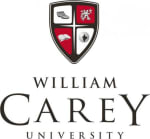 William Carey University is a community of learners which seeks to blend faith and learning with living. Within this unique nurturing and challenging environment students prepare to fulfill their div ... Read More
William Carey University is a community of learners which seeks to blend faith and learning with living. Within this unique nurturing and challenging environment students prepare to fulfill their diverse
Read less