Read more about this program on the institution's website
Program Description
Why study Psychology?
A major in psychology prepares students to interpret psychology theory by utilizing scientific methodology to understand, predict, and analyze human behavior. Throughout the coursework, students will learn and understand how individuals think, relate to others, act, feel, and develop. Students will also investigate individual differences and understand how the environment affects human behavior.
Courses
Coursework in psychology will prepare students for an increased understanding of learning and cognition, individual differences, biological bases of behavior, and developmental changes in behavior. There is some flexibility built into the major to accommodate student preferences, such as the ability to take coursework in preparation for graduate school, courses introducing counseling and therapy techniques, etc. Students are also required to complete an internship, special project, or senior project toward the end of their academic career. Students interested in applied experiences typically select an internship. Those students who wish to go on to graduate school are encouraged to work on a special project involving research assisted by a psychology faculty member.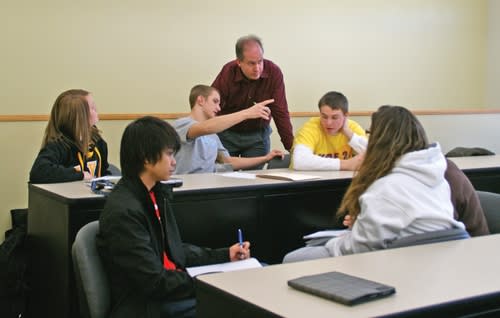 Career opportunities
A degree in psychology prepares students to pursue the following career paths:
Human resources
Social work
Case management
Public relations/Marketing
Victim advocate
Student affairs
Researcher
Counseling
Research opportunities
Sandra Meder (Psychology and Human Services major) recently completed a research project on caregiving in the 21st century. She interviewed family caregivers across the state of Iowa about their feelings of burden and assessed what technologies caregivers used to assist them with their caregiving role. Sandra was awarded a $2,000 grant from the R.J. McElroy Student/Faculty research fund.
Students have had success with placement in social work, mental health counseling, and the couple and family therapy.
University of Iowa
University of Northern Iowa
Drake University
Widener University
Bellevue University
International Honor Society in Psychology: A Psi Chi chapter was recently established at Upper Iowa University. Undergraduate students must complete an application process, be in the top 35% of their class, and have a 3.0 GPA. Each spring new members are inducted in the chapter. Psi Chi members have been active in volunteering at a local assisted living facility. Benefits of membership include eligibility for Psi Chi scholarships and increased notoriety on graduate school applications.
Take it from our student
"Upper Iowa University (UIU) has a top-notch program for students interested in the field of psychology. The professors are not only knowledgeable in their areas of study but have hands-on experience in their field.
The small class sizes and 8-week terms help the experienced professor's structure classes in a way that promotes open discussion on even the most controversial topics, as well as opportunities for one-on-one student-professor communication. An open classroom with experienced professors is what makes UIU the place to study psychology."
~Sadie Meegan, 2016, psychology and communication studies major
Job outlook (2012-22)
Psychologist*
Job outlook: 12% increase
Wages: The median annual salary for a psychologist was $69,280 in 2012 or $33.31 per hour.
*Taken from the Bureau of Labor Statistics
Psychology is offered at the following Upper Iowa University locations:
Residential Fayette campus
Select education centers
Online Program
Self-Paced Degree Program
Select international locations
Last updated Aug 2020
About the School
Since 1857, Upper Iowa University has been preparing students to succeed—in the classroom and in the world. That rich history, coupled with a student-centered mission, has created a springboard for UI ... Read More
Since 1857, Upper Iowa University has been preparing students to succeed—in the classroom and in the world. That rich history, coupled with a student-centered mission, has created a springboard for UIU to become a recognized innovator in offering accredited, quality programs through flexible, multiple delivery systems, including online and self-paced study.
Read less