Program Description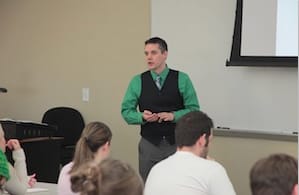 Psychology is the systematic and scientific study of behavior and experience. It seeks to explain how physiological, personal, social, and environmental conditions influence thought and action. Research with humans aims to understand, predict, and influence behavior.
Overview
In the past century, psychology has moved from being a branch of philosophy to being both an experimental science and an active helping profession. It has developed several specialized sub-areas with foci spanning from the level of the nerve cell (e.g., the neural basis of memory) to that of society (e.g., the developmental consequences of the Head Start program).
A strong grasp of psychology requires knowledge of the approach and content of each of its sub-areas. Students gain this understanding by completing courses in the four main cores: Physiological/Cognitive, Social/Personality, Developmental, and Clinical. They choose additional courses to meet individual needs with the help of a psychology advisor. Furthermore, students who major in psychology learn to evaluate research articles and to design, conduct and report experiments.
The Psychology Program: Our graduates are employed in a variety of positions with social and community service agencies, businesses, research firms, and governmental agencies. The program offers several special opportunities for students to strengthen their professional preparation: faculty frequently work with students on collaborative research projects, and many of our students present papers at national conferences. Support for advanced student research is enhanced by a state-of-the-art Social Sciences Lab. Internships are available in a variety of community settings.
Should You Major/Minor in Psychology? Look at the Careers Link to see if psychology is the right major or minor for you. Psychology majors must choose an interdisciplinary minor. Such a minor strengthens preparation in psychology and enables students to prepare for a diversity of careers. Human development is the most chosen minor, though a number of minors are also completed in human biology, business, and in the social science interdisciplinary programs.
Learning Outcomes
Goal 1: Knowledge Base in Psychology
1.1 Describe key concepts, principles, and overarching themes in psychology
1.2 Develop a working knowledge of psychology's content domains
1.3 Describe applications of psychology
Goal 2: Scientific Inquiry and Critical Thinking
2.1 Use scientific reasoning to interpret psychological phenomena
2.2 Demonstrate psychology information literacy
2.3 Engage in innovative and integrative thinking and problem-solving
2.4 Interpret, design, and conduct basic psychological research
2.5 Incorporate sociocultural factors in scientific inquiry
Goal 3: Ethical and Social Responsibility in a Diverse World
3.1 Apply ethical standards to evaluate psychological science and practice
3.2 Build and enhance interpersonal relationships
3.3 Adopt values that build community at local, national, and global levels
Goal 4: Communication
4.1 Demonstrate effective writing for different purposes
4.2 Exhibit effective presentation skills for different purposes
4.3 Interact effectively with others
Goal 5: Professional Development
5.1 Apply psychological content and skills to career goals
5.2 Exhibit self-efficacy and self-regulation
5.3 Refine project-management skills
5.4 Enhance teamwork capacity
5.5 Develop meaningful professional direction for life after graduation
Last updated Mar 2020
About the School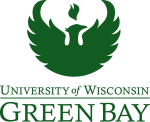 The University of Wisconsin-Green Bay takes a big-picture approach to education, accounting for your unique way of learning, your passion, and your perspective. Become enriched through impressive int ... Read More
The University of Wisconsin-Green Bay takes a big-picture approach to education, accounting for your unique way of learning, your passion, and your perspective. Become enriched through impressive internship opportunities; get a job that pays in multiple ways as a student employee on campus; have fun with like-minded people by joining one of our 100+ clubs and organizations; make the most of your college years living on campus; become a leader through student government; better your world with community service; and see more of it via our many opportunities to study and travel around the globe.
Read less