Read more about this program on the institution's website
Program Description
Overview
Psychology students at Earlham practice real-life observation, hone counseling skills, assist with faculty research, and conduct research of their own. This approach allows students to be involved in their discipline in ways that are both relevant and demanding.
As a first- and second-year student, you will take courses featuring activities like case study projects with children, identifying materials by odor and touch, and practicing counseling skills on other students.
Some of our course offerings are not often seen at other small liberal arts colleges, including Positive Psychology, Emerging Adulthood, Cradle to Grave, Psychology of Sustainability and Human Sexuality.
Our students get multiple opportunities to apply psychology by doing their own research, assisting faculty with ongoing research projects, or working in the community.
Highlights
All senior psychology majors conduct an independent research project of their own choosing as a graduation requirement.
Between 12 and 15 students, each semester serves as research assistants for faculty studying friendship and bullying in elementary school children, the psychophysiology of stress, and attitudes toward animals.
Our alumni have continued on to graduate schools in psychology at places like Washington University in St. Louis, Bryn Mawr College and Ball State University in cognitive, developmental and clinical areas.
Recent graduates also have pursued advanced degrees in social work, education, medicine, law and business at Boston, Cornell and George Washington universities, among others.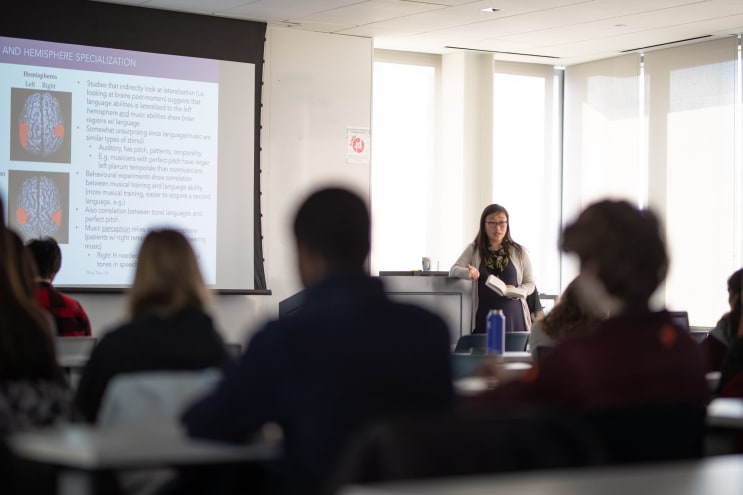 Plan of Study
The Psychology program begins with an introductory course and a core of common courses that familiarize students with the many different theoretical and methodological approaches to psychology. In these courses, students survey a wide range of psychological subfields and explore the relevance of psychology to current social issues and everyday life.
In addition, students acquire a basic understanding of the principles of scientific research and critical thinking applicable not only to psychology but to all the sciences. Psychology courses with a primary focus on basic research in psychology are numbered 351-359. Other courses offer depth in a specialized area, integrate psychological research and theories with other disciplines, focus on applications of psychology, or some combination. Courses 300-339 are cross-listed from other departments, which may be of interest to psychology majors. Courses cross-listed from other departments do not count toward the major. These courses help to engage in scientific psychological research; utilize psychological theory, methods, and data in addressing applied questions; and think richly, systematically and critically about the personal experiences, interpersonal interactions, social issues and problems they will encounter throughout their lives.
General Education Requirements
The Department offers one course that meets the Quantitative Reasoning component of the Analytical Reasoning Requirement, PSYC 245; one course that fulfills the International component of the Perspectives on Diversity Requirement, PSYC 362; two courses that fulfill the Domestic component of the Perspectives on Diversity Requirement, PSYC 344 and 364; one course that fulfills the Writing Intensive Requirement, PSYC 343; and five courses that meet the Wellness Requirement, PSYC 368, 373, 374, 376 and 378.
In addition, six courses meet the Writing Intensive Requirement, PSYC 230, 352, 353, 356, 358 and 370.
International Admissions
A Global Learning Community
Rooted in the Quaker values of equality, justice, respect, and collaboration, an Earlham education creates an unending desire to see the world differently and to bring about change. Earlham prepares you for the challenges and decisions of your college career and for your life after college.
As an international student, you play a key role in bringing the world to Earlham. We recognize and value the distinct perspectives you bring with you and how they can enrich experiences in and out of the classroom.
International students make up approximately 21% of the total student body at Earlham. Our dynamic campus includes more than 200 international students, faculty, and language assistants from more than 60 countries.
We look forward to welcoming you to campus, too!
Standardized Test Scores
Standardized test scores are required of all international applicants.
If English is not your primary language, you must submit an English Proficiency exam and meet the required criteria. You may also submit an SAT or ACT score to enhance your competitiveness for admission and for scholarship consideration.
If English is your primary language, you may submit your SAT or ACT scores instead of an English Proficiency exam.
Current accepted tests and minimum required scores are:
| | | |
| --- | --- | --- |
| Test | Required | Recommended |
| SAT – EBRW | 400 | 600 |
| ACT – Reading | 20 | 26 |
| TOEFL - total | 80 | 92 |
| IELTS – total | 6.0 | 7.0 |
| Duolingo - total | 105 | 115 |
| GTEC - total | 1192 | 1255 |
| ISE - total | ISE II Merit | ISE III Pass |
While we understand the many issues present in standardized testing, Earlham's current registration with SEVIS requires compliance with these test score requirements. SEVIS is the Student and Exchange Visitor Information System used by the Department of State on behalf of the Department of Homeland Security (in other words, important US governmental agencies). Therefore, the International Student Advisers must use test scores to substantiate academic preparedness and English proficiency when preparing an I-20 (the document needed to apply for a student visa) for an admitted student.
Last updated Aug 2020
About the School

Earlham is a national liberal arts college with a reputation for excellent teaching and preparing students to make a profound positive difference in the world.
Earlham is a national liberal arts college with a reputation for excellent teaching and preparing students to make a profound positive difference in the world.
Read less