Read more about this program on the institution's website
Program Description
About the Program
The CWU Department of Psychology was entrenched in 2018, under the shelter of the 'Faculty of Economics, Administrative and Social Sciences', with the approval of YÖDAK, the Higher Education Inspection, and the Evaluation Board.
The CWU Department of Psychology operates to advance the science of psychology through high aspects of research, teaching, and service. The major purpose of the undergraduate program are to promote a multi-disciplinary path to improve in science which can carry the title of 'Psychologist' and which will follow the name of Psychologist, respect for human and ethical values, along with concentrating on research and informative contribution, capable of comprehending the parallel between Psychology and other sciences in scope and approaches, psychologists who can critically judge the seriousness of psychology, to characterize theoretical and practical knowledge of current psychology, to figure out new outcomes and make assumptions from them, to interpret, synthesize and assimilate them and to correlate and critically evaluate the information.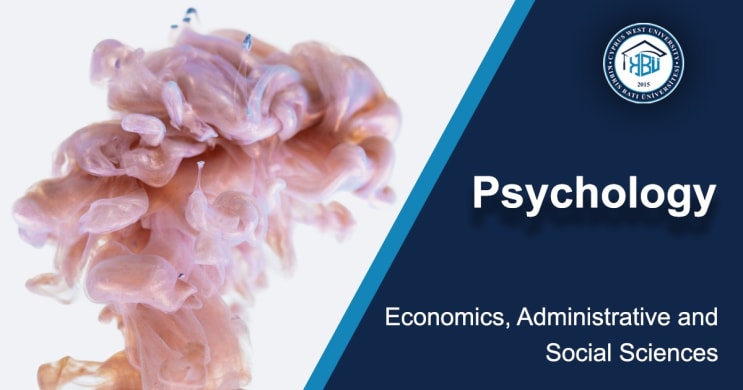 Educational Opportunities
Our undergraduate program is arranged to maintain our learners with high levels of theoretical, empirical, and methodological knowledge in many areas of psychology, and provide them an opportunity to use this knowledge into their specialization fields. Students supplied with the advanced learning and skills may prefer to continue their academic studies to graduate levels or may decide to start a career.
Students assigned project studies are carried out in the lab and are supervised by the department's experienced academics. In addition to these students are welcomed and required to produce research projects that are found in their educational areas, supervised by academics in the department.
Career areas
Psychology graduates can be provided with work as psychologists in all fields that interact with people such as clinics, hospitals, educational institutions, and in administrative positions in housing and day-care centers or nursing homes. Graduates can become psychologists, researchers, guidance teachers, management psychologists, or work in forensic institutions, family courts, criminal courts, psycho-evaluation centers, corporations, and human resources departments. Also, they can seek out careers in public relations or management units, public organizations, advertising companies, copywriting departments and/or work as private consultants. Graduates who are curious about becoming researchers, teaching assistants, or working in academia can pursue their Master's degree and/or Ph.D. Finally, they then can set up their own consulting and training companies or offer a variety of services to businesses such as personnel selection and training.
Admission Requirements
Required Documents
High School Diploma & Transcript or National Certificate and & Transcript.
English translation of Diploma & Transcript (if applicable).
Passport Photocopy (including all the important pages).
Results of SAT, IELTS or TOEFL (If available).
Personal photo.
Admission Criteria:
American College Testing: Minimum 21 points.
General Certificate of Education (GCE): Having 2 A level or equivalent (4AS/8 IGCSE).
International Baccalaureate: Qualify for an IB diploma.
Scholastic Aptitude Test (SAT): Minimum 900/1600.
Online Application

Applicants should complete the online application form. Here are the application steps:
Start the application process by clicking on the Application Process Page.
Fill and submit the Form.
Use the PIN Code to log in to the Application Tracking System.
Log in and review your application.
Go to the Financial Section to make the payment.
Collect Official Acceptance Letter and Payment Confirmation Letter.
Get your Visa (if needed).
Book your flight and fill the airport Pick up.
Tuition Fees
60% Scholarship is being offered to all international students in all departments and programs. To check our Tuition Fees for the upcoming intake, visit our Tuition Fees Page.
Language Requirements
English Proficiency Test
University's programs are in the English Language, if the student hasn't met the Following English Level requirements, he/she will be required to take the English Proficiency Exam.
English Requirements
IELTS – International English Language Testing System (minimum 5.0).
TOEFL IBT – Internet-based Test of English as a Foreign Language (minimum 60).
TOEFL CBT – Computer-based Test of English as a Foreign Language (minimum 170).
TOEFL PBT – Paper-based Test of English as a Foreign Language (minimum 497).
GCE/IGCSE – General Certificate of Education/International General Certificate of Secondary Education (Minimum C).
FCE – First Certificate in English (Minimum C).
CPE/CAE Certificate of Proficiency in English/Certificate in Advanced English (Minimum C).
SAT – The SAT Reasoning Test (formerly Scholastic Aptitude Test):

Old SAT: Writing: Minimum 340, Reading: Minimum 400, Total: Minimum 800.
New SAT: English: 420.

PTE – Pearson Test of English: Minimum 36.
Scholarships
CWU offers a variety of scholarships to all its prospective and current students in undergraduate programs according to their level of success.
International Students Scholarship
All undergraduate level students are granted with 60% tuition fee scholarship in all departments.
Academic Scholarship
It covers 70%, 80% and 100% of the tuition. Scholarships of 70%, 80% and 100% for exceptionally successful prospective students. You shall apply for the scholarship by contacting our Scholarship Committee (scholarship@cwu.edu.tr).
The applications are evaluated by the international student's admission committee. Note: The academic scholarship covers (Fall & Spring semesters).
Duration for the scholarship: 4 years in the program of study, plus 1 year in the English Language Preparatory Program (if required).
Academic Achievement Scholarship
Registered undergraduate students who have studied for at least two semesters and who have achieved at least 3.00 Cumulative Grade Point Average (CGPA) and 3.50 Grade Point Average (GPA), receive a CWU academic achievement scholarship of 25% to 75% reduction in their tuition fees, depending on their academic status.
Financial Aid Program
Financial Aid program designated for highly qualified undergraduate students with limited financial resources. After you have been admitted, you may apply for a financial grant if you meet the following requirements: have received an Acceptance Letter from the admission office and having limited financial resources.
If you are eligible for the financial aid program, the amount of the award will depend upon your financial need and your academic qualifications. Grants are awarded regardless of your race, color, gender, religion or national origin.
You may download the Financial Aid Application, fill it, and gather all the required documents and send it to our Scholarship Committee email (Scholarship@cwu.edu.tr).
Last updated Jul 2020
About the School
Cyprus West University was established in 2015 and located in Northern Cyprus. As a higher-education institution, it symbolizes the contemporary aspect of Cyprus which is a historical and cultural cen ... Read More
Cyprus West University was established in 2015 and located in Northern Cyprus. As a higher-education institution, it symbolizes the contemporary aspect of Cyprus which is a historical and cultural center of the Mediterranean.
Read less