Program Description
Bachelor of General Studies in Music
This degree allows a student to combine the second field of study if so desired. Students may choose to take a minimum of 36 hours in music or 18 hours of music and 18 hours of another field. This degree can provide an excellent alternative route to teacher certification.
Bachelor of Music in Contemporary Worship Ministry
This is the most innovative and creative degree in church music anywhere. Preparation as a musician, teacher, minister, conductor, and performer will prepare students for ministry in the local church and continued study. This practical approach to training worship leaders addresses the issues that church music leaders encounter in the churches of today.
Bachelor of Music with a Major in Performance
Concentration in Guitar, Organ, Piano, or Voice - The Bachelor of Music in performance is offered in the areas of voice, piano, organ, and guitar. Courses are offered in literature and pedagogy, preparing students for graduate study and teaching careers.
Bachelor of Music Education-Vocal Certification
Vocal/Choral Certification - The music education program is certified by the Mississippi Department of Education for teaching K-12. The music education degree involves four years of coursework plus a trimester of supervised teaching. Courses in classroom methods and professional education prepare the student for a career in elementary or secondary public school teaching.
Bachelor of Music with a Major in Music Therapy
William Carey College is accredited by the American Music Therapy Association and offers one of only two music therapy programs in Mississippi. Through the strong support of the medical and educational community in south Mississippi, students receive more extensive field experience than many larger schools offer. The music therapy degree requires four years of coursework followed by a six-month internship leading to eligibility to sit for the national exam leading to certification.
Bachelor of Arts with a Major in Music
The Bachelor of Arts degree combines the study of music with a strong liberal arts core and an outside minor.
Bachelor of Music Education: Instrumental Certification
This degree is designed to prepare students to be instrumental educators, band directors, instrumental conductors, and performers. Students have opportunities to conduct liver instrumental performance groups and participate in a variety of instrumental ensembles.
Standards for Admission
Freshmen Complete the application for undergraduate admissions
Send in your $40 application fee
Send in your official ACT or SAT scores
Send in your official high school transcript
Send in proof of measles, mumps, rubella (MMR) immunizations (must have had one MMR shot in the last ten years or two MMR shots in your lifetime.)
If you have taken college classes during high school, call the college and ask them to mail us an official and final college transcript.
Last updated Feb 2018
About the School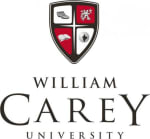 William Carey University is a community of learners which seeks to blend faith and learning with living. Within this unique nurturing and challenging environment students prepare to fulfill their div ... Read More
William Carey University is a community of learners which seeks to blend faith and learning with living. Within this unique nurturing and challenging environment students prepare to fulfill their diverse
Read less