Bachelor in Multimedia and Communication Technology
Program Description
Always on the lookout for breakthroughs in technology? Got an entrepreneurial instinct and the ideas to start innovating?
Come and discover how we make technology work for us, unlock its potential and society may thank you.
Our Bachelor of Multimedia and Communication Technology is an English-language degree, which prepares globally-minded students for a career in the digital world.
Apply and you could spend the next three years in the lively and historic city of Antwerp in Belgium.
The degree in brief
You will develop the technical skills, cutting-edge creativity and strategic insight to help you shine in the fast-paced world of multimedia.
From day one, our project-based approach and global outlook prepare you for work as a digital nomad.
Discover how to create and manage websites, learn the art of audiovisual productions, immerse yourself in virtual reality, and use programming to get technology working for you.
Keeping user experience in mind, find solutions to real-life challenges with the help of artificial intelligence, augmented reality and the Internet of Things.
Got an entrepreneurial streak? Then, apply for student entrepreneur status and if successful pursue your own start-up. Or choose to go abroad for a different kind of adventure, and spend your four-month internship working in a company.
After graduation
Our program is all about getting you ready for work. Examples of just some of the possible careers you could pursue include: digital strategist, innovation manager, growth hacker, digital transformer, creative technologist, solution architect, and digital product designer.
Or perhaps you want to continue with your studies? Then a master's degree in industrial or electronic engineering or product design are also potential options.
Study in Antwerp, Belgium
A vibrant city of learning with more than 44,000 full-time students.
Home to the second-largest port in Europe, the diamond capital of the world, thriving fashion industry and artistic heritage of world renown.
Brussels, Paris, London, and Amsterdam are all within easy reach by train.
Tuition fee
The tuition fee for the 2019-2020 academic year is as follows:
Non-EEA students: €6112.80
EEA students: €938.80
Language requirements
The programme is taught in English, so students must have a good proficiency of the English language. Please note that you may require an English language certificate such as IELTS: 6.0 or TOEFL iBT: 87.
Application deadline
Non-EEA students: May 15, 2019
EEA students (without IELTS: 6.0 or TOEFL iBT: 87 certificate): June 12, 2019
Last updated Sep 2019
About the School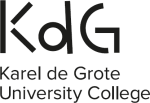 Karel de Grote University College has more than 12,000 enrolled students and employs about 1,000 staff members.
Karel de Grote University College has more than 12,000 enrolled students and employs about 1,000 staff members.
Read less