Bachelor in Microelectronics Engineering
Home ›
BSc ›
Bachelor in Microelectronics Engineering
Program Description
The fabrication of semiconductor devices and systems through microelectronics technology is a key driver of the world economy and the semiconductor industry is a shining example of U.S. manufacturing capability.
The RIT NY campus developed the first bachelor of science degree program in microelectronic engineering in the U.S., and the college continues to provide highly educated and skilled design, process, yield enhancement and test engineers for the semiconductor industry. RIT Dubai offers this program to its students in two years of academics in Dubai + two years of academics in the NY campus of RIT + 1 year Co-op education. In this format, students complete their introductory coursework in the first two years at RIT Dubai before transferring to the RIT New York campus to complete the last three years.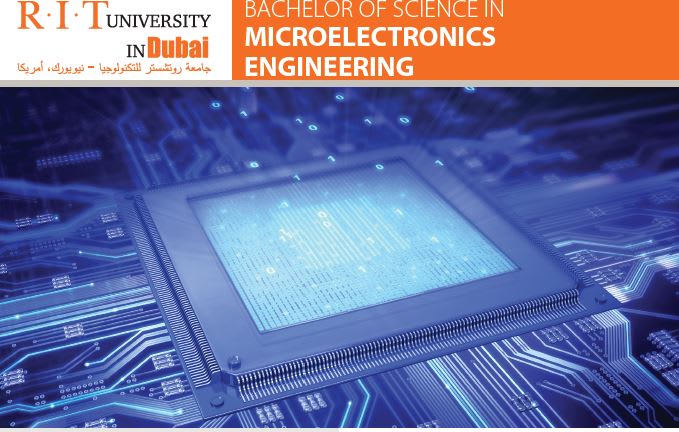 Scientists and engineers who work in the semiconductor field need a broad understanding of and the ability to seek out, integrate, and use ideas from many disciplines. The program provides a comprehensive interdisciplinary background in electrical and computer engineering, solid-state electronics, physics, chemistry, materials science, optics, and applied math and statistics necessary for success in the semiconductor industry.
Our faculty is committed to quality engineering education, state-of-the-art laboratories, strong industrial support, co-op opportunities with national companies, and small class sizes, all of which make this one of the most value-added programs in the nation.
Possible Career Options
Microelectronics fabrication today likely employes the most highly trained engineering workforce of any manufacturing industry. As the density of integrated circuits rises (and therefore device feature size decreases) and as industry shifts to large wafer sizes, the complexity of microelectronic fabrication processes creates a demand for an ever more highly educated and trained workforce. The bachelor of science program in microelectronic engineering at Rochester Institute of Technology has been designed to meet this critical need.
Curriculum
Electrical engineering, BS degree, typical course sequence (semesters), effective fall 2013
Course
Sem. Cr. Hrs.
First Year
MATH-181 Project-Based Calculus I
4
CHMG - 131 General Chemistry for Engineering
3
MCEE - 101 Introduction to Nanoelectronics1
3
LAS Foundation Elective
3
MATH - 182 Project-Based Calculus II
4
PHYS-211 University Physics I
4
CMPR - 271 Computational Problem Solving for Engineers
3
EEEE-120 Digital Systems I
3
LAS Perspective 1
3
Second Year
MATH-221 Multivariable Calculus
4
PHYS - 212 University Physics - II
4
MCEE - 205 Statistics and DOE
3
EEEE - 281 Circuits - I
3
LAS Perspective 2, 3
6
MATH - 231 Differential Equations
3
PHYS - 213 Modern Physics
3
EEEE - 282 Circuits - II
3
MCEE - 201 IC Technology
3
EGEN - 099 Engineering Co-op Preparation
0
Third Year
Cooperative Education (fall)
Co-op
MCEE - 320 E&M Fields for Microelectronic Engineering
3
MCEE - 360 Semiconductor Devices for Microelectronic Engineering2
4
MCEE - 502 VLSI Process Modeling
3
EEE - 381 Electronics I
3
Free Elective
4
Fourth Year
MCEE-503 Thin Films (WI)
3
MCEE-505 Lithography Materials and Processes
3
EEEE - 353 Linear Systems
4
EEEE - 482 Electronics II
4
LAS Perspective 4
3
Cooperative Education (spring)
Co-op
Fifth Year
MCEE - 515 Nanolithography Systems
3
MCEE - 495 Senior Design I
3
MCEE - 550 CMOS IC
4
Professional Electives
6
LAS Immersion 1,2, 3
9
MCEE - 496 Senior Design II
3
Free Elective
3
Total Semester Credit Hours
129
1 Microelectronic Engineering students staring their degree at RIT Dubai may take EEEE-220 Digital Systems II in lieu of MCEE-101 Introduction to Nanoelectronics.

2Microelectronic Engineering students staring their degree at RIT Dubai may take EEEE-260 Semiconductor Devices (3) and EEEE-105 EE Practicum (1) in lieu of MCEE-360 Semiconductor Devices for Microelectronic Engineering.
Cooperative Education
Cooperative education is a full-time paid work in the student's field of study. The Microelectronic Engineering co-op curriculum requires the completion of 50 weeks of co-op employment split over two 25-week blocks; each block is a summer and a regular semester. Cooperative education gives students the opportunity to apply the knowledge and the skills they learn in the classroom to the workplace. At the workplace, students also gain valuable expertise in areas such as oral and written communications, business ethics and etiquette, and working in a team, which will allow them to undertake various career options and help them make long-term decisions.
Accreditations
The Bachelor of Science in Microelectronics Engineering program is accredited by the UAE Ministry of Education- Higher Education Affairs and is licensed by the KHDA.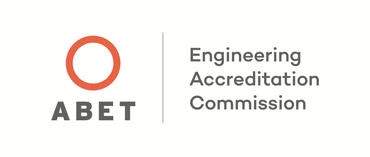 Last updated Aug 2018
About the School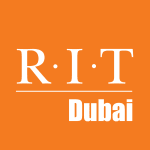 Established in 2008, RIT Dubai is a not-for-profit global campus of the esteemed Rochester Institute of Technology in New York, one of the world's leading technological-focused universities with a sto ... Read More
Established in 2008, RIT Dubai is a not-for-profit global campus of the esteemed Rochester Institute of Technology in New York, one of the world's leading technological-focused universities with a storied 185 year history. RIT Dubai offers highly valued Bachelor's and Master's degrees in business and leadership, engineering, and computing. The curriculum provides students with relevant work experience through an innovative cooperative education program that helps students stand out in today's highly completive job market.
Read less