Bachelor in Mechanical Engineering
Program Description
The bachelor's degree in mechanical engineering is broadly designed to accommodate a variety of career goals. Students take a core of required courses in engineering, the humanities, mathematics, and science, as well as supplementary elective courses. These courses introduce basic engineering science and design concepts and provide students with the opportunity to develop specific career interests in sub-fields of mechanical engineering such as renewable energy, nanotechnology or biomedical engineering.
Our nationally ranked program gives students the chance to work closely with distinguished faculty and get hands-on experience as they move from building Lego cars as freshmen to designing a capstone project of their own choosing as seniors. Students can take advantage of two teaching labs as well as a full-service machine and welding shop used for student projects and research equipment.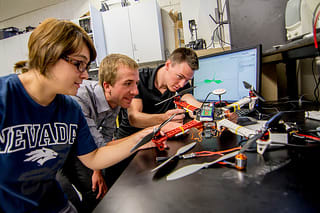 Related Degrees and Programs
Mechanical Engineering, Minor
Mechanical Engineering, Master of Science Degree
Mechanical Engineering, Doctor of Philosophy Degree
What Will I Learn?
Successful engineering students arrive at the University with a strong background in math and science. We recommend students have taken physics and chemistry courses in high school and are prepared to take calculus as freshmen.
Our program teaches you to apply your math and science knowledge, along with a creative approach to problem-solving and design, to the development of basic mechanical engineering systems.
Graduates of the bachelor's degree program should have the following skills:
Proficiency in entry-level mechanical engineering analysis and design Ability to define, design, execute and analyze experiments with minimal supervision Ability to communicate effectively, verbally and in writing Graduates are prepared to pursue further professional study in mechanical engineering or related areas, or in medicine, business or law.
Requirements
Coursework in the mechanical engineering major focuses on math, science, and engineering. Students complete courses on a range of mechanical engineering topics as well as relevant topics in other engineering disciplines.
During the senior year, students have a chance to pursue electives in areas of interest within mechanical engineering. These electives must include a course/lab combination covering one of the following topics:
Thermodynamics
Intermediate heat transfer
Cooling electronic equipment
Advanced mechanics
Intermediate dynamics
Mechanical vibrations
Intermediate fluid mechanics
As seniors, mechanical engineering majors round out their design experience with two capstone classes. Students learn to synthesize design considerations ranging from the economic to the ethical as they create and optimize mechanical systems. Throughout the year, students work in teams to build a marketable design project.
Students must also take the Fundamentals of Engineering Examination administered by the Nevada Board of Professional Engineers. The FE exam is generally taken during the spring of your senior year. Register for ENGR 490 in order to have the exam recorded on your transcript.
Career Options
Mechanical engineers may play a role in the design or construction of anything that moves, from tiny motorized devices to airplanes and rocket ships. Because mechanical engineering is such a broad field, graduates can look forward to diverse employment prospects and strong demand for their skills. A 2012 survey by the National Association of Colleges and Employers placed mechanical engineering at number five on its list of the top 10 bachelor's degrees for 2013.
Mechanical engineers can also specialize in sub-disciplines ranging from biomedical to fluid/thermal sciences to materials. According to the Bureau of Labor Statistics, new technologies such as alternative energy sources and nanotechnology may drive much of the growth for mechanical engineers in coming years.
Additionally, many mechanical engineering careers offer highly competitive salaries, even to bachelor's degree holders. According to a 2011 report from Georgetown University's Center on Education and the Workforce, mechanical engineering majors had a median salary of $80,000, which ranked among the top salaries for all majors.
Last updated Mar 2018
About the School
The University of Nevada, Reno was founded in 1874 as the State University of Nevada in Elko, Nev., about 300 miles northeast of its present-day campus in Reno. The site for the university preparatory ... Read More
The University of Nevada, Reno was founded in 1874 as the State University of Nevada in Elko, Nev., about 300 miles northeast of its present-day campus in Reno. The site for the university preparatory school in eastern Nevada (where no state institutions had previously been located) proved to be impractical, as nearly half of the state's residents lived in the Reno-Carson City area. In 1885, the legislature approved the move of the University from Elko to Reno.
Read less