Read more about this program on the school's website
Program Description
Overview
At Earlham, our students develop mathematical fundamentals and problem-solving skills that they can apply in a variety of disciplines or in further study of mathematics.
It's easy for our Mathematics students to design and participate in projects that explore connections between math and other interests as a class project, independent study or as a double major.
We have close and continued faculty-student collaboration, both in class and in settings like working together in the Math Studio or conducting research on such topics as global warming, pattern formation in animal coats and the spread of ideas during the "Arab Spring."
Summer internships are available at the Centers for Disease Control, the National Laboratories, the National Institute for Standards and Technology, NASA and the NSA.
Highlights
Our students participate in weekly "mathophiles" seminars and informal lunches and attend regional meetings of professional mathematicians.
You may study in the Budapest Semesters in Mathematics, one of the world's great centers of mathematical research.
Recent alumni are in graduate school studying applied mathematics, actuarial science, computer science, education, engineering, environmental science, law, mathematics, medicine, musicology or theology.
You can find Earlham Mathematics alumni becoming high school teachers, business managers, computer programmers, systems analysts, environmental statisticians, actuaries or mathematics professors.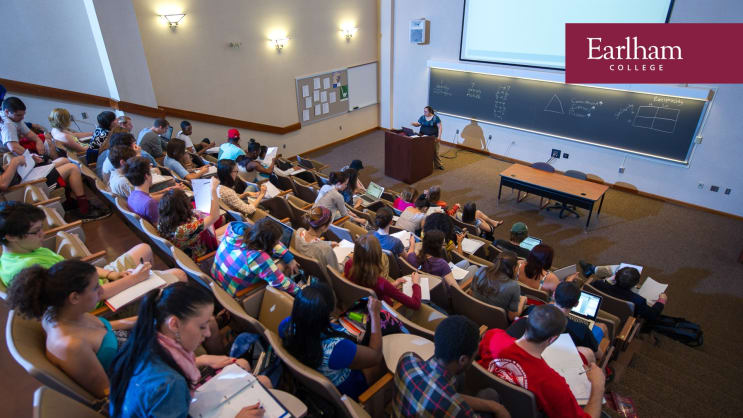 Outcomes
Earlham math majors have gone on to graduate school in mathematics, physics, economics, finance, music, geosciences, and psychology.
Alumni have pursued a wide variety of careers, including finance, agents both for the NSA and for the FBI, actuaries, aspects of computing and secondary teaching.
A student recently presented her work at a national joint meeting of the Mathematical Association of America and the American Mathematical Society.
Plan of Study
General Education Requirements
The Mathematics Department offers 17 courses that fulfill the Abstract Reasoning component of the Analytical Reasoning Requirement for General Education: MATH 130, 140, 180, 190, 280, 288, 300, 301, 310, 320, 350, 360, 420, 425, 430, 435 and 482; and seven that fulfill the Quantitative Reasoning component of this requirement: MATH 120, 180, 280, 300, 320, 350 and 360. The Department also offers Earlham Seminars.
The Major
Students considering a major in Mathematics are encouraged to enroll in Calculus A or Discrete Math during the Fall Semester of their first year and to discuss their plans with one of the Math faculty if they've taken calculus in high school.
International Admissions
A Global Learning Community
Rooted in the Quaker values of equality, justice, respect, and collaboration, an Earlham education creates an unending desire to see the world differently and to bring about change. Earlham prepares you for the challenges and decisions of your college career and for your life after college.
As an international student, you play a key role in bringing the world to Earlham. We recognize and value the distinct perspectives you bring with you and how they can enrich experiences in and out of the classroom.
International students make up approximately 21% of the total student body at Earlham. Our dynamic campus includes more than 200 international students, faculty, and language assistants from more than 60 countries.
We look forward to welcoming you to campus, too!
Standardized Test Scores
Standardized test scores are required of all international applicants.
If English is not your primary language, you must submit an English Proficiency exam and meet the required criteria. You may also submit an SAT or ACT score to enhance your competitiveness for admission and for scholarship consideration.
If English is your primary language, you may submit your SAT or ACT scores instead of an English Proficiency exam.
Current accepted tests and minimum required scores are:
| | | |
| --- | --- | --- |
| Test | Required | Recommended |
| SAT – EBRW | 400 | 600 |
| ACT – Reading | 20 | 26 |
| TOEFL - total | 80 | 92 |
| IELTS – total | 6.0 | 7.0 |
| Duolingo - total | 105 | 115 |
| GTEC - total | 1192 | 1255 |
| ISE - total | ISE II Merit | ISE III Pass |
While we understand the many issues present in standardized testing, Earlham's current registration with SEVIS requires compliance with these test score requirements. SEVIS is the Student and Exchange Visitor Information System used by the Department of State on behalf of the Department of Homeland Security (in other words, important US governmental agencies). Therefore, the International Student Advisers must use test scores to substantiate academic preparedness and English proficiency when preparing an I-20 (the document needed to apply for a student visa) for an admitted student.
Last updated Aug 2020
About the School

Earlham is a national liberal arts college with a reputation for excellent teaching and preparing students to make a profound positive difference in the world.
Earlham is a national liberal arts college with a reputation for excellent teaching and preparing students to make a profound positive difference in the world.
Read less