Program Description
Marketing is the process of understanding and satisfying customer needs. Advertising, personal selling, determining customer groups to target, making products available in stores, and maintaining inventories are just a few activities that help organizations sell their products and services. A major in marketing at Northwest is an interdisciplinary program that provides students an opportunity to interact with surrounding businesses, complete projects that can be utilized in a portfolio, and prepare students for future interviews.
For transfer students completing a vocational or technical Associate of Applied Science or Associate of Science degree from a regionally accredited community college, a Bachelor of Applied Science with an emphasis in Marketing/Management is available. Please contact Chi Lo Lim (chilol@nwmissouri.edu or 660.562.1758) for more information.


Career Opportunities
More than 95% of students graduating with a degree in marketing either continued their education or found employment within six months after graduation.
The following is a listing of common positions for graduates with a marketing major:
Retail Management
Advertising
Product Management
Industrial Purchasing
Sales Management
Marketing Research
Personal Selling
Management Training
*Based on self-reported data in recent years.
Profession-Based Learning Experiences
Knacktive combines six disciplines (computer science, English, graphic design, marketing, mass communications and public relations) into a one-semester interactive and collaborative course. The student-led teams conduct market research, analyze data, write creative strategies, and developed an integrated, digital marketing communication campaign and promotional materials for a real-world client.
At the end of each course, the team makes a formal presentation or client pitch in an attempt to convince the client to use their project. This experience aligns with the digital marketing and advertising agencies competing for clients.
The following organizations have been clients of Knacktive:
2011 – Cincinnati-based LasikPlus Vision
2012 – Science City, located in Kansas City at the Union Station
2013 – Tri-State Ford
2014 – Horace Mann Laboratory School
2015 – DecisionFx, located in Kansas City
Study Abroad is an opportunity for students to apply hands-on international experience to their own academic development. Faculty members supervise short-term study abroad programs that prepare students before, during and after the program. Two types of study abroad programs are available – faculty-led and traditional study abroad.
The traditional program may be a semester, summer or year-long program and is taught by Northwest's international partner institutions. Students from the business school have recently traveled and studied in China, Africa and Eastern Europe including Hungary, Austria, and the Czech Republic.
Internships
Although internships are not required in the marketing major, they are highly encouraged to gain real-world experiences.


Requirements
Students choosing a comprehensive major in Marketing must complete the Common Professional Component courses and earn a minimum grade of "C" in each of the following major requirements:
The Northwest Core (48-52 hours)
Required Courses
MKTG 55332 Promotion
MKTG 55333 Consumer Behavior
MKTG 55430 Sales and Sales Management
MKTG 55432 Marketing Research
MKTG 55434 Marketing Management
3
3
3
3
3
Student must take two of the following for a total of 6 hours:
MGMT 54415 Intern in Management
OR
MKTG 55435 Intern in Marketing
MKTG 55331 Retailing
MKTG 55431 Logistics Management
MKTG 55437 International Marketing
MKTG 55440 Business Study Abroad
1 to 3

1 to 3
3
3
3
1 to 6
Recommended Electives (3)
300 or 400-level advisor-approved elective
3
Last updated Sep 2018
About the School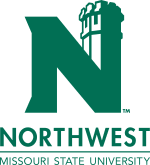 Originally established in 1905, Northwest Missouri State University is a state-assisted, four-year regional university that also offers graduate degree programs. Northwest Missouri State University fo ... Read More
Originally established in 1905, Northwest Missouri State University is a state-assisted, four-year regional university that also offers graduate degree programs. Northwest Missouri State University focuses on student success - every student, every day. It will be THE university of choice for a comprehensive, exceptional student experience.
Read less