Bachelor in International Sport Management
Home ›
BA ›
Bachelor in International Sport Management
Program Description
Today, sport is a unique, global and growing industry. It is no longer a simple activity but an entertainment as well as a business, which has become a true challenge among organisations. Thus, the need for skilled sport managers is now more important than ever.
The International Sport Management degree offers students in-depth knowledge of economics and business management aspects applied to international sport. This Bachelor's Degree in Sport Management aims to prepare future responsible and technically competent managers in the field of sports, who are able to lead, manage and operate business, sport organisations or facilities.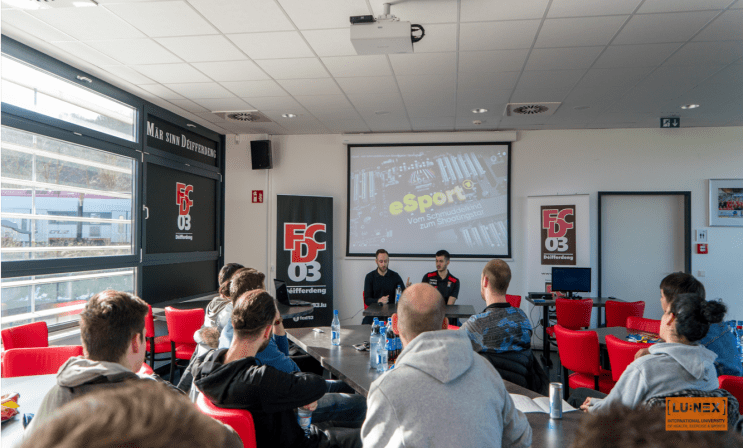 © LUNEX / Sergio Dias

Details
Duration: 3 years (full-time)
Degree: Bachelor
Credits: 180 ECTS
Tuition fee: 750 € per month
Registration fee: 550 €, one-time fee
Language: English
Programme Starts: October
LUNEX University also offers the possibility to gain the "student-athlete status". It enables active athletes to continue training and performing while studying for their degree, in order to prepare their post-athletic career and gain the required knowledge and competencies for a managerial position in sports departments and institutions.
Combine your passion for sport with business studies
The International Sport Management programme is designed to prepare students, who are interested in and passionate about sports and the sport industry, to the different tasks that professional sport managers tackle in the unique and international growing environment of the sport industry.
Thus, a postgraduate sport management student will "work in the background" and be the person in charge of the coordination between sports and business. He/She will be able to identify changes in the market and develop clear business strategies adapted to new trends and evolutions in the sport market, in order to ensure the success of his/her organisation.
International Sport Management study programme
The Bachelor in International Sport Management provides students with extensive knowledge of business management and economics in international sport, which include the following fields: finance, sports law, marketing, event management and media in sports. This knowledge gained in the course of this study programme can also be used in careers other than sports.
Teaching contents are based on sport related and international business case studies and allow for interactive sessions with lecturers. Students also gained social and interdisciplinary skills, which will be essential for their future career.
In addition, students also have the opportunity to broaden their knowledge and competencies through hands-on experience as well as a practical internship, which reinforce their theoretical knowledge and prepare them for the research work involved in the writing of their Bachelor's Thesis at the end of their studies.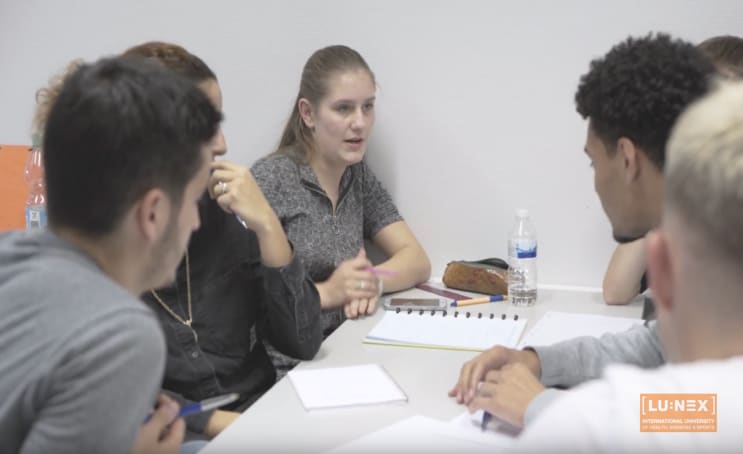 © LUNEX / Sergio Dias
Int. Sport Management Courses Overview:
YEAR 1
- Learning Skills (Study Skills, Sport Related Issues Analysis)
- Business Administration in Sports
- Applied Economics in Sports
- Trends in Sport & Sport Business
- Financial Management
- Fundamentals in Marketing
- Human Resource Management in Sport Business
- Management in Sport Business
- Corporate Governance in Sport
YEAR 2
- Key Qualification (English Writing School)
- Finance & Investment in Sport Business
- Management in Sport Business & Case Studies
- Social Skills (Communication & Group Dynamics)
- Advanced Marketing in Sports
- Media Management in Sports
- Entrepreneurship in Sports & Case Studies
- Fundamentals in Law
YEAR 3
- Management Skills (Intercultural Management, Conduct of Negotiations, Decision Making)
- Internship (Practical Training)
- Academic Skills (Research Designs & Methods, Journal Club)
- Sport & Law
- Sponsorship
- Media Management in Sports & Case Studies
- Bachelor's Thesis (Research Project)
Access to further studies after our 3-year sport business degree
After a bachelor's degree, students can continue with a Master's Degree, which enables them to deepen their knowledge in particular fields of study such as finance, marketing, events planning or media.
What we offer at LUNEX?
Being taught by world-class experts
100% English courses
Individual support
State-of-the-art equipment
An international environment
A growing network of cooperations
Preparation for managerial positions in international sports
Acquisition of leadership skills
Development of a global, interdisciplinary view of the world of professional sports
Combination of key qualifications for career and academia
Training in analytical and strategic skills
Experiential learning in the domains of organized and professional sports, the sports industry, and research
Expert input from sports goods industries and high-performance sports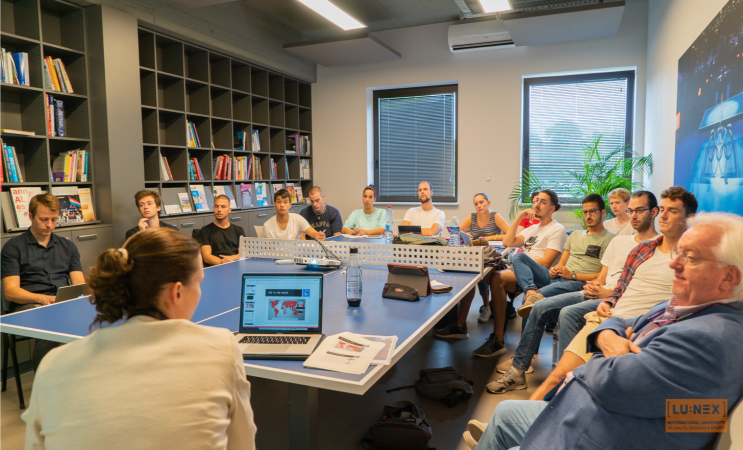 © LUNEX / Sergio Dias
Employment Opportunities in Sports Management
Thanks to this study programme, it is possible to pursue a career in a large number of fields in the national and/or international market: organized sports (including clubs and confederations), sports products and equipment, sports policy, market research, consulting, event management, private sector as well as media agencies and businesses. Here are some examples of sport management professions:
Sport facility Manager
Participation Officer
Operation Manager
Sport Event Organiser
Business Analyst
Sport Marketer
Product Manager
Sport Administrator
Club Development Manager
Application Process
Besides being passionate about sports and business, to apply for our Bachelor in International Sport Management, applicants must have at least 12 years of school education or equivalent. Then, you have to fill in our online application form and to participate in one of our Applications Days, which are composed of admission tests in English.
There is no application deadline, it is possible to apply throughout the year.
Last updated Sep 2018
About the School
LUNEX University is an international private school which focuses on research and teachings on the closely connected areas of health and fitness, sports, therapy and preventive medicine. At LUNEX, stu ... Read More
LUNEX University is an international private school which focuses on research and teachings on the closely connected areas of health and fitness, sports, therapy and preventive medicine. At LUNEX, students can evolve in an international learning environment and be equipped with new approaches and perspectives on the emerging fields of sports and health.
Read less