Bachelor in International Relations
Program Description
Bachelor's programme 'H.S.E. and University of London Parallel Degree Programme in International Relations'
Programme Overview
Led entirely in English, the parallel degree International Relations Bachelor programme prepares students for careers in the international public and private spheres. Successful graduates receive two degrees: a Russian Bachelor in International Relations from H.S.E. and a British Bachelor of Science (BSc) in International Relations from University of London (U.o.L.). All courses are taught in Moscow and students can apply to participate in short-term study programmes (for example, summer schools) in the UK. Staff from the London School of Economics and Political Science (L.S.E.) (which serves as the Lead College for the University of London International Relations BSc) develop the programme's syllabi, prepare study materials, and assess students.
The programme combines the academic strengths of H.S.E. and U.o.L., offering a wide selection of rigorous courses in fields ranging from history and political science to economics and mathematics, and including a choice among five different foreign languages. Students build their own intellectual and communications skills, develop strong, persuasive writing skills, and hone their ability to formulate, analyze and discuss ideas. Graduates of the programme are well prepared to begin their careers in business, civil service or academia, or to continue their education by pursuing a master's degree in Russia or internationally.
The application process is highly competitive and based on merit. Candidates may apply in English or in Russian:
English-speaking applicants must apply through entrance exams organized by H.S.E.
Russian-speaking applicants must apply through the Unified State Exam (in social sciences, Russian and foreign language)
Successful applicants must also provide evidence of their English language proficiency through results from international language exams (for example, IELTS or TOEFL). Students who have at last 5 years of education at the secondary school level entirely in English are exempt and do not have to submit certificates. Please note that the application to University of London (in English) is separate.
This programme is tuition-based and Russian Government scholarships are not available, however, H.S.E. will offer bursaries to a number of successful candidates.
Career Opportunities
One of the main goals of this programme is to prepare our students for the continuation of studies on the wide variety of Masters programmes in the world's best universities.
However, skills which are taught on H.S.E. and the University of London "International Relations" programme are the basis of requirements for such professional spheres as analytics, organization, management, economics and diplomacy. Mainly this stands for the international and global organizations, entities working in the field of government and mass media.
Quite separate but nonetheless prospective way for our alumni is academic track since our students have many possibilities (and obligations) of participating in research projects provided by one of the leading National Research Universities of Russia.
To summarize, our students have a solid educational background to apply for a professional career from the start, brilliant opportunities to continue their studies on the best Masters programmes available and to pursue academic track with the focus on obtaining Ph.D. in Russia as well as in other countries.
Requirements
Bachelor's H.S.E. and London University Parallel Degree Programme in International Relations is led entirely in English. Therefore, high level of proficiency in the language is needed.
As an additional advantage for the applicant, we accept and consider IELTS, TOEFL, CPE, CAE certificates. Lack of certificates does not remove you from admission process.
Applicants who are entitled to take H.S.E. exams will have to pass English language and History exams. They are to be held in July.
Last updated Jan 2018
About the School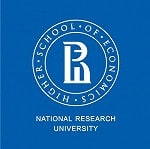 Consistently ranked as one of Russia's top three universities, the Higher School of Economics (HSE University) sets itself apart by its internationally-minded, research-driven approach to higher educa ... Read More
Consistently ranked as one of Russia's top three universities, the Higher School of Economics (HSE University) sets itself apart by its internationally-minded, research-driven approach to higher education. Based in the vibrant center of Moscow, with campuses in St. Petersburg, Nizhny Novgorod and Perm, HSE offers outstanding academics at all levels and includes more than 25 English-taught Master's programmes and 8 English-taught Bachelor's degree programmes.
Read less