Bachelor in International Relations and Diplomacy
Home ›
BSc ›
Bachelor in International Relations and Diplomacy
Program Description
For the student who hopes to one day become a major player in world affairs, this new major offers academic and hands-on training to shape the international issues and events of our time. Students will get a thorough grounding in the art and science of diplomacy. They will also learn about global politics and economics, as well as develop a deep appreciation for cultures around the world. In the process, they will develop a rich understanding of how to engage with the world around us.
The new IRDP major will be taught by members of our internationally renowned faculty including former ambassadors, and by professors who are also working professionals and among the country's preeminent experts on such global issues as conflict management, security, competitive markets, law, climate change, and human rights. Students will have special opportunities for externships, study abroad, and participation in the Model UN.
International Relations and Diplomacy Fast Facts
Offered at Dobbs Ferry and Manhattan campuses so students can take advantage of college's connections with the United Nations
Internationally renowned faculty
New, modern major
In Class: International Relations and Diplomacy
International Relations and Diplomacy B.S. Curriculum
Students who choose the major concentration in International Relations and Diplomacy must complete:
Major Requirements
Nine courses (27 credits) listed below:
IRDP/ SOCL 110 World Cultures
IRDP/ SOCL 252 Globalization
IRDP/ POLS 372 International Organizations: Fundamentals
IRDP/ POLS 373 International Organizations: Model UN
IRDP/ POLS 340 Art & Science of International Relations
IRDP/ POLS 356 International Negotiation & Diplomacy
IRDP 420 International Security, Threats, and Conflicts
IRDP 471 Capstone Project I
IRDP 472 Capstone Project II
and
Language Requirements: Two courses (6 credits). This requirement may be waived by taking two language courses (6 credits) at another institution, or by demonstrating competency in a foreign language.
Please note: this requirement is in addition to the two language courses (6 credits) that are part of the General Education Requirements.
and
Major Electives
Three courses (9 credits) designated as IRDP major electives may be chosen from this list (other courses may be so designated by permission of the program head):
HIST 309 Europe Upheaval: 1914-Present
HIST 332 China in History: Antiquity to Present
HIST 333 Asia in Revolution
HIST 336 Africa: Colonialism and Independence
HIST/ POLS 367 American Foreign Policy
ENGL 257 Latin American Literature
ENGL/ HIST 263 Black Atlantic World
ENGL 352 Contemporary African Literature
IRDP 295 Contemporary Issues
SOCL 206 Sociology of Violence
SOCL 249 Race, Culture & Ethnicity
INBU 250 International Business
SPCM/ PSYN 250 Psychology of Communication
IRDP 441 Model UN II
IRDP 442 Model UN III
IRDP 431 Study Abroad I
IRDB 432 Study Abroad II
IRDP 461 Internship I
IRDP 462 Internship II
There is an 18-credit residency requirement in the major concentration of International Relations and Diplomacy.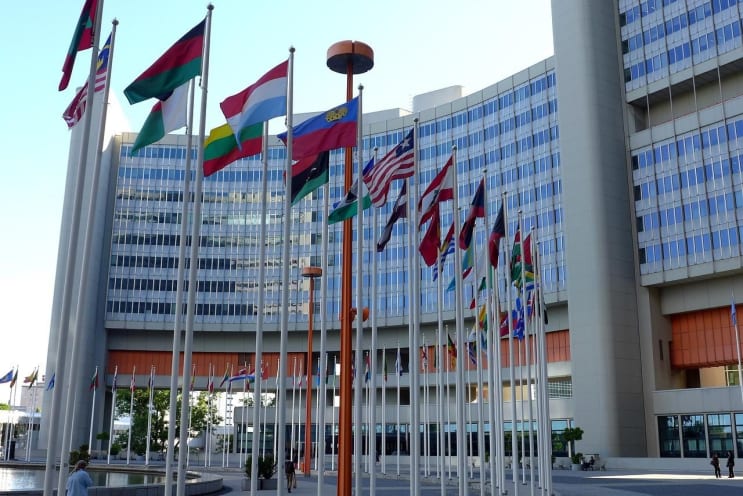 995645 / Pixabay
Program Outcomes
By the end of this program, students should be able to:
Analyze situations in international relations by applying an understanding and knowledge about the dynamics of international relations, key factors, and players.
Identify issues, interests, and options and develop recommended actions and measures by applying knowledge of international affairs.
Demonstrate effective communication and negotiation skills for various forms of conflict management.
Demonstrate knowledge of ethics and consider culture, diversity, and justice in the analysis of international situations.
Career Opportunities
Students pursuing this program can move into a variety of fields upon graduation, including business, government, military, non-profit organizations, and international civil service. This well rounded, integrated curriculum, featuring courses that encourage critical thinking and understanding of its practical applications, is greatly needed in today's job market community and the world.
Last updated Dec 2019
About the School
Mercy offers more than 90 undergraduate and graduate degree and certificate programs within five schools: Business, Education, Health and Natural Sciences, Liberal Arts and Social and Behavioral Scien ... Read More
Mercy offers more than 90 undergraduate and graduate degree and certificate programs within five schools: Business, Education, Health and Natural Sciences, Liberal Arts and Social and Behavioral Sciences. Mercy College challenges its faculty and staff to make higher education work for anyone hungry enough to earn a better place in life. With campuses in Dobbs Ferry, Bronx, Manhattan and Yorktown Heights, the vibrancy of the College culture is sustained by a diverse student body from around the region.
Read less