Bachelor in International Management
Program Description
When you choose the Bachelor in International Business and Management you enter a state of mind, values, and strong commitments. In 4 years of studies, you will gain the genuine experience of international life with at least two years abroad, spent on company internships and acquiring academic experience at our international partner universities, most frequently leading to a double degree.
At school, the many classes taught in English and the 350 international students with you will keep your finger on the pulse of the planet.
The Bachelor in International Business and Management prepares students for management positions in the fields of business, marketing, human resources, and finance, in a globalized environment and in an intercultural context. In the 3rd year, 39 destinations at partner universities are available to pursue a dual international degree.
This Bachelor requires a sufficient grounding in French and in English.
Entry Requirements
Year 1: high school diploma (or equivalent)
Year 2: successful completion of 1 year of higher education
The entrance examination
Test of written expression in French
Oral tests:
Motivation interview in French
Interview in foreign language A: English, German or Spanish
Interview in foreign language B*: English, German, Spanish, Italian, Arab, Russian, Chinese
*only marks above 10/20 are taken into account for foreign language B in the final calculation; English is compulsory, either in foreign language A or B
Last updated Feb 2018
About the School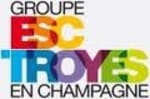 Being the youngest Grande Ecole in France is an asset for Groupe ESC Troyes, which since its creation in 1992, has strived to forge ahead through daring innovation and, as much as possible, challengin ... Read More
Being the youngest Grande Ecole in France is an asset for Groupe ESC Troyes, which since its creation in 1992, has strived to forge ahead through daring innovation and, as much as possible, challenging experimentation
Read less