Bachelor in International Management
Program Description
The Bachelor in International Management of Brest Business School readies you for your future career. You will progress at your own pace in a new and stimulating environment while developing your entrepreneurial spirit. Learn to utilize your own expertise and academic knowledge in addition to building interpersonal and business skills.
AN INTERNATIONALLY-ORIENTED PROGRAM
By choosing the "all in English" track, you will benefit from practical instruction in management given by lecturers from international partner universities.
By spending your final year in one of our partner universities, you will earn a French and international double degree that will open doors to both academic and professional opportunities.
By offering instruction based on individual needs, this degree is one of the only bachelor's degrees in France which guarantees operational competency in oral and written English after graduation.
By including an introduction to Mandarin throughout the course, this Bachelor's degree will give you the foundations necessary to communicate in basic professional and conversational Chinese - not only a useful tool for maintaining professional relationships, but also a key asset in the eyes of future employers!
PERSONALIZED INSTRUCTION
1st year: 100% or 50% in English? 2nd year: introductions to marketing, finance or business? 3rd year: internship or double degree? The Bachelor's degree in International Management allows you to personalize your education throughout the program, helping you differentiate yourself to companies and universities.
PREPARING FOR THE WORLD OF TOMORROW
By joining the Bachelor's degree in International Management, you will participate in business and service projects and organize innovative events; Brest Business School gives you all the resources you'll need to achieve your goals. Our promise is to help you become the bold, creative and responsible leader that today's world needs.
Join our Bachelor in International Management (BIM), approved by the French Ministry of Higher Education and Research. You will obtain a solid foundation in international business and general management education while gaining substantial knowledge in all disciplines of classical management as well as in all the trends that will be shaping innovation in the near future. Successful learning is not simply the transmission of abstract and decontextualized knowledge, but a subtle relationship between economic realities and the surrounding world. Our aim is to train entrepreneurs who are creative yet responsible and ready to take on the challenges of a career at the international level.
New teaching methods combined with state-of-the-art facilities will give you the means to find, evaluate, utilize, share and create content using information technologies and the Internet. We build on the diversity of backgrounds and cultures of our students and faculty to help you broaden your horizons and enjoy a truly cosmopolitan experience. 40% of courses are taught by highly-qualified lecturers and tutors from foreign partner institutions, and the number of foreign students in our classes is higher than ever, with one in 4 students hailing from overseas (25%). As the program is taught entirely in English, no prior knowledge of French is required. A free French language course for foreigners is included in the curriculum. General and intensive French courses, as well as private lessons, are available for a fee at our partner language school CIEL BRETAGNE.
PROGRAMME STRENGTHS
Possibility of a double degree, during the third year, at one
of our partner institutions.
Education based on active and situated learning
An introduction to Chinese culture and language for all
A professional command of digital literature
Mentoring from the first year to help build your CV and professional plans
Small class sizes and close personal attention
Entry Requirement
Open to candidates with Baccalauréat, A' level or equivalent. Students who have successfully completed 1 or 2 years in Higher Education (60 or 120 ECTS, same field) can enter the 2nd or 3rd year of the program. Admission in September
Admissions Procedure
A very good level of English is required. Initial selection on acceptance of the candidate's application. Final selection after interviews to assess the candidate's motivation and language skills. Admission is subject the number of available places. Apply online @ http://talentdays.brest-bs.com/ Then, simply register and choose "remote application".
Last updated Nov 2018
About the School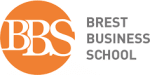 Brittany's 2nd-largest city welcomes nearly 24,000 students per year, 10% of whom are international students enrolled in its university and its 7 Grandes Ecoles. Its diverse educational programs, exce ... Read More
Brittany's 2nd-largest city welcomes nearly 24,000 students per year, 10% of whom are international students enrolled in its university and its 7 Grandes Ecoles. Its diverse educational programs, excellent research initiatives, high-quality instruction, local job prospects, and unique environment make it a top destination for students.
Read less