Bachelor in International Hospitality Management
Home ›
Bachelor ›
Bachelor in International Hospitality Management
Program Description
Do you enjoy an exciting, dynamic and international environment? Can you keep your cool even under great pressure? Do empathy and a service-minded attitude come naturally to you? If this describes you and you also happen to enjoy meeting people from all over the world, you'll find that the International Hospitality Management Program is perfect for you!

4 Reasons to study IHM in Bali
Experience
Experience being part of Europe's largest hotel management school;


5-star property
Practical work experience up to management level at the Stenden learning hotel in Bali (a 5-star property);


Various specializations
Various specializations possibilities: Event Management, Cruise Management, Gastronomy, Food & Beverage Management and many more;


Accredited
Accredited by the Institute of Hospitality in the UK, which is a benchmark organization for hospitality.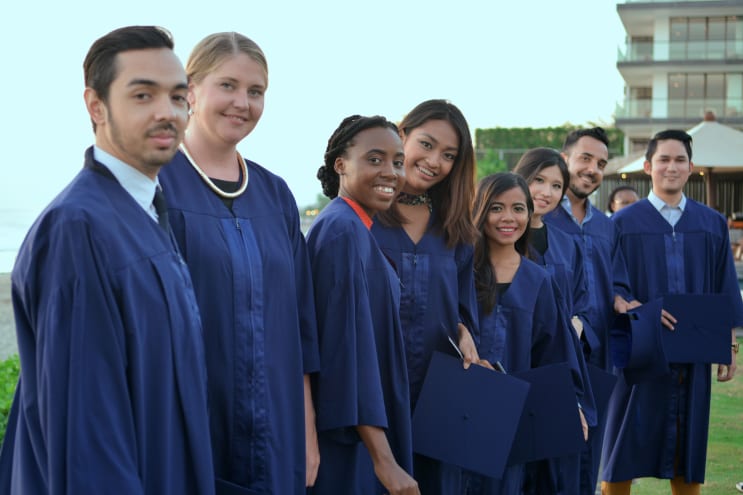 Career Opportunities
A bachelor's degree from the International Hospitality Management program puts you on the fast track to a career in the global hospitality industry. You can choose from any number of career paths, ranging from a management position at a hotel or restaurant, conference center or event planning company to any number of roles in corporate services. Your degree will open up a range of career opportunities worldwide! As a professional in the hospitality industry, you will enjoy a high level of responsibility in a job that is never the same from one day to the next. With your professional knowledge and business acumen, your job is to make sure everything runs smoothly, regardless of whether you are managing a hotel, organizing conferences or owning a business.
Careers open to you after graduation include:
Front Office Manager
Conference Manager
Events Manager
Food and Beverage Manager
Sales and Marketing Manager
Human Resources Manager
Business Owner
Consultant
Companies for internship and career prospects include:
Alila Hotels and Resorts, Hilton Hotels & Resorts, Starwood Hotels, and Resorts Worldwide, KLM Royal Dutch Airlines. Ambitious Universitas Triatma Mulya Stenden graduates also have the opportunity to obtain a Master's degree within 14 months.

In cooperation with the University of Derby (UK), Stenden Universtiy of Applied Sciences offers two international Master programs, the Master in International Leisure & Tourism Studies and the Master in International Hospitality and Service Management. Students can opt for a single Dutch Master of Arts (MA) degree or gain a dual award made up of a Dutch Master of Arts (MA) degree and a British Master of Science (MSc) degree.
Both Masters are offered at Stenden University of Applied Sciences Leeuwarden, The Netherlands. This is a unique way for students to distinguish themselves in the hospitality or tourism industry!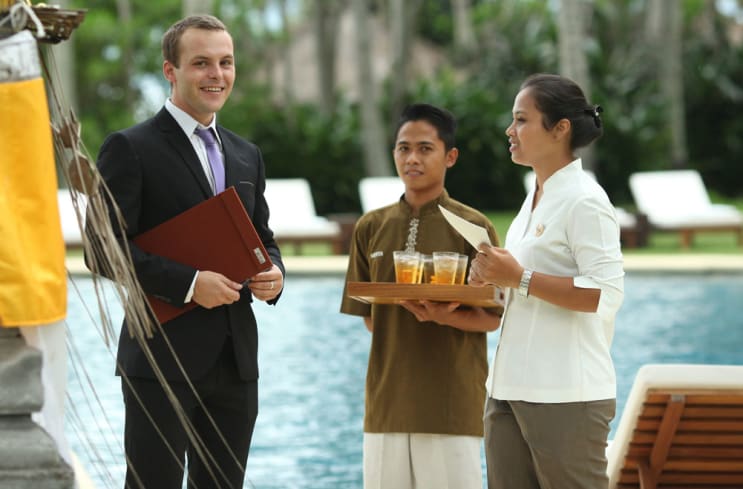 About the Program
At our campus in Bali, we execute the same curricula as taught at Stenden University of Applied Sciences in The Netherlands, leading to the NVAO (Netherlands Flanders Accreditation Organization) accredited Dutch Bachelor's Degree (formally registered with the Centraal Register Hoger Onderwijs (CROHO)). You will receive a Bachelor of Business Administration upon completing the program.
As part of the double degree program, you will also receive the Sarjana Ekonomi, awarded through our partner university, Universitas Triatma Mulya Stenden and accredited through the Indonesian Accreditation Board of Higher Education, BAN-PT.
Throughout the years you will experience a mix of theoretical and practical learning.
Our International Hospitality Management program focuses on management skills, thus in each module you will study subjects such as Business English, Business Statistics, Career Development, Communication, Financial Accounting, Financial Analysis, Human Resource Management, Law, Marketing, Modern Foreign Language, Psychology of Management & Organisation, Research, Revenue Management, and Strategic Management, all within a hospitality context.
All subjects are taught in English by lecturers from different parts of the world. Likewise, our students represent a mix of nationalities, creating a truly multicultural study environment.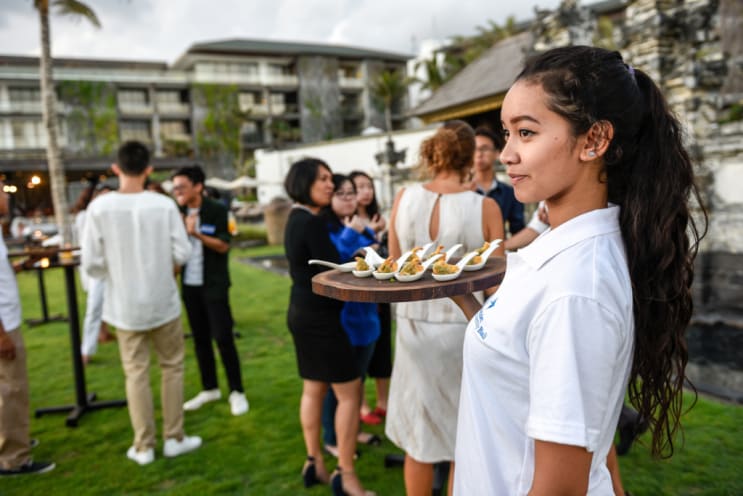 First Year
A solid foundation In your first year, you will learn about the fundamentals of the industry. How do you make sure your customers or guests are fully satisfied with the service they received when they go home? You get to study the finer points of human resource policy, marketing, and financial management. In addition to delving into theory, you will also spend ten weeks acquiring practical work experience at our 5-star Alila Hotels & Resorts learning hotel, covering all areas of the hotel business.
Second Year
Become a supervisor
You will find out what running a hotel involves on a day-to-day basis: a process known as operational management. You will learn about business processes, marketing, budgeting, managing staff, procurement, logistics, negotiation, and quality assurance. As part of one module, you and a classmate will even run your virtual hotel, and as for work experience, you will be on a supervisory level at our 5-star Learning Hotel. Additionally, you have the option to either take Mandarin or Spanish as a second language.
Third Year
Become a manager.
You will attend classes in strategic management, including financial analysis, revenue maximization, market analysis, and business plan writing. In addition, you will also take on a research assignment in preparation for your final-year project. As a work-experience student, you will be exposed to practice on a management level at Stenden Hotel. You can specialize at this stage of the program by taking two electives*. You will spend this entire year at our main campus in the Netherlands.
Fourth Year
Start up your professional career
In your fourth year; you will be taking on a final-year project. During a management internship, you will research a company in Indonesia or another country of your choosing, such as the USA, Europe, the Middle East, Africa or Australasia. The internship could take you anywhere: a 4-or 5-star hotel, a cruise ship, an events company, bank or insurance company in more than 30 countries. During your 10-months internship, you will have the opportunity to get to know the company, and many students find that they have a job lined up at their internship company as soon as they finish their studies!

Practical information
Accredited double degree
Sarjana Manajemen (S.M.)

Bachelor of Arts (B.A.)
Last updated Jun 2020
About the School
Our aim is to develop young professionals to become authentic leaders and problem solvers, prepared to take part in multicultural environments and fast changing market places.
Our aim is to develop young professionals to become authentic leaders and problem solvers, prepared to take part in multicultural environments and fast changing market places.
Read less