Program Description
Overview
Welcome to the Interior Design Program at High Point University. Housed in the School of Art and Design, equal emphasis is placed on commercial and residential design, given our longstanding relationship with High Point Market and nationally recognized design leaders. The curriculum emphasizes critical and creative thinking skills, integration of course modules and opportunities for internships and study abroad experiences.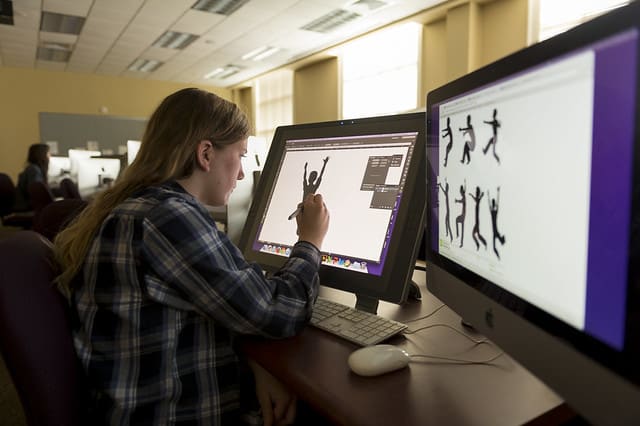 Admission Requirements (Effective Fall 2018)
High Point University recognizes that many students, for various reasons, choose not to pursue art/design courses or do not have access to art/design courses in high school. Consequently, the Department of Home Furnishings and Interior Design has created three diagnostic courses for its two professional programs that introduce students to foundational history and theory (e.g., elements and principles of design), the design process, and the opportunity to apply this information in an entry-level studio that focuses on creative three-dimensional problem-solving. Upon completion of these three courses (INT 1100, 1220, 1280), students must submit a portfolio of their work before being formally accepted into either major. Prior to successful completion of the Portfolio Review, students interested in ID and VMD are placed in a conditional status, as noted by the registrar's designations of pre-ID and pre-VMD.
For Portfolio Review, students submit a portfolio of work that consists of selected projects from the freshman-level foundation courses. Faculty will evaluate the quality of the portfolio of work along with the student's professional behavior (attendance, work ethic, ability to accept constructive criticism) and overall GPA. The program does not have a quota and can accept all students that meet the department's standards. It is, however, unlikely that students will pass Portfolio Review if the applicant has below a cumulative GPA of 2.5 or a grade of C- or below is received in any of the three foundational courses. A student who does not pass any one of the three foundational courses is not eligible to apply for admission into the major. Students may retake the course and reapply the next spring for fall admission; however, students may not apply to the program more than twice.
After formal acceptance into the major, students must earn a grade of 'C' or higher in all required major-specific courses to advance in the program. To graduate with a B.S. in Interior Design or a B.S. in Visual Merchandising Design, students must have an overall GPA of 2.0 or higher per the university's requirements.
Interior design is one of HPU's top majors
Students have exclusive access and longstanding relationships with the High Point International Home Furnishings Market
Exposure to all facets of design gives students marketability to employers and flexibility in the workplace, making them perfect candidates for promotions and lateral moves
Students have the opportunity to graduate with a design certificate from Lorenzo de' Medici Institute in Florence, Italy
Students have access to top design leaders, giving them opportunities to interact with industry professionals
The curriculum is divided into four parts: the profession of interior design, design communications, social and cultural exploration, and building technologies and studio
Students graduate with a bachelors of science
The Interior Design Program has CIDA Accreditation and meets educational requirements for practicing designers applying to take the NCIDQ Exam
Comprehensive outcome
In recognition of the needs of the industry, HPU's Core Competencies, and our regional accrediting body, the Southern Association of Colleges and Schools, the faculty has identified a single, comprehensive outcome.
Graduates of the Bachelor of Science in Interior Design program possess the skills and knowledge necessary to successfully meet the job requirements for entry-level positions in Interior Design.
The faculty has identified 6 programmatic goals essential for students to achieve the aforementioned outcome. They will demonstrate the ability to:
Define the problem as it relates to the field of Interior Design.
Engage in pre-design investigations that demonstrate the ability to gather and analyze relevant information, evaluate issues, and set priorities.
Explore and generate creative solutions via a systematic and coordinated design process that integrates functional and aesthetic concerns.
Justify and defend design solutions as they relate to relevant criteria derived from the problem/program or larger concepts that recognize best practices or innovation (e.g., socioeconomic, sustainability, global issues).
Convey (written, graphic, oral) intent in a professional manner as appropriate to the audience.
Utilize life skills to enhance productivity, flexibility, adaptability, and collegiality (presentation, leadership, time management, commitment, life-long learners, curious minds).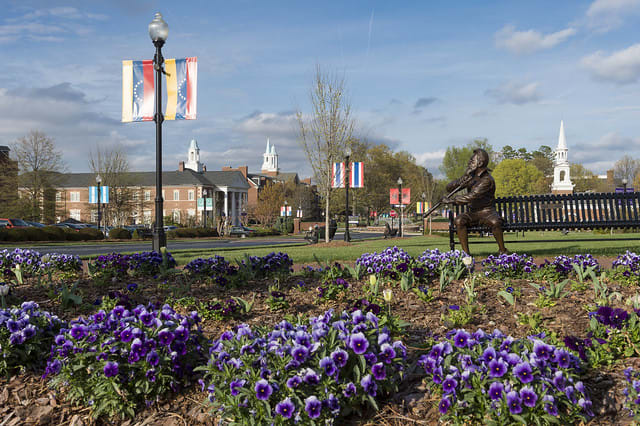 Unparalleled access to the High Point Furniture Market
Located in one of the largest metropolitan areas in North Carolina, High Point University has direct ties with the community and many businesses in the surrounding area that offer internship opportunities in interior design. Students also have access to the High Point Furniture Market, the premier furniture and design exhibition in the world, which is held twice a year during the fall and spring semesters. The High Point Furniture Market gives students a unique opportunity to connect, work and learn alongside leading industry professionals from around the world.
What can I do with a degree in interior design?
HPU alumni with degrees in interior design currently have careers in:
Computer-Aided Design
Commercial Interior Design
Healthcare Facilities Design
Hospitality and Entertainment Facilities Design
Merchandising Management
Residential Interior Design
Retail Design
Retail Store Management
Course Requirements
The School of Art & Design offers a B.S. degree in Interior Design. To graduate from High Point University with this degree, students must complete the following:
B.S. in Interior Design
| | |
| --- | --- |
| Major Requirements | 72 credits |
| University Core Requirements | 50 credits |
| Electives | 6 credits |
| TOTAL | 128 credits |
Last updated Jun 2020
About the School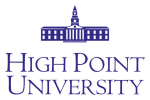 With more than 100 student life campus organizations and more than 600 students competing in club and intramural sports, at High Point University, you won't just be asked to question the world around ... Read More
With more than 100 student life campus organizations and more than 600 students competing in club and intramural sports, at High Point University, you won't just be asked to question the world around you-you'll be expected to become an active citizen.
Read less